Jennifer W. Exchange Ambassador
What is one word to describe your study abroad experience:

"Balance your studies and travelling appropriately"
---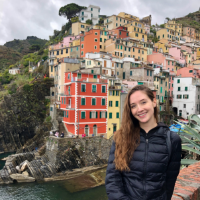 JENNIFER W.
Exchange student at the University of Manchester, England, UK
Winter semester
Studying Psychology
---
What is the best thing that happened while you were studying abroad?  
Meeting people from all around the world.
Where was the coolest place you traveled to during your study abroad experience?  
Montenegro!
What was the biggest cultural adaptation you had to make?  
To resist the delicious smell of freshly baked Greggs pastries that waft into your face as you walk by the shop and you hear it calling your name.  
What is something that you know now, that you wish you knew before you studied abroad?   
Do not over pack, minimalism is key! 
What was your best learning moment?
My best learning moment was that I am actually a very independent person. I have often labelled myself as dependent in the past, but the fact that I went on this exchange on my own and travelled on my own for 6 weeks in total says otherwise. I also learned how to navigate an airport with my eyes closed and make do with living out of a duffel bag for most of my time travelling. Airports used to terrify me with their size and I learned that they truly are not that intimidating. I also used to "need" all these extra things while travelling, like 10 different outfits and 3 pairs of shoes etc. I learned I really only need 3 outfits and one pair of shoes as I did a lot of hand-washing laundry and preferred to stay simple.  Also, Ryan Air is a great company!  ​
Who was the hardest person to leave from home?
My parents. I typically do not see them much while I am at school but the idea of living in a completely different country made me a little sad. I knew that I would only be gone for 5-7 months and that I would see them again. I reminded myself that stepping outside of my comfort zone just meant that this would be room for a great learning experience and a step to positive self growth.  ​​​
---
Would it be helpful to learn another language for this exchange? 
For this exchange, you will not need to learn another language. If you find heavy British accents difficult to understand maybe familiarize yourself with the accents a little so you do not catch yourself staring blankly at your roommate or whomever is speaking to you. Particularly in Manchester, be prepared to not hear the letter "t" in many words as this is commonly a silent letter. For example, "Manchester" and "water" are commonly pronounced by Mancunians as "Manchessa" and "wa-a." Pretty cool! However, this silent letter will never impair your understanding, it's only a cool fact. If you are going to a country that does not speak your first language it would be helpful to learn some of the basic phrases in the language to help you navigate your way around easier. This will probably make it easier to meet local friends and perhaps they can teach you some additional phrases in the language, or some local slang!  
Did you live on-campus or off-campus? Would you recommend it, and why?  
I lived on-campus in Fallowfield. I liked Followfield, but I would recommend looking into living downtown as Followfield is a 25-minute bus ride to downtown. If you like the idea of living downtown apply for accommodation as soon as you can as these accommodations are high in demand.  Other than that, if you like a really social scene Followfield is a good pick. Most locals that live on campus are in their first year, but most internationals are in their upper years.  
How did you finance your study abroad experience?  
I used a loan from OSAP and worked throughout the summer to make enough money to spend on groceries and travelling.   
What interesting courses did you get to take while studying abroad? What was the title of the course(s)?  
Lifestyle Behaviour Change, Communication in Healthcare, and Emotion.  
How are you including exchange on your resume?
Listing the skills I gained from being introduced to a new education system and being able to find a way to adapt and be successful in it. ​
---
Is there any other helpful information you would like to share with future study abroad participants?  
Balance your studies and travelling appropriately.