Morgan R. Field School Ambassador
What is one word to describe your study abroad experience:

"As cheesy as it sounds, studying abroad really does make you grow as a person and change your life. You are able to learn things that simply cannot be taught in a classroom alone."
---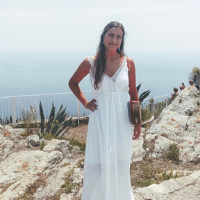 Morgan R.
Italy Field School participant
Duration of Field School: 5 weeks
Summer semester
Studying Business Commerce 
---
What did a typical day in this field school look like?
Our Italian classes started at 8:30am each weekday, and our other course only ran 3 times per week. This left us with a lot of extra time to explore Sorrento and other places nearby. There were endless things to experience, foods to try and places to explore!
 
What did you have to do for the course component of this field school? How did it impact your degree?
Our Italian course was worth 0.5 credits, and the humanities course was worth 1.0 credits. These credits are important, as they diversify the electives I need for my undergraduate degree.
What did you think of your field school coordinator?
She was extremely organized, friendly, and always ready to help in any way! Since we lived in the Institute where she worked, she was only 2 floors below our dorms, so it was quick and easy to get in touch with her.
How many other UofG students did you travel with? And what did you think of travelling with other students?
We had a group of about 13 other students travelling with us from Guelph, and we became extremely close almost immediately. It was awesome to go through this journey with other students who had the same mindset of wanting to make the most of our time abroad. Even upon returning to Guelph, we still keep in touch and love reminiscing on the memories made together.
How did you interact with the local community during your field school
The locals were so fun and welcoming! We shared close bonds with a few local vendors, and we would practice our Italian with them, and ask for food/ excursion recommendations. By the end of my field school experience, I felt like a local myself because we knew of all the best places to go for food or hidden gems that not many tourists knew about! It was awesome and I miss the tightly- knit community there very much.
What influenced your decision to participate in a field school opportunity?
I knew that studying abroad would be an opportunity that would present itself during my 4 short years here at University. I wanted to immerse myself into a culture vastly different than what I was used to, because getting out of my comfort zone and expanding my knowledge is important to me.
---
​What was the best thing that happened during your field school? Explain.
One of the best things that happened to me was becoming more confident in my abilities to travel to unknown places. It was a bit intimidating at first to be in a new place and having to navigate it all, but it was not as bad as I thought! Now, I am more eager to travel to new places and feel more connected to the world at large.
Where was the coolest place you traveled to during your study abroad experience?  
My top places would have to be the Amalfi Coast or Capri. It was filled with so much natural beauty, architecture, and art. Hands down some of the most beautiful places in the world, but maybe I'm a little bit biased.
What was the biggest cultural adaptation you had to make?  
The nightlife was definitely something to adapt to. Italians would drink casually, and the age restrictions are a lot lower. You are able to purchase alcohol from vending machines, legally, which took some getting used to for sure. 
What was your best learning moment?
I learned a lot about the country my family immigrated from which was very special to me. Being immersed in the culture they grew up in gave me insight into what their childhood and teenage years looked like. It made me able to connect and understand my family's history, and I grew to be prouder of my background.
If you were to recommend this field school to your best friend, what would you say?
DO IT!! It is going to change your life and teach you things about the world you live in. As cheesy as it sounds, studying abroad really does make you grow as a person and change your life. You are able to learn things that simply cannot be taught in a classroom alone.
---
Would it be helpful to learn another language for this exchange? 
The majority of my group came not knowing a single word of Italian besides "ciao"... and we all did just fine! Since Sorrento is known to be a hot spot for tourists, many of the locals know English very well.​
---
Would you do anything differently if you were to go again on the same, or different field school?
I would stay longer because I was definitely not ready to leave yet! Many of my friends stayed after the field school to go backpacking which would have been amazing to do with them. Besides that, I really only have fond memories of the field school.
Is there any other helpful information you would like to share with future study abroad participants?  
Try something new almost every day! Take a different route to get to end destinations, go to different beaches, restaurants, stores, etc. Say "yes" to new opportunities and do as much as you can during your stay. When you come up with an idea of where you want to visit, don't continually push it off! As time goes on, you'll hear about more and more things you'd like to do. 5 weeks seems like a long time until there is only 1 week left and there is still lots to do on your bucket list!