Olivia N. Exchange Ambassador
What is one word to describe your study abroad experience:

"I experienced many different cultures and places while studying aboard and it made me realize how diverse the world is and how unique each country is."
---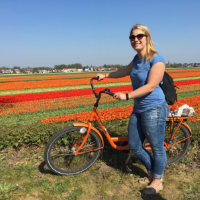 OLIVIA N.
Exchange student at Wageningen University and Research, the Netherlands
Winter semester
Studying Agriculture Science
---
What is the best thing that happened while you were studying abroad?  
I feel that I became more independent and gained new perspectives while studying abroad. Though you have a large support system from your family and the university while you are on exchange, being away from home forces you to be good at building your own support network and friendships, and it also forces you to step outside your comfort zone and try new things. 
Where was the coolest place you travelled to during your study abroad experience?  
The coolest place I visited was Prague, Czech Republic. It was a unique place with so much history! 
What was the biggest cultural adaptation you had to make?  
In the Netherlands people bike everywhere! If you are accepted to Wageningen University or any other university in the Netherlands my biggest advice would be to get a bike! It makes it easy to get around places. 
What is something that you know now, that you wish you knew before you studied abroad?   
Try and do the free walking tours whenever you visit a new country/city. They are very informative and you will be surprised how much history there is in each city in Europe! 
If you were to recommend exchange to your best friend, what would you say?  
Don't be afraid to try new things, meet new people and explore new places! Exchange has been one of the best experiences I have had so far throughout University! I had the opportunity to visit many interesting places and experience different cultures and I would recommend the experience to anyone. 
---
Would it be helpful to learn another language for this exchange? 
It would definitely be interesting to learn a Dutch but not necessary. Most courses at the University are in English. Just ensure you check the course handbook before registering to ensure the class is in English. 
Did you live on-campus or off-campus? Would you recommend it, and why?  
I lived very close to campus and would bike to school every day. Everyone bikes in the Netherlands and it was a great way to get around campus and around town. The university helps set exchange students up with living and most exchange students were located in the same building.  
How did you finance your study abroad experience?  
I applied for many travel scholarships and bursary's through the University of Guelph. You can visit the awards page on the student financial services website to see what scholarships you are eligible for. 
What interesting courses did you get to take while studying abroad? What was the title of the course(s)?  
All of the courses I took on exchange were quite unique. There are so many courses at Wageningen University, there is something for everyone! I took the following: 
Insects as food and feed 
Biological Control of Insects 
Fundamentals of Landscape Management 
Soil Quality 
Also, it should be noted that for Wageningen University they have study periods which only last 4 weeks (where you study 1 class) or 8 weeks (where you study 2 classes).  
---
Is there any other helpful information you would like to share with future study abroad participants?  
Talk to individuals who have already been on exchange to the University you are interested in. Ask them about what life was like on campus, what the living conditions were and any tips they found helpful while studying abroad. This will help you get an idea of what exchange will be like before you leave home.