PhD Computational Sciences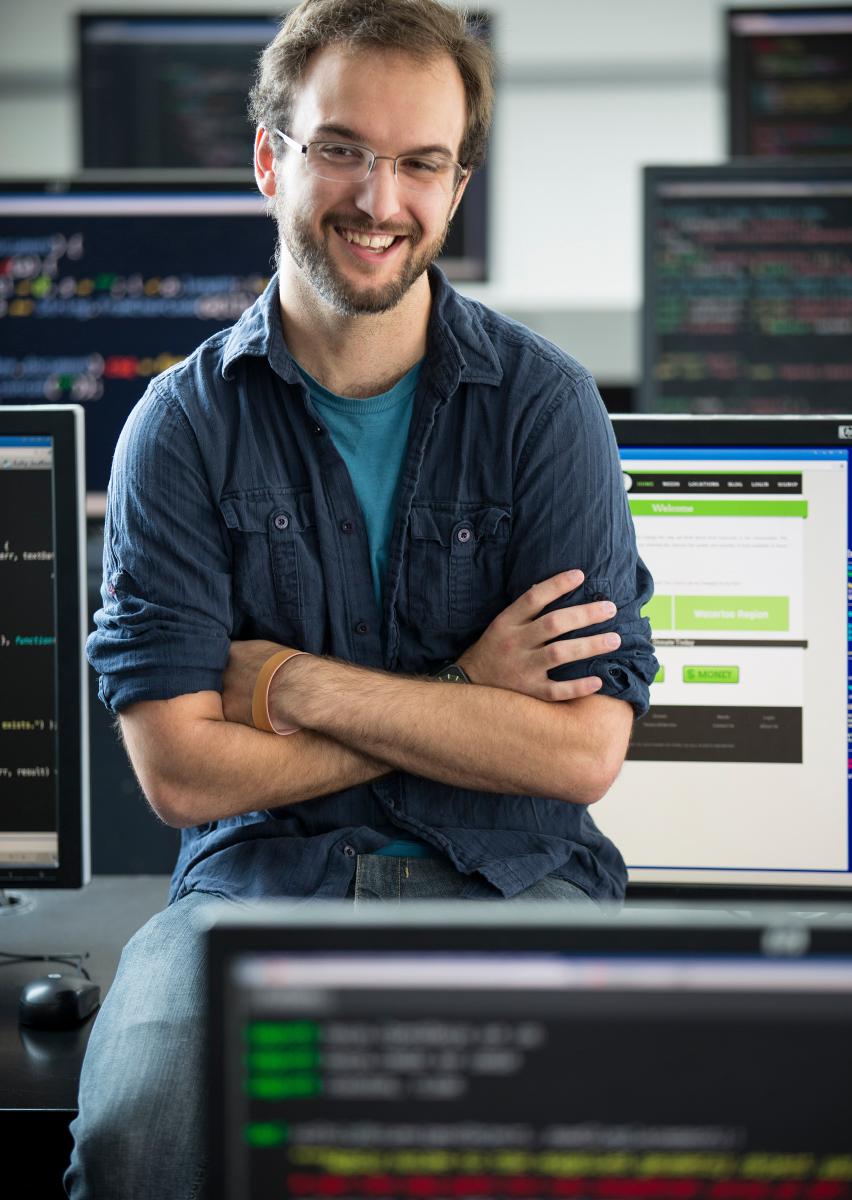 The objective of the PhD in Computational Sciences is to produce interdisciplinary scholars who are capable of tackling emerging problems in the sciences and humanities through investigation, advanced research and application of current computer technologies.
The PhD in Computational Sciences is a full­time, four-­year program (12 semesters) during which students will complete the Technical and Communication Research Methodology course (CIS*6890) and any additional graded courses or modules assigned by their Advisory Committee. Students will also give two public seminars, pass a qualifying exam, conduct research and successfully defend a written PhD thesis at the final oral examination. Our PhD will prepare students for both academia and industry.

Applicants also have the option to apply for a collaborative specialization in One Health while pursuing a thesis-based PhD degree in Computational Sciences.

All future applicants are strongly encouraged to explore faculty research interests and get in touch with prospective Graduate Faculty Supervisors. An established School of Computer Science (SoCS) supervisor and Application Discipline co-supervisor must be established PRIOR to applying to the PhD.CSCI program.
How to Apply
Please apply online at Applying to Guelph.
Application Deadlines
Available spaces in the PhD program fill quickly, so it is in your best interest to submit your application and all required supporting documentation early. Our application deadline dates for each semester of enrollment are as follows:*
Fall 2023: June 1, 2023
Winter 2024: October 1, 2023
Spring 2024: February 1, 2024
*The application deadlines are for both Domestic and International applicants. We strongly encourage International applicants to apply a minimum of 9 months in advance of the semester's start date to ensure study permits can be processed in time for admission. Please see the Office of Graduate & Postdoctoral Studies (OGPS) Recommendations for International Applicants for suggested application timeline.
Please note: Application processing times may vary and take approximately two to three months for decision.
Admissions
Applicants must meet the minimum admission requirements of both the University and the School of Computer Science (SoCS). For admission to the PhD in Computational Sciences program, entrants require the following:
Thesis-based master's degree: Admission to the PhD program normally requires a recognized thesis-based master's degree. Applicants possessing a recognized course-based master's degree may be considered if the applicant demonstrates an outstanding academic record and research accomplishments through publications in scholarly journals and/or conferences. 
 
A minimum B average: Applicants are required to have a minimum average of 75% ('B') during the previous two years of full-time university study for an accredited university graduate degree. For information on international degree admission requirements, please see: International Credential Evaluation and select country. Admission average is calculated using the last 2 years of university-level study.
 
Two faculty supervisors: Each PhD candidate will conduct thesis research by working closely with two chosen faculty thesis supervisors, a School of Computer Science (SoCS) supervisor and an Application Discipline (AD) co-supervisor, who will share equal responsibility in advising the student. At least one of the supervisors must be Regular Graduate Faculty at the University of Guelph. A chosen SoCS supervisor and AD co-supervisor must be established PRIOR to applying to the PhD.CSCI program, and must be included in the Statement of Interest.

You can review SoCS Faculty Areas of Research to assist you in finding a suitable SoCS graduate faculty supervisor. Please also review Tips for Finding a Supervisor to assist you in communicating effectively with our SoCS faculty.
 
English proficiency test: An English proficiency test will be required for any applicant whose first language is not English.
 
In addition to the Faculty of Graduate Studies Requirements, the School of Computer Science (SOCS) requires all of the documentation noted on the application page including:
A current resume or CV (including publications)
A Statement of Interest (maximum 1500 words):

The applicant must identify their potential supervisors (SoCS supervisor and AD co-supervisor) and explain their choice
They should describe the general area of research in which they are interested
The area must be at the crossroads between computer science and another discipline (the "application discipline") in the sciences, social sciences, humanities, etc.
They may also describe a specific research problem in the area and their initial ideas on how to approach it
They should clearly explain the importance and interdisciplinary nature of the area or problem
They should summarize the related research and refer to publications where appropriate
As an appendix (not included in the 1500-word limit):

An applicant without a master's or bachelor's degree in computer science should highlight their computational knowledge and experience (e.g., computer science courses taken; use of Matlab, Mathematica, R, Maple, Weka)
An applicant without a master's or bachelor's degree in the application discipline should highlight their knowledge and experience in that discipline
The applicant should list any other reasons why they consider themselves a strong applicant

Three Academic References
A test of English proficiency is required of all applicants whose first language is not English. The English language requirements for the PhD program are higher than other programs.  Required scores are shown below:
*Please note, the test may not be more than two years old. The proof of English proficiency requirement may be waived in exceptional circumstances. For example, applicants may be eligible for an English Waiver who have conferred a degree in a country where English is the native language AND in a university where English is the language of instruction (e.g. Canada, UK, USA, Australia, etc.). School of Computer Science Graduate Admissions Committee approval is required.
 The GRE is NOT required
Fees & Funding
Visit Guelph Graduate Fees for the approximate costs of studying at the University of Guelph. Please also review the cost of living information for domestic and international students to determine the approximate cost of living fees (as these are in addition to tuition).

Normally, PhD students are (at minimum) partially funded by the School of Computer Science. That is, a minimum funding stipend of $21,500 per year is guaranteed to all international and domestic PhD students who are able to secure a graduate faculty supervisor and secure admission to the program.
Funding is provided as a combination of Graduate Teaching Assistantships (GTAs) and Graduate Research Assistantships (GRA). For more information about types of funding and scholarships available, please visit fees, funding and scholarships.
---
For more information and requirements, please visit the PhD in Computational Sciences Graduate Calendar, or download our Program Brochure.
Please note, we will not be able to pre-evaluate any documents, and must receive all the required documentation before your application can be evaluated. If you need further assistance, please contact our Graduate Program Assistant.