Cyber Grads Awarded Scholarships at MCTI Advisory Board Meeting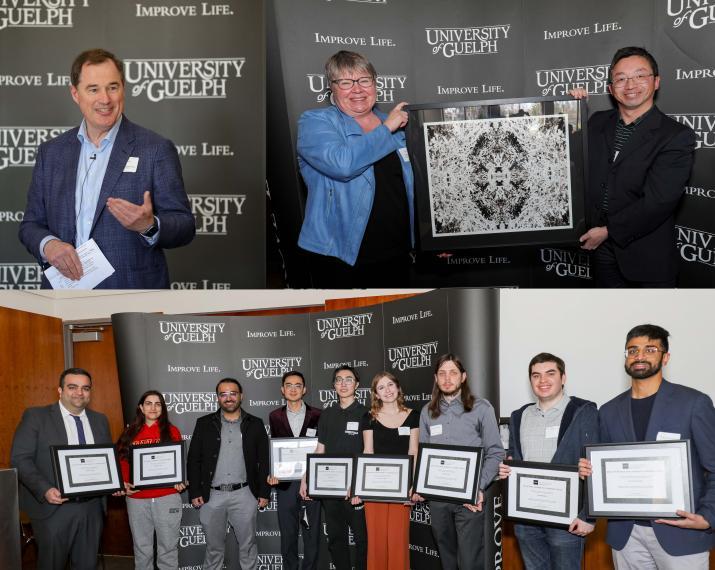 On April 29th, the School of Computer Science (SoCS) hosted its first in-person Master of Cybersecurity and Threat Intelligence (MCTI) Advisory Board meeting since the onset of the COVID-19! Spirits were high amongst board member attendees as they gathered to meet at PJ's Restaurant in the Atrium. In attendance were MCTI Advisory Board Members and faculty, which included representatives from some of the world's leading cybersecurity corporations.
The day started off with a networking lunch and introductions, lead by Dave Whittle, CIO at University of Guelph. Following introductions, Dr. Ali Dehghantanha, MCTI Director, presented the MCTI Advisory Board meeting updates and discussions of success and future growth of the MCTI program.
Later that afternoon, the event was joined by MCTI students, university staff and members of the Board of Governors, including Provost Gwen Chapman, for a keynote talk and Scholarship Awards Ceremony. The keynote cybersecurity talk was presented by one of the world's top leaders in cybersecurity, Bruce Ross, Group Head, Technology & Operations at Royal Bank of Canada (RBC).
The day ended in a celebratory manner with the MCTI Scholarship Awards Ceremony, hosted by Assistant Vice-President Graduate Studies, Ben Bradshaw. Nine awards of $5000 (each) were presented to top 2021 MCTI students by our MCTI industry sponsors, including Kevin Dawson from ISA Cybersecurity, Trina McGhie from Co-operators, J. Paul Haynes from eSentire, Miguel Young & Alex Manea from Georgian, Nolan Evans from Long View Systems, Clinton McFadden from Canadian Tire Corporation and Todd Warnell from Bruce Power. Congratulations to our 2021 MCTI scholarship winners:
At the conclusion of the meeting, Dr. Minglun Gong, Chair of the School of Computer Science (SoCS), accepted a surprise award on behalf of SoCS for ranking #9 among Canadian Universities by Computer Science subject by the Times Higher Education (THE) for 2022. The award was presented by Provost Gwen Chapman.
Congratulations to our 2021 MCTI Scholarship Winners and thank you to our industry sponsors!