Gordon Nixon Leadership Award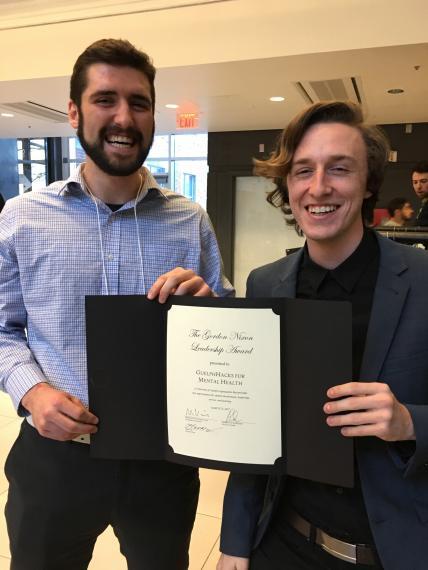 Last night the University of Guelph held its annual Student Life Awards Banquet. Held in the Engineering Atrium, the event honoured and celebrated students and staff from the University of Guelph, as well as community partners, for their outstanding contributions to the community and life on campus.
---
School of Computer Science student and President of the Society for Computing and Information Sciences, Patrick Houlding, received the Gordon Nixon Leadership Award, along with Jonathon MacPherson from the School of Engineering, and Dr. Gillis (faculty in the School of Computer Science). The trio were honoured for their work organizing the Guelph Hacks for Mental Health hackathon that took place in the Summerlee Science Complex on March 11th and 12th. Jonathon also received the Be The Change award.
The Gordon Nixon Leadership Award was established by the Annual Fund in recognition of Gordon Nixon (OAC '37) and his outstanding contributions in support of student life, alumni activities, and fundraising at the University of Guelph.
Congratulations to Patrick, Jonathon and Dan on your impressive achievements!
For more information about the Gordon Nixon Leadership Award, please visit: Funding Awards. 
Share this page
Find related news by keyword