Guelph Food Safety Annual Symposium - Cannabis Edibles: Happy Times or Food Safety Nightmare?
Location
Ontario Ministry of Agriculture, Food and Rural Affairs (OMAFRA) Building 
1 Stone Road West, Guelph ON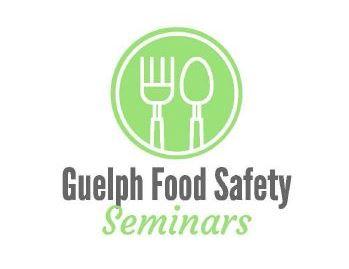 Details
Cannabis Edibles: Happy Times or Food Safety Nightmare?
There are some high expectations for the second phase of recreational cannabis legalization in Canada, as edibles are expected to enter the marketplace around mid-December. Although cannabis infused edibles in Canada will be regulated as a drug instead of food, the majority of them will be produced and consumed in food and beverage form. Regulations have addressed concerns around dosage, labelling and youth appeal. What about the potential for pathogens, allergens and extraneous matter? Will cannabis edibles producers have a preventive control plan to reduce the risks for foodborne illness? This year's Symposium will focus on what is being done to mitigate food safety risks in cannabis infused edibles.
Objective of the annual Guelph Food Safety Symposium:
To bring together people from the Guelph Food Safety Network and others who are interested in the risk management approach to food quality and safety, in order to learn more about these topics, discuss issues of common interest and broaden networks.
Speakers
Paul Medeiros 
Managing Director, Consulting, Technical & Retail Audit Services, North America, NSF International
---
Katherine Paphitis 
PhD Candidate, Department of Population Medicine, University of Guelph
Biography:
Katherine is a PhD candidate in the department of Population Medicine at the University of Guelph (OVC). Katherine previously worked as a Public Health Inspector (WDGPH) and Meat Hygiene Officer (OMAFRA), and is currently a Regional IPAC Specialist at Public Health Ontario. Katherine has an MSc in Epidemiology (LSHTM, UK) and holds an international designation in Infection Control (CIC). Her current research areas of focus are public health surveillance, one health, and outbreak detection for enteric diseases (particularly salmonellosis). 
Kelly Briscoe 
Public Health Inspector, Wellington-Dufferin-Guelph Public Health
Biography: Kelly Briscoe 
 
Kelly recently completed a Master of Science Degree in Food Safety and Quality Assurance through the University of Guelph in 2018. Her research focused on cannabis edible products and she worked with Wellington-Dufferin-Guelph Public Health to jointly create and launch a cannabis survey containing questions relating specifically to edible products to be used for analysis as part of her graduate research project. Kelly has also worked as a Public Health Inspector at Wellington-Dufferin-Guelph Public Health within the Environmental Health program for the past twelve years. 
Title: Assessing Local Interest in Trying Cannabis Edibles and Awareness of Their Effects
Abstract: 
Background and Objectives 
Cannabis will be legal in Ontario in October, 2018. With legalization of cannabis, it is anticipated that interest in preparing and/or consuming cannabis edibles will increase. There are public health concerns associated with cannabis edibles, including the risk of overconsumption due to delayed onset of effects. 
Methods/Description 
An online cross-sectional survey of local residents was conducted by the University of Guelph and Wellington-Dufferin-Guelph Public Health to assess local interest in trying cannabis and cannabis edibles once legalized, and awareness of effects. 
Results/Lessons Learned 
There were 4,073 responses received. There is significant local interest in trying cannabis and cannabis edibles once legalized. Awareness of the delayed onset of effects varies by sex and other characteristics. 
Conclusions/Implications
Education regarding cannabis and cannabis edibles should be targeted at those most likely to try these once legalized. Consideration should be given to including serving size information on product labelling. 
---
Keith Warriner 
Professor, Department of Food Science, University of Guelph
Biography:
Dr. Warriner is currently a Professor within the Department of Food Science at University of 
Guelph, Canada. Dr. Warriner received his BSc in Food Science from the University of 
Nottingham, UK and PhD in Microbial Physiology from the University College of Wales 
Aberystwyth, UK. He later went on to work on biosensors within the University of Manchester, UK and subsequently returned to the University of Nottingham to become a Research Fellow in Food Microbiology. He joined the Faculty of the University of Guelph in 2002.  
During the last 23 years in the field of microbiology and food safety research, Dr. Warriner has published more than 100 papers, book chapters, patents, and conference abstracts. His research interests are focused on enhancing food safety within meat processing, fresh cut sectors and more recently, in the area of marijuana edibles. To this end, his research team have advanced knowledge in the area of emerging pathogens (C. difficile, toxigenic E. coli), intervention technologies, bacteriophages and development of biosensor devices to detection of foodborne hazards. He is frequently contacted by the media to provide commentary on food safety issues and is currently the director of the OMAFRA HQP Program.  
Jenitta Shanmugaraj 
Graduate Student, Department of Food Science, University of Guelph 
Biography: 
After doing her Bachelors in Biochemistry at the University of Waterloo, Jenitta has worked in the food industry as a Quality Assurance Coordinator for 5 years. She is currently working to complete her MSc in Food Safety and Quality Assurance, focusing on understanding the potential food safety risks that cannabis edibles now pose after legalization.
Speakers: Keith Warriner and Jenitta Shanmugaraj 
 
Title: Cannabis Edibles: Regulatory Updates, Risk Assessment and Public Health Messaging  
 
Abstract: The next chapter in marijuana legalization is the introduction of commercially produced edibles with the first legal products expected to be on the shelves in December 2019. The regulations appear restrictive and the types of edibles to be available remain obscure. However, there exists a gray market where a diverse range of edibles are available with a trend of domestically produced edibles set to become increasingly popular.   
In the following presentation an overview of a foundation risk assessment will be provided. This will include risk identification (biological, physical and chemical), risk characterization, risk management options and risk communication strategies. With regards to the latter, the results of an assessment of public health messaging from State committees within the United States. It will be shown how transparency, inclusion of users/stake holders and committee structure are important aspects when delivering public health advisors.   
---
Karen McEachern 
Technical Manager, Product & Process Innovation, NSF International 
Biography:  
Karen McEachern is the Technical Manager at NSF Canada in Product and Process Innovation. Karen possesses 15 years of food science industry experience, with focused expertise in thermal processing and commercial development, including implementation of new and existing food products and processes. She has extensive knowledge in the validation of food and beverages including pasteurization and novel technologies and the use of such technologies in industrial applications. 
Title: Edible Cannabis: Regulatory Restrictions & Processing Considerations 
Abstract: 
Amendments to the Cannabis Regulations come into force on October 17th. The amendments sets out rules governing the legal production and sale of edible cannabis, cannabis extracts and cannabis topicals.  This presentation will outline the product restrictions outlined by the regulations and processing considerations required to produce "safe" edible cannabis products. 
---
Michael Nemanic 
Associate Condominium and Municipal Lawyer, SV Law
Biography: 
Michael Nemanic is an associate condominium and municipal lawyer at SV Law. Before this position, he worked in the respective legal departments of Province Brands, an edible cannabis beverage corporation, and the Municipality of Chatham-Kent, a mostly rural municipality located in South Western Ontario. He was called to the Bar of Ontario in 2019. 
Title: An (Official) Plan Forward: Regulating the Production of Edible Cannabis to Ensure Food Safety 
Abstract: 
Recently, the government of the day amended the Cannabis Regulations to legalize the production of Edible Cannabis, and these amendments come into force on October 17, 2019. Accordingly, Municipal Governments – the level of government primarily responsible for landuse regulation – are reviewing their by-laws to respond to these amendments.  
The first part of this presentation will be an overview of the "Good Production Practices" in respect of Edible Cannabis in Part V of the Cannabis Regulations. Good Production Practices involve such matters as (i) storage and distribution; (ii) built-form and equipment standards; and (iii) investigation and enforcement.   
The second part of this presentation will be a case study of how one mostly rural municipality, the County of Norfolk, has supplemented the Good Production Practices in Part V of the Cannabis Regulations to protect sensitive land-uses from the nuisances inherent to the large-scale production of Cannabis. 
---
Michelle Martin 
Senior Public Health Inspector and Food Safety Working Group Chair, CIPHI - ON Branch)
---
Biography: Terence M. Donnelly 
 
Terry is the Chairman & CEO of Hill Street Beverage Co., focused on the production of world class, award winning cannabis-infused and alcohol-free wine and beer. Their products have won awards around the world, including three Golds at the US Open Beer championships, a Double Gold at the San Francisco International Wine Challenge, and the Retail Council of Canada's Grand Prix Award.   
The company is listed on the Toronto Stock Exchange with the ticker symbol BEER, which he thinks is both hilarious and awesome. The company is preparing its brewing and winemaking operations to become a leader in cannabis infused beverages to be available in 2020 or whenever the government approves them. Terry is also the co-founder of the Cannabis Beverage Producers Alliance, a national organization representing the unique interests of beverage producers for lobbying and public education.  
---
Biography: Becky Griffin  
 
Becky Griffin is the Head of Innovation for Molecule Inc. Molecule is an on-ramp to the Canadian cannabis beverages market. Helping craft beverage producers formulate high-quality, award winning products, which are packaged and infused at our cannabinoid co-packing campus located in Eastern Ontario's 1000 Island region.  
With over 7 years of experience in the industry working at McCain Foods and The Canadian Food & Wine Institute Innovation Centre she has provided companies with award winning formulations, brand consultation and food safety plans. Becky is excited for Cannabis 2.0 and helping clients become first to market brands. 
---
Biography: Nick Jackowetz  
 
Nick Jackowetz is a Formulation Advisor at Canopy Growth Corporation currently overseeing all product development and research in the recreational cannabis space. Previously Nick worked for Constellation Brands (a multinational beverage alcohol company) focusing on R&D and product development across their beer, wine and spirits portfolio. He received his B.Sc. in Biomedical Toxicology from the University of Guelph and his Ph.D. in Food Science from Cornell University specializing in wine microbiology. 
---
Biography: Beatrix Csemer 
 
Beatrix Csemer is a Quality Supervisor at HEXO Corp, an adult-use cannabis brand based in Gatineau, Quebec. The company focuses on innovative, smoke-free and traditional cannabis products.   
Prior to her start in cannabis, Beatrix was a Food Scientist at TreeHouse Foods, a private label food and beverage leader focused on customer brands and custom products. She engaged with retail grocery, industrial and export customers, including most of the leading grocery retailers and foodservice operators in the United States and Canada. In this role she was responsible for ideation to recipe development and nutritional facts panel creation. Prior to that, she held a Quality Assurance Coordinator/SQF Practitioner position at OLiV International Ltd where she managed and led the daily activities of Quality Assurance.  
Beatrix graduated from Niagara Innovation and Food Technology Program with an Advanced Diploma. She spent a few years with Research & Innovation at the Canadian Food & Wine Institute Innovation Centre as a Research Associate. She expanded the Community Living 'Well Preserved' line of hand-crafted condiments and jellies with a new product line incorporating ingredients from local partners, such as Asian-inspired barbecue sauce, a pepper peach salsa, a Mexican salsa and a pear brandy plum barbecue sauce.   
Originally, Beatrix grew up in Budapest, Hungary where she was a child actress in the Hungarian Opera House for 17 years. Her hobby is teaching music, specifically vocals and piano.   
---
Biography: Bin Mathew
Bin has a Ph.D. in Microbiology and spent the early years of his career doing research mainly working in immunology markers for sepsis in children. He worked as Laboratory Manager before
changing course and moving to the Pharmaceutical industry. He has over 10 years of experience in the Pharmaceutical Industry and worked both in manufacturing and Quality and was the Head
of Quality for Baxter Compounding Services in Canada. He moved into the Cannabis space in early 2018 when he took up a role as the Director of Quality and Regulatory Compliance with VIVO
cannabis. He joined OCS in January 2019 to the head the Quality and Regulatory Compliance initiatives. He is also a qualified auditor for Quality Management Systems. 
---
Biography: Cathie Parsons 
Cathie is a QA Specialist at Indiva Inc. Based in London, Ontario, Indiva's state-of-the-art facility includes aeroponic, environmentally-conscious grow rooms and a nearly completed extraction and manufacturing space, which will be able to process 70 tonnes of biomass annually and produce safe, high-quality cannabis-infused edibles. Indiva will produce and distribute the award-winning Bhang™ chocolate, Ruby™ cannabis sugar, Sapphire™ salt, Ruby™ gems, and other derivative products through licence agreements and joint ventures. Cathie is the team lead for the Preventive Control plan creation, implementation and management with a focus on risk mitigation strategies. She comes to Indiva after more than 10 years of experience of food safety management in the heavily regulated poultry industry.  Cathie is leveraging her experience to ensure the production of cannabis edibles at Indiva puts end product safety top of mind.   
---
Agenda
7:30 AM - Registration and Coffee
Visit the Poster Presentations and Displays
8:30 AM - Welcome and Opening Remarks - Paul Medeiros
Student Poster Presentations
SESSION ONE Moderator: Paul Medeiros - Managing Director, Consulting, Technical & Retail Audit Services, North America, NSF International
9:00 AM - ASSESSING LOCAL INTEREST IN TRYING CANNABIS EDIBLES AND AWARENESS OF THEIR EFFECTS - Katherine Paphitis and Kelly Briscoe
9:30 AM - PANEL DISCUSSION: FOOD SAFETY LESSONS LEARNED FROM EDIBLES INDUSTRY PIONEERS
Moderator: Bin Mathew, Director, Quality and Regulatory Compliance, Ontario Cannabis Store
Panelists:
Beatrix Csemer, Quality Supervisor, HEXO
Terry Donnelly, Chairman & CEO, Hill Street Beverage Co. TSXV:BEER
Becky Griffin, Chief Beverage Scientist, Molecule Inc.
Nick Jackowetz, Formulation Advisor, Canopy Growth Corporation
Cathie Parsons, QA Specialist, Indiva Cannabis
10:15 AM - Coffee Break - Visit the Poster Presentations and Displays
SESSION TWO Moderator: Pia Muchaal, Epidemiologist, Centre for Foodborne, Environmental & Zoonotic Infectious Diseases, Public Health Agency of Canada
11:00 AM - CANNABIS EDIBLES: REGULATORY UPDATES, RISK ASSESSMENT AND PUBLIC HEALTH MESSAGING - Keith Warriner and Jenitta Shanmugaraj
11:30 AM - EDIBLE CANNABIS: REGULATORY RESTRICTIONS AND PROCESSING CONSIDERATIONS - Karen McEachern
12:00 PM - AN (OFFICIAL) PLAN FORWARD: REGULATING THE PRODUCTION OF EDIBLE CANNABIS TO ENSURE FOOD SAFETY - Michael Nemanic
12:30 PM - STIRRING THE POT: A LIVELY ROUNDTABLE DISCUSSION
Moderator: Michelle Martin
Participants:
Karen McEachern
Michael Nemanic
Katherine Paphitis
Keith Warriner
1:00 PM Closing Remarks - Michelle Martin
Registration will close on Friday Oct 4 at 11:30 PM. There will be no on site registration.
Share this page
Find related events by keyword