After making an unexpected return to academia, Drew Harden receives grant to pursue research passion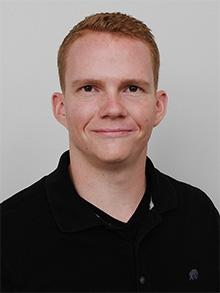 Multiple members of Drew Harden's family may have attended the University of Guelph before him, but the M.Sc. in Marketing and Consumer Studies student has had no problem charting his own course. As the recent recipient of $20,000 from the Canadian Institutes of Health Research (CIHR) Training Grant in Population Intervention for Chronic Disease Prevention (PICDP), Drew has made his unexpected return to academia into a life-changing opportunity to pursue his research passion.
Read on to learn more about Drew and his research.
Name: Drew Harden
Hometown: London, Ontario
Previous academic education: Co-op Management BBA, University of Toronto
Current program and year: M.Sc. in Marketing and Consumer Studies, 2nd year
Why did you choose to study at the University of Guelph?
I would like to think the University of Guelph is in my blood - my parents met as students at U of G and both of my grandfathers attended the Ontario Veterinary College (OVC). The reality though is that the University of Guelph offers a great M.Sc. program, and the city of Guelph is a fantastic place to live.
What has been your most memorable experience thus far in your graduate degree?
The most memorable experience so far was winning a $20,000 grant to fund my thesis idea. It's very gratifying to know that a group of academics believe in you and your ideas so much that they're willing to fund you to work on them.
Tell us about your research.
I am studying what happens when you regulate a stigmatized behaviour by limiting it to certain spaces. In plain English, I am studying the potential unintended consequences of designated smoking areas. For example, a designated smoking area may offer an individual smoker an improved social experience while smoking, and create a potentially judgement free space where smoking is normalized. Factors such as these may link back to the increasing popularity of social smoking.
Did you know you wanted to pursue further education when you entered undergraduate studies? If so, what steps did you take to get where you are? If not, what changed?
If someone told me that two years after I finished undergrad I would be working on an M.Sc., I would have thought they were crazy. Following undergrad, I had a great job as a software tester at BlackBerry, with the eventual goal of becoming a project manager. However, I soon grew restless because I knew I really wanted to pursue market research and consumer insights. I started talking with people in the research industry and they told me I needed research experience. After much thought, I signed up for the GMAT, and started applying to grad school.
What advice do you have for students considering graduate level education?
Don't put off grad school – the longer you wait the harder it is to go back to being a student. Grad school is a lot of work, it is more like a very demanding job than an undergraduate degree, but you will succeed if you're ambitious and you work hard.

If you could sum up your experience at Guelph in three words, what would those words be?
Go Gryphs Go!
Share this page
Find related news by keyword
News Topics