Basket Application Team Calls for Success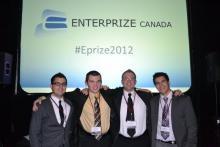 The Co-operators Centre for Business and Social Entrepreneurship (CBaSE), housed within CME, recently celebrated the fifth annual Nicol Venture Creation Competition, which aims to promote student creativity at the University of Guelph. The Competition encourages students to develop business plans for innovative products and services, and consists of a pitch round and a final round. Judges of the Nicol Pitch Competition were quite impressed with Basket, a mobile application created by four Marketing Management students. The first place team consisted of fourth year students – David Johnson, Alexey Novikov, Vlad Rebellon and Erick Sharp. As winners of the Nicol Pitch Competition, the team received $500 and later won second place in the Nicol Venture Creation Competition with $2000 in prize money.
The Basket team included three Marketing Management Co-Op majors and one Psychology major minoring in Marketing Management. Basket is a mobile application designed to facilitate the consumer's task of shopping while also providing valuable customer insight for retailers. The mobile application originated when the group worked together in a product development course in fall 2011. The course's professor, Tanya Mark, acted as a mentor for the group and encouraged them to compete in the Nicol Competition. Tanya and her husband guided the group in the creation of their business model complete with financial statistics and branding strategies.
The team also competed in the Social Enterprise Competition, Canada's largest student run entrepreneurship competition program. The group was able to attend semi-finals and finals in Vancouver after receiving funding from CBaSE. CBaSE strives to provide students with new opportunities to gain management and economic experiences, to create and launch new ventures and to develop a sense of social responsibility and leadership. The Basket team was one of six finalists in Canada – an exciting accomplishment for both CME and the University.
The team recently finished their final semester and hopes to move forward with their Basket application. The group has been in touch with a technical entrepreneur who has referred them to organizations in the area possibly interested in the idea. Based on their experiences with the project, the team encourages students to participate in hands-on courses and competitions - "Resources are limitless, you simply have to take advantage of them."
Share this page
Find related news by keyword
News Topics