Bruce Sargent Identifies with Farming Roots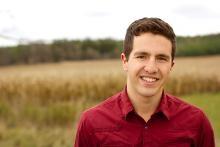 CME strives to develop Leaders for a Sustainable World, and Bruce Sargent is one student who epitomizes this vision. Bruce is a fourth year Marketing Management major and a seventh generation dairy farmer. Bruce has taken his educational experience far beyond the classroom through co-operative experiences, professional competitions and the formation of his personal business, Farm Boy Productions. Although he's only starting his fourth year this fall, Bruce states, "Accepting my offer to study at UofG has been the best decision of my life. I have established a path for myself, which would have never been laid out if I hadn't studied here."
Bruce recently completed Bus 4550, an applied business course where his entrepreneurial idea, the Agricultural Protection Project (TAPP), originated. Due to his family's history in farming, Bruce felt compelled to communicate the trials and tribulations of farmers and the importance of their role in society. Bruce and his co-founders, Jacob Pelissero (Agricultural Business) and Eddie Metzger (Agricultural Science), are working to create a full-length documentary to capture the true life of Canadian farmers being featured in the Face of Farming Calendar 2012.
TAPP has several sponsors including the Ontario Farm Animal Council and the Canadian Outdoor Farm Show who support the initiative. Bruce hopes to distribute the documentary through Ontario Agri-Food Education Inc. (OAFE) to school districts across Canada. Bruce plans to launch a full media campaign utilizing Ecommerce, trade shows, agricultural fairs and broadcasting.
The key to Bruce's project lies in his production company, Farm Boy Productions. Bruce officially formed the business in 2010 when he received support and funding from Summer Company, a program formed by the Ontario Ministry of Economic Development and Innovation that aids students in the creation of their own companies. Along with support from funders, Farm Boy Productions will eliminate the majority of initial costs for Bruce's team.
Along with his community involvement through TAPP, Bruce has also taken a course through CBaSE, the Co-operators Centre for Business and Social Entrepreneurship. CBaSE allows students to work with the community through applied learning opportunities, research projects and volunteerism. Bruce worked with Monforte Dairy for two semesters to develop a complete marketing plan. He states, "The course has given me a great perspective for my own business. I have been able to apply basic principles to business plans with Farm Boy Productions."
With several continuous ventures, Bruce is a student who will clearly carry CME's commitment to leadership and sustainability. As a final remark, Bruce states, "My goal is to establish a social, entrepreneurial business that protects the way of life for potential farmers and current farming families."
Share this page
Find related news by keyword
News Topics