Marketing management student Chelsea Galoni prepares to start PhD at Northwestern University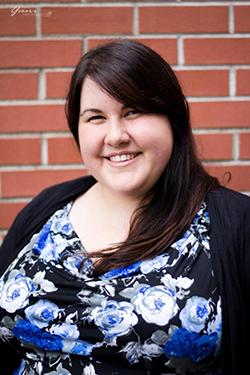 For Chelsea Galoni, business is in her blood. Coming from a long line of business owners, it makes sense that she would pursue her commerce degree, but her plans after graduation don't include following in her family's footsteps and starting her own business. Instead she's pursuing her PhD at Northwestern University straight from undergraduate studies.
Name: Chelsea Galoni
Hometown: Hamilton, Ontario
Major: Marketing Management
Year: 4th
Why did you choose to study at the University of Guelph?
I started my business degree at the Sprott School of Business at Carleton University but transferred second year to be closer to family. Of the schools in the area, Guelph had the most beautiful campus and was far enough away from my family that I could have space of my own, but close enough that I could visit at any time. It was the perfect balance and I just felt right on campus.
What has been your most memorable experience during your degree?
I've been pretty heavily involved in student organizations throughout my time at U of G, primarily the College of Business and Economics Students' Association (CBESA) and the business case competition Jeux du Commerce Central (JDC Central). I was fortunate to be chosen in my second year to be captain for our first-ever JDC Central delegation, which was hosted by the Sprott School of Business. With only four academic teams competing we won first place HR, second place Finance, and first place half team overall! We put Guelph on the map that weekend.
Since then, I've been working hard to ensure that Guelph remains a top competitor in business competitions across Canada. Just this January, I was the co-chair of JDC Central Guelph 2014, the largest JDC Central to date, which brought more than 800 students and industry leaders from across Central and Eastern Canada to our campus. It was the highlight of my four years for sure!
Tell us about your research interests.
My research interests are broadly involved in how consumers perceive relationships in the world around them - whether it be relationships between products, people, or products and people - and how this affects their behaviour and choices. My current work with Dr. Theo Noseworthy and a colleague from the Ivey School of Business (Jeff Rotman) examines the relationship between consumers and their money. 
You were recently accepted directly into the PhD program at Northwestern University's Kellogg School of Management. What are you most looking forward to about this opportunity?
It's important to me that the faculty I work with share my research interests and the culture of the institution support collaborative and interdisciplinary research since my interests straddle both marketing and social psychology. Kellogg fits both of these criteria extremely well and I'm thrilled and excited to be immersed in such a challenging, creative and collaborative environment.
Did you know you wanted to pursue further education when you entered undergraduate studies? If so, what steps did you take to get where you are? If not, what changed?
DEFINITELY not! I come from a family of business owners who believe that it's better to practice business than study business. Before academics, I always thought I would work for the family business until I had enough capital to start my own, but in the fall of my third year I was inspired to research after taking Dr. Noseworthy's research methods class. I found myself going above and beyond the course requirements to really understand what was being taught. He noticed, and asked me if I had ever considered academics as a career. 

Because of that conversation, I started attending graduate seminars and became Dr. Noseworthy's teaching and research assistant. Also, I am currently preparing an article for the Journal of Consumer Psychology. The work that I have done with Dr. Noseworthy is what prepared me for my PhD at Kellogg.
How has your education at U of G prepared you for this next step in your academic career?
The U of G and especially the Department of Marketing and Consumer Studies gave me a really solid and broad foundation of knowledge and experience upon which I was able to build my research.  There is so much opportunity here for everyone, no matter what you're into. Academically, we have outstanding faculty that go out of their way to ensure you have the knowledge you need to succeed regardless of your career aspirations. There are many clubs and organizations for virtually any interest, and we have great resources like the student help center and a fantastic library that really enrich your education and ensure you succeed.
What advice do you have for students considering graduate level education?
Try to get to know your professors more outside of the classroom - there's a lot more to being a professor than teaching a class, and for me it was really important to understand the research and service components of the job before deciding to apply for a PhD. Also, try to get some research experience under your belt as an undergrad - this will really set you apart from the pool of applicants and give you the skills and tools needed for graduate level research.
 
As for school work, and particularly for statistics or research training, remember to focus on learning the material. Making mistakes and losing marks is OK as long as you follow up, find out where you went wrong and avoid repeating the mistake. Proving you have the skills and training to do the job will serve you better than having the highest grades.
If you could sum up your experience at Guelph in three words, what would those words be?
Unexpected, rewarding, exciting.
Share this page
Find related news by keyword
News Topics