Fresh Perspective on Sustainability from a CME Alumnus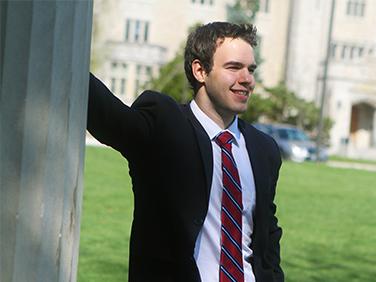 We reached Kent Santin at his post graduate campus, Columbia University, in New York City where he is currently pursuing his Masters in Sustainability Management. "The program draws upon the most sophisticated environmental measurement tools, cutting-edge environmental science, and world class management and policy studies to help students fully understand the systematic and organizational role of sustainability in any organization." (http://ce.columbia.edu/sustainability-management)
Graduating from the University of Guelph at a time when the environment of business is becoming increasingly turbulent and complex certainly presents its challenges. The onus on organizational responsiveness to social and environmental responsibility is ever growing. For Kent, a dynamic and engaged Guelph Alumnus, these challenges present a breeding ground for opportunity to build a career.
Having spent the summer months interning at Kuhn Associates Management Advisors, a boutique sustainability consulting practice in NYC, Kent recognizes the challenges involved with proposing sustainable initiatives to businesses. Reflecting back he states, "My definition of sustainability has changed over the past 12 months. Initially, I thought sustainability mainly focused on ways in which corporations can improve the environment. After working as a consultant and taking various courses at Columbia, I have learned that it encompasses much more. Essentially, sustainability enables people to continue what they're doing today without having a detrimental impact on the environment in the future."
Kent credits the role of the University of Guelph and CME in igniting and supporting both his personal and professional transformation. He took a liking to experiential learning in his fourth year, which traditionally challenges students to apply their foundational knowledge of business and explore personal values and capacities. Amidst a full course load in the fall semester of his final year, Kent opted to take Corporate Social Responsibility (MGMT*3020) with Rumina Dhalla, Entrepreneurship (MCS*4100) with Doug Adlam and an Applied Community Project (MGMT*4050) with CBaSE. Together these courses challenged him to change his perception of current business trends.
In her Corporate Social Responsibility course, Rumina Dhalla exposed students to topic areas including global issues and the role of business in society, socially responsible investing, green consumption, CSR and firm competitive advantage, reputation, corporate governance and ethics, regulation and social/environmental reporting.
Through CBaSE's Applied Community Projects course, Kent worked alongside an interdisciplinary team of B.Comm students tasked with developing a business plan supporting a sustainability program for the broader community of Guelph-Wellington. Kent's curiosity and passion for sustainability grew from this experience, lending itself to various undertakings, which shortly followed.
Kent also took an Entrepreneurship course with Doug Adlam that aims to help students appreciate the challenges involved with creating a business.  Kent's team developed LIVE, an after school program offered to younger children interested in education surrounding nutrition and fitness. After completing the course, the team went on to submit the business plan to Enterprize Canada as well as the Nicol Venture Creation Competition, where they won first place at the University of Guelph.
In an effort to step outside the classroom, Kent requested funding from CBaSE to attend two sustainability conferences: Globe 2012 in Vancouver and The Green Biz Forum in NYC. The latter landed him a contact and later the summer internship at Kuhn Associates. Both conferences brought together leaders of business and government to discuss current trends, challenges and opportunities in sustainable business.
What is most striking about this young gentleman is his sincere desire to pave a sustainable path forward. Kent's message for current students is to "Get involved but also be open to exposing yourself to new and different ideas as well as areas of study - enroll in classes that interest you, go to conferences and generate contacts. Authenticity is important. Continue to be true to yourself and don't change your personality to fit a specific job or industry." Whatever your interests may be as a current student, Kent agrees that a proactive attitude will propel your university experience.
In terms of the role Kent sees his generation playing in building a sustainable future, he states, "I believe being energy efficient and having general respect for the environment will be engrained in my generation. Due to the immediate effects of global warming and resource depletion, many people are moving towards more energy efficient homes and lifestyles that save both costs and the environment."
Kent hopes to make a difference at the corporate level by finding solutions that pay off in the long term. He envisions himself in supply chain management, working to optimize efficiencies. Santin states, "Practicing sustainability intrigues me, and I look at corporations who do not practice sustainability as problems that need to be solved. Every business is unique and you can evaluate each situation to implement sustainable efforts that benefit both the business and the planet as a whole."
Share this page
Find related news by keyword
News Topics