Jane Londerville Prepares to Say Farewell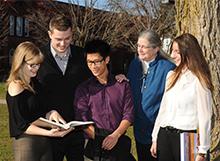 For nearly twenty years, Jane Londerville has devoted countless hours towards the growth and development of the Real Estate and Housing major within the College of Management and Economics. As an associate professor and academic advisor, Jane has assisted hundreds of students during their undergraduate academic careers. After completing the fall semester, Jane will formally retire but will continue to work part-time for one year while a replacement is recruited. 
Jane joined the University in 1993 when Real Estate and Housing (then Housing and Real Estate Management) officially became a bachelor of commerce major. Prior to joining the University, Jane worked with Canada Mortgage and Housing where she developed an interest in real estate. She further pursued her studies and received an MBA from Harvard Business School before working with Ernst and Young as a senior consultant for six years.  She then studied Urban Land Economics at the PhD level at the University of British Columbia.
Jane quickly grew to love her job working with students at the University. She states, "I value the interaction I have with students as an advisor, and I'm glad I can give them guidance in determining what they want to do after graduation." According to Jane, "Comparing presentations in freshman classes with those in senior classes is similar to comparing night and day. It's amazing to see how students grow and develop over four years."
When asked what accomplishment she values the most from her time at the University, Jane states, "Our department has worked very hard to restructure the Real Estate and Housing curriculum and to create awareness for the program to draw potential students. We have established ourselves as one of two prestigious programs in Canada and we've made strong industry connections." The Real Estate and Housing program attracts students every year through alumni relations, job fairs, guest speakers and cooperative education, which has proven very successful with phenomenal job placements for students and recent graduates.  
Jane also worked with the Appraisal Institute of Canada (AIC) to launch a new certificate for professionals interested in receiving their Accredited Appraiser Canadian Institute (AACI) professional designation. She taught the first course on Saturdays this fall while Paul Anglin taught the second course starting in November. According to Jane, "A classroom setting is more beneficial for some students completing their certificate due to the complexity of the material and the level of involvement required to succeed. I am happy we were able to work with AIC to create a Certificate that benefits students."
Although Jane will continue to work with students over the coming year, she plans to devote more time to her research interests including mortgage insurance in Canada. She hopes to consult part-time and work with the McDonald Laurier Institute in Ottawa doing applied research. Jane has also been an advocate for affordable housing over the years through chairing the Wellington Guelph Housing Committee, and plans to continue with the committee although she is no longer chair. When asked where she would like to see development within the Real Estate and Housing program, Jane states, "I am very pleased with the progress of the major, but I would like to see the incorporation of a master's program for students interested in particular areas within the profession."
Share this page
News Topics