Jian Zhou Awarded the William N. Kinnard Young Scholar Award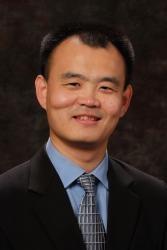 Jian Zhou was recently awarded the William N. Kinnard Young Scholar Award by ARES, the American Real Estate Society – a leading real estate research and education organization whose mission is to influence real estate through leadership and decision making. Jian was nominated by Associate Professor and REH Advisor, Jane Londerville, and received the award in recognition of his high quality research contributions to the real estate discipline achieved in the first ten years of receiving his PhD.
The Kinnard Young Scholar Award acknowledges work that is reflected in multiple publications for outstanding research contributions in the early years of a researcher's career. Within ten years of receiving his PhD, Jian has published 12 papers, eight of which focus on the rate of return and volatility of real estate investment trusts. Jian's other research topics include housing price dynamics, real estate economics and finance, urban economics, time series analysis and applied econometrics.
Jian received a B.A. in Economics and a M.A. in Management from the Renmin University of China as well as a Ph.D. in Economics from the University of Illinois at Chicago. He currently works with the Department of Marketing and Consumer Studies and has been an Assistant Professor at the University of Guelph for four years. Jian will become an Associate Professor this summer and will continue teaching courses at the University. He plans to continue his research and publish additional works in the future.
Share this page
Find related news by keyword
News Topics