New CFL recruit John Rush will always be a Gryphon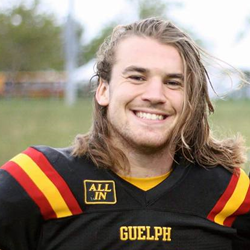 To say that the 2015-2016 academic year has been busy for John Rush is an understatement. In November, the fifth-year marketing management student and star Gryphon football player was recognized with the Canadian Interuniversity Sport (CIS) Presidents' Trophy, presented to the most outstanding defensive player in CIS football, and recruited by the Winnipeg Blue Bombers. Now on the verge of living his dream of playing in the CFL, Rush is also counting down the final months of his Bachelor of Commerce degree.
In this Q&A, he reflects on his time at the University of Guelph and discusses what he is most looking forward as he starts his career as a professional football player.
Name: John Rush
Hometown: Niagara Falls
Major: Marketing Management
Year of study: 5th
Why did you choose to pursue your Bachelor of Commerce at the University of Guelph?
Among all the universities that I visited, Guelph truly made me feel welcome. The staff is extremely dedicated and were more than accommodating, especially when it came to my busy schedule with football. They were also able to show me a tactical plan of all the skills I would learn and how I would be able to translate these to the workforce after I graduated. The campus really made me feel at home, and I felt like an actual student and not just a number in the crowd.
Why did you choose marketing management as your major?
I chose marketing because I have always been interested in advertisements and marketing campaigns and the psychology behind consumer behaviour.  Marketing also allows me to work closely with consumers and the company, which is a huge bonus. I definitely did not want to be in a cubicle all the time; I want an interactive career where I'm constantly in communication with everything going on in the organization and I truly feel that a marketing degree will allow me to do that.
Late last year, you received the CIS Presidents' Trophy and signed with the Winnipeg Blue Bombers. Can you describe what this experience has been like for you?
Honestly it's pretty hard to describe this feeling/experience, even several months after the fact. I'm just extremely grateful that the University of Guelph and the football program has taught me as much as it has and put me in the best possible position to succeed. Without their guidance and assistance throughout my university career academically and athletically, I would have never been in this position in the first place. If I had to describe it I would have to say it's pretty surreal and I'm sad that it's over, but I'm glad that it happened.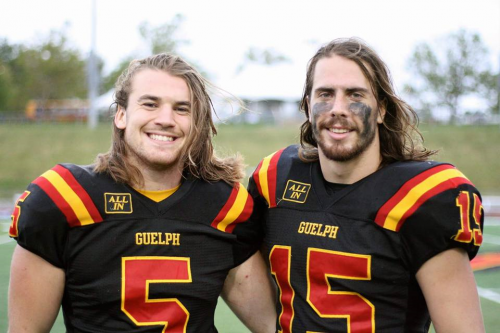 What was the best part about being a Gryphon football player the last five seasons?
This is a pretty tough question to answer.  I mean how can I pick just one when this program and university have offered me so much?
One of the best parts, I would say though, was simply being a part of the team and around the guys on it. The coaches have done an outstanding job of surrounding us with great football players but even better men. Experiencing the ups and downs, the wins and losses, and of course the Yates Cup with this group of men and these coaches has truly been a privilege and an honour.
What are you most looking forward to as you start your career in the CFL?
I'm most looking forward to my dad being able to come watch me play in the CFL. It has been a lifelong dream of mine and my dad has supported me every step of the way. He's been to every game rain or shine and I'm really excited to see him in the stands of Investors Group Field (Winnipeg's stadium).
Being a varsity athlete is a huge commitment. How did you balance your academic and athletic responsibilities?
The commitment that was asked of us was massive. Some weeks after workouts, practice, film work, you would go home and do more individual film work, and it quickly became 40+ hours a week of just football, yet it never really seemed like it because were always having fun and doing something we loved. At the same time balancing that work week when you're exhausted and trying to do school is difficult, but at the end of the day it comes down to sacrifices. I knew that if I wanted to get a degree and play football at the same time and excel at both I wasn't going to have a typical university experience. There were a lot of times I had to go to bed when all my other friends were going out and having fun; however I wouldn't have changed it for the world. The opportunities and connections I have made through football and the university will last me a lifetime.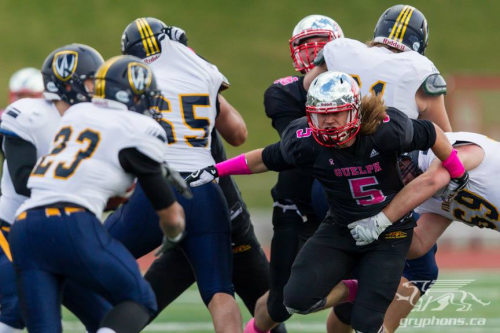 What advice do you have for prospective student athletes considering U of G?
I would definitely tell them to get involved within the school and greater community. I was fortunate enough to be involved with the football team and was therefore able to be actively engaged with the community and university year round. I've had so many great experiences just being involved in programs and events. Without football, I would have never actively sought these opportunities out, yet this is something I believe every student should do. We have such an awesome university and city community that it's a truly rewarding experience.
If you could sum up your experience at Guelph in three words, what would those words be?
Three words is tough. So much has happened, and I've experienced so much and there are so many possibilities. If I had to choose three, I would have to say "Always a Gryphon". It sums up nicely, how deeply the university has impacted me.
Share this page
Find related news by keyword
News Topics