Lianne Foti Teaches Sustainability through 'my world, my choice'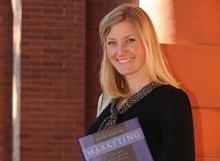 The well-being of the environment, society and business are core focal points for Lianne Foti when communicating the mission of 'my world, my choice!'. Lianne Foti is an Assistant Professor and Faculty Advisor for Marketing and Consumer Studies who shares CME's value of sustainability through her role as co-founder and executive director of 'my world, my choice!', an educational program that teaches students about sustainability and challenges them to grow as leaders in their schools and communities.
Lianne supports environmental awareness on a global level and has international experience working with corporations in both the food and energy industries. She initially discovered the roots of what would eventually grow into the organization while teaching as a part-time lecturer at Jain University in Bangalore, India. Lianne was intrigued with the idea of teaching sustainability to younger generations, and worked to create a program in Canada through collaboration with several individuals. The program was established in 2009 as a not-for-profit organization with two chapters in Calgary and Guelph.
Since 2009, the Guelph chapter has grown and established an existing partnership with the community, training over sixty mentors from the University of Guelph. Lianne states, "These enthusiastic, young undergrads have learned and passed on knowledge about sustainability and have grown just as much, if not more than the elementary students themselves."
Traditionally, 'my world, my choice!' hosts a five week program for students who learn about sustainability through simulations, audits and research projects to reduce the footprint of their school. The program has inspired over 850 students to create initiatives including community gardens, paper and waste management, improved use of school facilities and bottle free lunches. Lianne states, "Our goal is to educate youth to become leaders in sustainability by mentoring the next generation and using interactive methods."
'my world, my choice!' has created quite a reputation in the community and was invited to share the day with Dr. David Suzuki at Stratford Northwestern High School in April 2011. Students from schools across the Avon Maitland District had the chance to listen to Dr. Suzuki speak in the morning and to participate with 'my world, my choice!' in the afternoon to learn about human interaction with the environment. The program also recently won first place at College Royal for 'Open House CMESA Exhibit' as well as 'Open House Exhibit Overall'.
Lianne assists with the implementation of new chapters as the program expands internationally. 'my world, my choice!' now exists in India, Canada, Kenya, Pakistan and Turkey. Lianne states, "The overall goal of 'my world, my choice!' is to create leaders of sustainability. I am continually inspired by the energy and dedication our students put forth to mentor the next generation."
For more information on 'my world, my choice!' visit http://myworldmychoice.org/.
Share this page
Find related news by keyword
News Topics