LIVE Team Wins Nicol Entrepreneurial Competition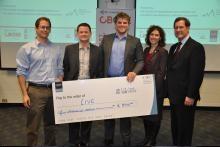 CME recognizes the value of entrepreneurship, and the Nicol Entrepreneurial Competition is designed to promote and reward the entrepreneurial spirit of students at the University. Participants are required to develop complete business plans for their innovative products and services. The 2012 winning team, LIVE, went above and beyond and presented an impressive business plan. Kent Santin and Benjamin Bond, two recent Marketing Management graduates, have been instrumental in the development of LIVE.
The idea for LIVE originated when Kent and Ben took MCS 4100, an entrepreneurial capstone course that helps students appreciate the challenges involved in creating a business. Ben and Kent had a project in mind and wanted to explore methods of providing nutrition and fitness advice for children and their families. The pair introduced the idea to Zack Straz and Krista Ricciatti, two Marketing Management majors who helped with the development of the business plan.
LIVE was intended to be an after school program offered to students interested in education surrounding nutrition and fitness. LIVE program leaders would demonstrate the preparation of healthy snacks and engage with students in various physical activities. LIVE would also focus on bringing healthy choices home by offering regular instruction and newsletters to parents.
The course allowed each individual to contribute their areas of expertise to the business plan. Kent states, "CME offers students a wide array of educational and extracurricular opportunities that quickly change your understanding of business. Most of my big WOW moments have occurred outside of the traditional classroom setting."
The team was awarded $5000 to help with the implementation of their idea. The group has approached school boards and the YMCA regarding LIVE, but they are putting the project aside to pursue other career interests at this point. Kent plans to study a Masters in Sustainability Management at Columbia or Western and Ben plans to work in the marketing field. Both have been moved by their experience with LIVE and hope to incorporate social initiatives into their future business plans with the goal of improving society.
Share this page
Find related news by keyword
News Topics