Male Rookie of the Year Andrew D'Agostini thrives as a champion both on the ice and in the community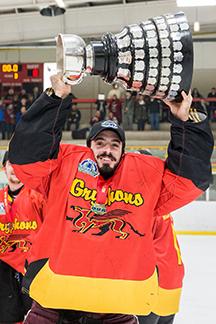 Andrew D'Agostini claims he's the type of guy who likes to keep busy. After a memorable first year at the University of Guelph that included playing for the men's Gryphons hockey team, taking on the responsibilities of a full-time student and raising money for cystic fibrosis, any disagreement with that statement is going to be hard to find.
When asked what motivates him to get involved in his school and community, D'Agostini's answer was simple: "I believe that I have the ability to influence people in a positive way and I love to help people."
In this Q&A, he reflects on his first year, discusses his philanthropic endeavours and provides insight into his post-graduation plans.

Name: Andrew D'Agostini
Hometown: Scarborough, ON
Major: Public Management
Year of study: 1st
Why did you choose to pursue your Bachelor of Commerce at the University of Guelph?
I was drawn to Guelph by the campus and the great sense of community within the university. The business program had a great reputation and was highly recommended by fellow teammates who were already enrolled. 
I chose to major in public management because I believe that the skills and tools I develop will be most useful and relevant to me after graduation.
You've had quite a few memorable moments in your first year. Tell us your top three.
Playing in a national championship and winning bronze was definitely one of the highlights of the year and a great way to end the year for the Gryphons.
Winning the Queen's Cup gold medal was probably the best moment of this year and to do it in front of a sold out crowd with my family and friends made it even better. I had never won a championship, so it was pretty special and I am glad I could be part of a Guelph Gryphons championship.
I also loved the overall experience of going to university with the challenge of balancing school, athletics and making friends along the way. I've met some pretty awesome people this year.
What community projects are you involved with?
I take every opportunity to get involved in the community, but over the past few years I have been really involved with raising funds and awareness for cystic fibrosis. When I played hockey in Peterborough we started an initiative called Saves 4 CF which raised $1 for every save made by the goaltenders for the entire season. This went on for my final three seasons in Peterborough and the money for this initiative came from local sponsors. The University of Guelph provided great support of the cause by adopting the Saves 4 CF initiative this past Gryphons season.
I have also participated in the Great Strides Walk for CF where I collected pledges through a funding page. My efforts, with the help of others, have gotten exposure on radio, newspaper and national television.
In total, we have raised around $40,000 for cystic fibrosis.
How do you balance all of these responsibilities?
I think for me it's about managing my time well and making the necessary sacrifices when it's time to work. That being said, I enjoy everything I do and the community work is never a burden. 
You were recently named "Male Rookie of the Year" at the Gryphons Athletic Banquet. What do you love most about being a varsity athlete?
The fact that I can play competitive sports and get my education at the same time is what I love about being a varsity athlete. There is a real sense of pride wearing the Gryphon logo.
What are your career aspirations following graduation from university?
I have a lot of career aspirations, goals and dreams for the future. It's safe to say I've set the bar high for myself. I plan on playing professional hockey once school is done. I also play the drums and have always dreamed of a future in music, which would be pretty cool. I will always be a philanthropist and involved in the community and I can see myself having a foundation in support of different causes.
With a business degree there are so many options beyond the few that I have mentioned. At the moment I am not certain what I would like to do from a business perspective, but I know there will be plenty of business opportunities moving forward.
If you could sum up your first year experience at Guelph in three words, what would those words be?
Fun, inspiring and successful.
Share this page
Find related news by keyword
News Topics