Marketing Management student Leah Tanner creates winning design for My Social Canvas competition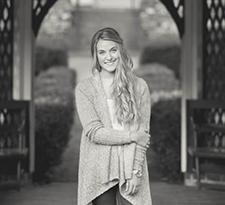 Creativity has played an important role in Leah Tanner's life from a young age, so when it was time to choose a major that allowed her to combine business fundamentals with creative pursuits, marketing was a natural choice. In addition to being a busy university student, Leah is also involved with My Social Canvas (MSC), a New York City-based organization that provides scholarships to millennial artists through various social campaigns. She is the recent winner of MSC's #DesignForHerEducation campaign and has been involved with the organization since high school. She currently assists with their social media presence, in addition to other projects.
This year, Leah will put her social media expertise to work for the Marketing Society and the College of Business and Economics Students' Association (CBESA). In this Q&A, she talks about her student experience at the University of Guelph and her work with MSC.
Name: Leah Tanner
Hometown: Montreal, Quebec
Current Residence: Avon, Connecticut
Major: Marketing Management
Year: 2nd
Why did you choose to pursue your Bachelor of Commerce in Marketing Management at the University of Guelph?
From a young age creativity has played an enormous role in my life. I have always been drawn to art and thinking outside of the box. I also have a keen interest in business. Marketing is a field that seamlessly combines both of these passions. I chose to study marketing at Guelph because I liked the idea of a Bachelor of Commerce that offered fundamental classes such as accounting, economics and calculus. The program is intensive; however you leave with an incredible understanding of all aspects of business. The choice was obvious and Guelph felt like the perfect fit.
What has been your favourite part of your University of Guelph experience so far?
The University of Guelph has a welcoming atmosphere, which I thrive off of. I love being able to spend my mornings snugged up in the Bullring with tea, listening to good music before class. The vibe of campus is by far what I have loved the most. I'm also originally from Montreal, but have been living in Connecticut for the past six years. Being back home is such a treat. I love everything about Canadians - it's true what people say, they really are the nicest people around.
Earlier this summer, you won a contest with My Social Canvas. Can you tell us more about how you became involved with this organization?
When I was in high school, my marketing teacher told me about MSC and urged me to participate in one of their design contests. I went out on a whim and entered a t-shirt design that ended up placing second! Lisa, the CEO of MSC, then reached out to me about getting involved with the company as a campus representative. Over the past couple of years I have helped with PR, social media, design, photo shoots, events and more. The company has given me invaluable experience and exposure into the design world which has made the biggest difference in my life. It had been a pleasure seeing how the company has transformed and grown over the years, much like my own life and career, thanks to them!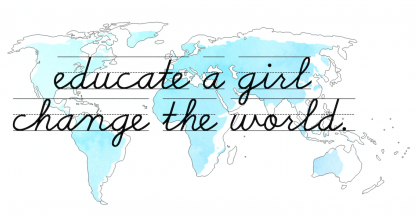 Leah's winning design for the #DesignforHerEducation competition.
Why did you decide to enter the #DesignForHerEducation contest?
I was originally helping to promote the #DesignForHerEducation campaign and never once considered entering it myself until the final week. To my surprise, I ended up winning! The contest itself is one of the most incredible things I have ever taken part in. Not only was it organized and judged by incredible and inspirational women, but the entire mission behind it was important as well. After teaching English in Cambodia earlier this summer, promoting women's education in third world countries is very near and dear to my heart, which made participating in this contest nothing short of an honour.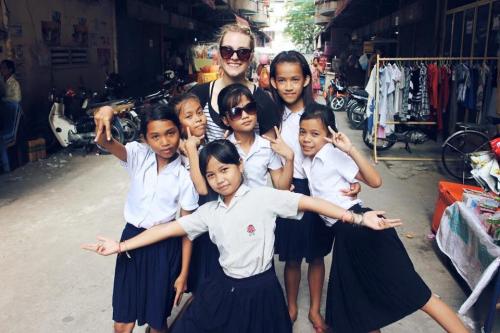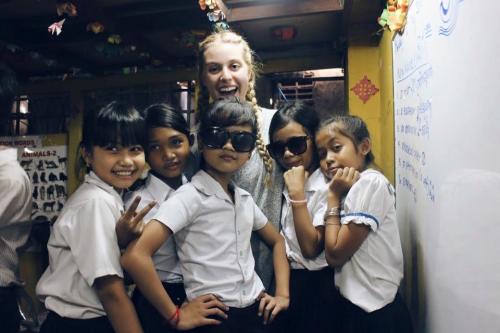 Leah Tanner with her students in Cambodia.
What skills have you learned from working with My Social Canvas?
My role with MSC varies on a daily basis. One day I'll be helping out with a photo shoot in New York City and the next day I'll be making watercolour samples for a new design. The one thing that has remained constant with my role is social media. Much like other people my age, social media plays a huge part in my life and I have grown to develop a deep interest in it on a business level. I have been heavily involved with MSC's social media from day one which I LOVE. Creating graphical posts or interacting with our network is so much fun for me, which explains why I am now involved with CBESA and the Marketing Society working with their social media accounts.
What do you enjoy most about working on social media for the CBESA and Marketing Society?
I like being involved at Guelph; it's the best way to meet new people who are also passionate about business. I have already learned so much from other team members and from our events. With social media specifically, I have to stay up to date with everything that's going on at the university, which is definitely a bonus because I'm always in the loop!
How do stay organized and manage all these platforms?
I'm not going to sugar coat it - it's not easy. Managing three organizations' platforms, as well as my own, is a BIG and time-consuming job. Sometimes it means getting up an hour early to update our accounts or staying up late designing a new post, but the experience I'm gaining makes it all worthwhile.
If you could sum up your University of Guelph experience in a few words, what would they be?
Work hard. Play hard.

Share this page
Find related news by keyword
News Topics