Management economics & finance student Megan Dietrich thrives in multiple, diverse roles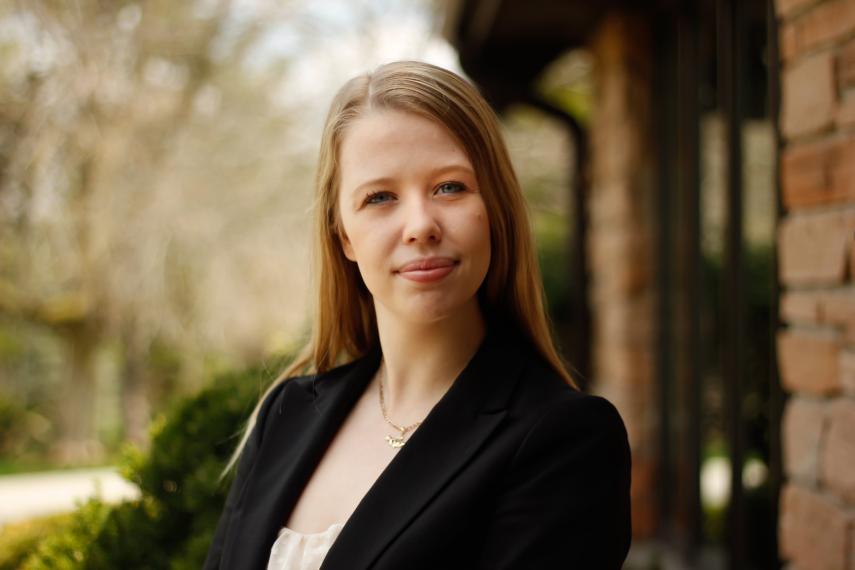 Since arriving at the University of Guelph almost four years ago, Megan Dietrich has experienced firsthand the variety of opportunities a business degree can offer. As a management economics and finance major, she is planning to become a Chartered Professional Accountant (CPA) following graduation while also continuing her photography business Captured by Meg Dietrich, a venture she launched in the Applied Business Project course offered by the College of Business and Economics.
This summer, she is working with EY Kitchener's auditing team while preparing for her role as marketing director for the College of Business and Economics Students' Association (CBESA).
In this Q&A, Megan discusses her experience at the University of Guelph so far and looks to what lies ahead this year and beyond graduation.
Name: Megan Dietrich
Hometown: Ayr, Ontario    
Major: Management Economics and Finance
Year: 5th
Why did you choose to pursue your Bachelor of Commerce at the University of Guelph?
Guelph has a beautiful working environment. Who wouldn't love to study on Johnston Green? Also, the culture within the business school is unrivalled. Guelph's business program is like a family. The faculty and the students are always there to help. It isn't a toxically competitive environment at Guelph; it's more like a collaborative team of students that will help you develop as a professional. Touring campus once is all it takes to feel the positive vibe.
What has been your most memorable experience so far?
Becoming the College of Business and Economic Students' Association's director of marketing has been the most memorable experience. Being on CBESA has been amazing for me throughout my time at U of G! I cannot explain how thrilled I am to be taking on a larger role in an organization that has become my university family.
You're CBESA's director of marketing, an economics and finance major and you run your own photography business. How do you balance these diverse interests?
Even though these interests may seem very diverse, they actually work really well together. Economics and finance courses help teach me very important business knowledge that I need to run my photography business. Being an entrepreneur taught me important lessons in marketing and self-branding that not only help as CBESA's director of marketing, but also in the work force. As a business student, having a good understanding of both marketing and economics has helped me achieve a lot more than I could have if I focused exclusively on one interest. 
You're an alumna of the Applied Business Project course which is where you started your photography business. What do you enjoy most about being an entrepreneur?
I have enjoyed meeting people during my journey as an entrepreneur. Guelph has a surplus of impressive individuals that are running their own small businesses and I got to meet a lot of them when doing photography for Splurge, a magazine made by the Guelph Mercury that showcases local businesses. I also got to work with some great mentors that have changed the way that I think about, and tackle, obstacles in my life.
What are you most looking forward to in your new role as director of marketing for CBESA?
Right now I am most looking forward to launching our new line of University of Guelph College of Business and Economics swag. We have been working really hard on creating a variety of sweaters, t-shirts, lanyards, and even more Guelph themed gear for business students. I'm especially excited for the marketing campaign that will go around advertising these new items. I see promotional photo shoots, videos, social media, and a lot of more exciting marketing adventures in the future and I can't wait!
This summer you're working with EY in Kitchener. What does your job entail?
EY is a public accounting firm that audits large corporations, so I get to assist my team in auditing our clients. When we sign off on an audit, we are letting the public know that we have looked over a company's finances, and believe that they have done their accounting fairly and accurately.
What do you enjoy most about working in accounting?
When you work in a public accounting firm, you get to meet a lot of different people. Since I am a social person, interacting with lots of people is ideal for me. Also, EY treats their employees like gold! If I work hard for them, they work hard for me. They want their employees to enjoy their job, and it really shows. I feel appreciated for my work and I am doing things that matter. I don't think that you could ask for much more from your job. Not to mention I am a huge nerd and think that accounting is fun!  
In addition to photography, where do you want to take your career in the future?
I can see myself doing a lot of things in the future. I know that I will get my CPA designation, and I can see myself staying at EY for a long time. I also would love to be a wedding photographer and make enough money to actually support myself on that income alone. I would also love to be a serial entrepreneur and invent some really cool things. So basically, I am going to continue doing whatever makes me happy and see where that takes me. I don't know exactly where or what that will be, but if I am enjoying the journey this much, I am sure that I will enjoy the destination.
If you could sum up your Guelph experience so far in three words, what would those words be?
Work. Play. Succeed.  
Share this page
Find related news by keyword
News Topics