HAFA student Michelle Chan takes her degree global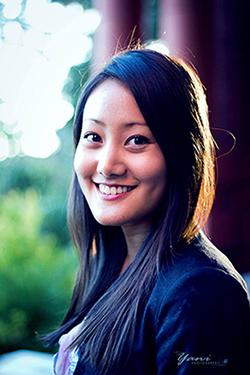 If you're looking for an example of a U of G student who has taken their educational experience to another level, look no further than Michelle Chan. Since starting our renowned Hospitality and Food Administration (HAFA) program, she has taken on roles in student government in the Hospitality and Tourism Management Student Association (HTMSA), completed a year of co-operative education, participated in CBaSE programs, acted as an Ontario DECA Provincials judge, and studied in France and Austria. Of her experience with the College of Business and Economics, Michelle says, "The College is a tight-knit community of students, faculty, staff and alumni. You can really have your cake and eat it, too. My rich University of Guelph experience turned out better than I ever imagined."
That's not all she has to say.
Name: Michelle Chan
Hometown: Vancouver, British Columbia
Major: Hospitality and Food Administration (HAFA), Co-op
Year of Study: 4th/5th (my program is like a sandwich – 2 years of school + 12 full months of co-op + 2 years of school)
What drew you to the College of Business and Economics?
The HAFA Co-op program was attractive enough to pull me away from the awesome west coast. I was drawn to the balanced program that includes accounting and finance courses, in addition to wine and service operations analysis. The assortment of courses stretches your mind in unexpected ways, cultivating creativity. In addition, as a kinesthetic learner, selecting a program with co-op was essential. Having the break after two years of university allowed me to apply what I had learned to the real world, save money and travel.
What has been your most memorable experience so far?
Academically speaking, travelling to the mountains of Grenoble, France for the Ontario-Rhône Alps Summer Language Program AND embarking on an exchange in the mountains of Innsbruck, Austria take the cake. Being immersed in a different culture was both challenging and rewarding. We would have picnic style classes outdoors, complete with Cabernet Sauvignon. In addition to studying with locals, there were students from around the globe, each bringing different perspectives.
As for extracurricular activities, I've loved diving into the world of underwater hockey at the University of Guelph. If you enjoy swimming, stop by the pool at 10 p.m. on Monday and Thursday nights for great company and a complex, lung-expanding 3D game.
What advice or tips do you have for first-year students?
Be courageous – explore new things, especially options with the Centre for International Programs, and faculty student associations. Strive to be a friend, instead of focusing on finding friends.
Where is your favourite place to study on campus?
The Bullring! Awesome live music, tasty food, and cozy chairs or tables – pick to suit your mood.
What is the best place to eat on campus?
Again, the Bullring. The cranberry almond salad and the chipotle chicken wrap are my favourites.
In your opinion, what is the best time of year at U of G? Do you have a favourite event?
Whenever the cannon is transformed into something terrific like a dragon or a mountain with a rock climber hanging off of it.
Do you have a favourite course that you've taken so far in your degree?
I developed an independent study style course with the Centre for Business and Social Entrepreneurship (CBaSE) that focused on green events. This inspired me to take initiative, and reminded me that there are countless simple daily changes we can make to build a better planet.
If you could sum up your experience at Guelph in three words, what would those words be?
EAT. SLEEP. TRAVEL. (The School of Hospitality & Tourism Management's official motto).
Share this page
Find related news by keyword
News Topics