Michelle Chan Jump Starts Career in Hospitality Field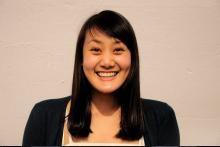 Michelle Chan has planned a pumpkin sale for United Way, raised funds for Think Pink and joined committees for Relay for Life. Not to mention, she's also organized a fundraiser and she's only completed two years at University. Michelle is one of many students who embraces student organizations in the College of Management and Economics. Michelle is a Hotel and Food Administration Co-Op student in the School of Hospitality and Tourism Management. She joined the Hospitality and Tourism Management Student Association (HTMSA) during her first year and has created quite the profile for herself.
Student associations within CME are very active and create strong bonds for students. According to Michelle, "HTMSA has an amazing sense of community and we have created a family for ourselves." It came as no surprise that Michelle and HTMSA were more than willing to host a fundraiser for Drew Crumpson, a fellow HTMSA member who suffered from a swimming accident while working on Project Serve International in Peru. Drew fractured his C4 vertebra and became a quadriplegic. HTMSA hoped to raise $10,000 for Drew's wheelchair costs through his fundraiser, Keep Fighting Keep Smiling, which was quickly surpassed to reach a total of $32,000.
Along with her role as Director of Charitable Events for HTMSA, Michelle is also involved with the Hospitality and Tourism Management Graduation Committee. She believes her role with the Committee helped her gain the necessary skills to plan Keep Fighting Keep Smiling. Michelle also plays on the Guelph Underwater Hockey team, volunteers with Garden 2 Table and participates in the University of Guelph Outdoors Club and the Hotel Association of Canada.
Along with her extracurricular activities, Michelle excels in the academic setting. She plans to work with Coast Hotels & Resorts through a one year co-op program. She will work in Vancouver, Jasper and Edmonton at various hotels and headquarters where she will meet regularly with the company's president and general managers. Michelle is looking forward to her start date and states, "I want to get the most out of my experience as a student by taking the opportunity to travel and work in various hotels." Michelle was originally drawn to the Hospitality and Tourism Management program because of its number one ranking in Canada and its full year co-op programs offered to students. She states, "I really like that I have the opportunity to work through an annual business cycle within the hotel industry."
Michelle recently finished her second year and will return to Guelph after her co-op is complete for additional courses. Michelle is a student who has taken full advantage of extracurricular activities and has used them to excel both academically and professionally.
Share this page
Find related news by keyword
News Topics