Passion for agriculture takes soon-to-be graduate Eamonn McGuinty to Global Health and Innovation Conference at Yale University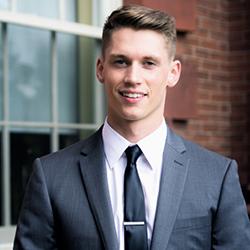 When Eamonn McGuinty traveled to Yale University to present at the Global Health and Innovation Conference earlier this year, he took another step towards building a career he has been passionate about since before he arrived at U of G.
An avid student leader, who has acted as the co-captain of Guelph's Jeux du Commerce team, worked as an undergraduate teaching assistant and competed at multiple conferences, McGuinty is committed to being a force for good in the agriculture and agri-food industry on an international level. In this Q&A, he reflects on his University of Guelph experience and his recent trip to Yale.
Eamonn McGuinty
Hometown: Ottawa, ON
Major: Food & Agricultural Business
Year: Graduating June 2015
Why did you choose to pursue your Bachelor of Commerce in food and agricultural business at the University of Guelph?
Before coming to Guelph, I developed a passion for the agriculture and agri-food industry. I read a lot about the current trends of the world's food shortages and the anticipated nine billion people that will be on the planet by 2050. I became intrigued about the ever-changing global food system and how our globalized economy facilitates access to food, but can also impose challenges for some of our local and homegrown producers. I also wanted to seek international work and experiences, and I knew that the agri-food industry could provide me with those opportunities.
What has been your favourite part of your University of Guelph experience?
In my second year, I took part in the National Agri-Marketing Association Competition in Kansas, Missouri.  I was part of a 10-person team from Guelph that created a marketing plan for a novel product for aquaculture producers in the USA called Aquacy. We presented the product before a panel of judges and after three rounds of presentations, we finished second out of 30 universities in the competition. We were one of two Canadian schools in attendance and were extremely proud of our efforts.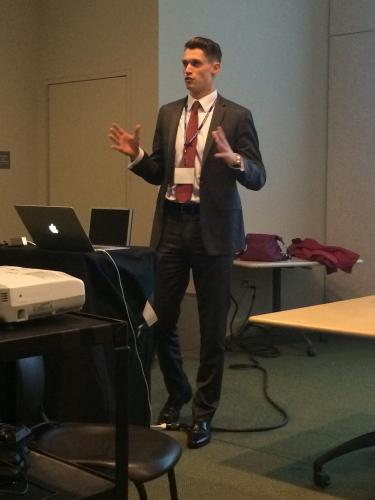 You recently competed at the Global Health and Innovation Conference at Yale University. What was your presentation about?
I was given the opportunity to present on sustainable agriculture kits (SAKs), a Nepal-based initiative aimed at improving farmer livelihoods in some of the most rural and remote areas of the country. I am working on the SAKs project along with Manish Raizada, from Plant Agriculture at the University of Guelph, who has formed a team to scale up and distribute agricultural innovations which are low-cost and simple for rural and hillside farmers in Nepal.
You presented at Yale before the earthquakes in Nepal. How has this project changed since then?
Some of the products will be scaled up faster. For example, because long-term seeds are stored in homes or in granaries which have collapsed, and since the pre-monsoon rains have arrived, the seed heritage of farmers is at risk. For this reason, the project has rushed procurement of 10,000 special grain storage bags that cost $0.99 USD each. Similarly, because of labour shortages due to human and livestock injuries, we are rushing in an improved seed planter that costs $4 USD each. The project has put together a report of the top 10 products that can be scaled up now, along with almost 20 picture illustrations to help farmers understand how to use them. These are available at www.SAKNepal.org.
What inspired you to present on the SAKs at the conference?
I thought it would be great to enter the conference at Yale for a chance to get feedback and guidance from expert panelists. I presented twice at the conference: a five-minute presentation with 10 minutes of Q&A, and a two-minute pitch to a panel of judges for a chance to enter the final round, which awarded the winner a cash prize of $10,000.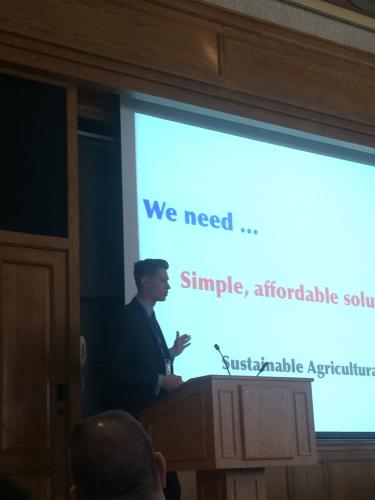 What sparked your interest in this topic?
I'm very interested in pursuing international work and I also believe that we can combine business and development to create a force for good. I think this is a valuable opportunity for me to be challenged in a very complex way, which involves using the marketplace to improve livelihoods in some of the poorest regions of Nepal. By commercializing the innovations we are looking to scale up, I'm going to learn a lot about working with a different culture. This will be a very steep learning curve for me and I'm extremely motivated by that.
How did you prepare to present at the conference?
Practice, practice and practice again. Repetition is key and I must have rehearsed both of my presentations more than 75 times. I'm also extremely fortunate to have a fantastic group of mentors and advisors who spent time listening to my presentations and correcting me in certain areas that needed major improvements.
Do you have any advice for students considering presenting at their first conference?
In short, you need to remember that there is absolutely nothing to lose when you are about to present. What is the worst thing that could happen? Be comfortable, know your audience and know your substance and everything should go well. I like to look at a few familiar and friendly faces in the crowd while I present.
If you could sum up your experience in three words, what would they be?
Anything is possible.
Want to learn more? Check out the video Eamonn submitted to qualify for the Yale conference.
Share this page
Find related news by keyword
News Topics