Public management student Andrew Gunpat looks forward to career in law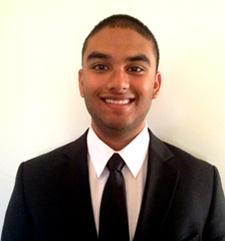 When Andrew Gunpat was applying to universities, he knew he wanted a commerce degree that would give him the knowledge in business, public administration and political science that he needed to prepare for a career in corporate law. He found this unique focus in the University of Guelph's public management major, and is now gearing up for the next phase of his education – law school.
In this Q&A, Andrew discusses his student experience at the University of Guelph, how his commerce degree readied him for law school, and the leadership skills he acquired as president of the Public Management Association.
Name: Andrew Gunpat
Hometown: Mississauga, ON
Major: Public Management (Co-op)
Year: 5th
Why did you choose to pursue your Bachelor of Commerce in public management at the University of Guelph?
I knew coming into undergraduate studies that I wanted to pursue law school and I felt that the perfect combination to get there was to study business and political science. While it is possible to take courses like these at most universities, Guelph is one of the few schools that offer a Bachelor of Commerce degree with a specialization in public management/administration/political science. I wanted a Bachelor of Commerce degree and public management was a great way to gain the political science/administration knowledge while still getting the BComm.
What do you love most about being a University of Guelph student?
The amount of genuine care students receive from professors, staff, and other students is unrivalled in my opinion. It was very refreshing to come to an environment where students sincerely care for each other, and professors genuinely want to see us succeed and will work hard to facilitate that.
Where do you want to take your degree after graduation?
I am currently in the process of applying to law schools around Canada and the United Kingdom. I hope to use my business studies to complement my law school studies with the aspiration of eventually working in corporate law.
How do you think the public management major has prepared you for this career path?
One of the largest areas of law is public law. Everything from the environment, to constitutional reform, to bureaucratic initiatives affecting the private sector is impacted by the government and its policies. Therefore, understanding how government operates, the strategies and processes behind policy implementation, and dealing with issues such as accountability and transparency are important when it comes to addressing the legal landscape when government is involved. With regards to corporate law, government policies will always be a factor pertaining to the many issues corporations face, so I look forward to using this knowledge to aid in my future career. 
You're currently the president of the Public Management Association (PMA). How did you get started in student leadership?
My first experiences exhibiting leadership were at my taekwondo gym before university. As a second degree black belt, I was required to instruct classes of over 70 students, and coach and judge at competitions and promotion tests. This got me started in understanding how to command a room and motivate a group of people to work hard and try their best. At university, I am also vice-president of the Pre-law Society which requires similar skills. Creativity, communication and teamwork are all important traits that I have learned are paramount when in a leadership position.
What have you enjoyed most about being a part of the Public Management Association?
I have enjoyed working with my team to create opportunities for public management students to meet each other, engage in discussions and networking, and ultimately foster relationships with each other.  Our major is quite small and unlike the other commerce majors, public management students do not have a specific class just for us, so it's important to have a student association organizing meetings and events. I believe it is really important for students to know they have peers to work and study with, and gain valuable friendships along the way.
What advice do you have for prospective students considering the Public Management major?
We call this major the gem of the commerce program. It is truly unlike any other major and for interested students, it represents the best of both worlds. For students interested in law, working for government, or gaining a core commerce education with political science and public administration studies, this major is perfect. Analyzing numbers quantitatively and writing effectively are skills that will be honed throughout this major. It is also important to remember that this major is very versatile. You are not  limited to a government-focused career and I myself have used my knowledge and skills to work for the Canada Revenue Agency as an auditor and the Bank of Nova Scotia as a Product Specialist, to name a few.
If you could describe your University of Guelph experience in three words, what would those words be?
Unforgettable, life-shaping and enriching.
Share this page
Find related news by keyword
News Topics