Management Economics & Finance student Ryan Martin reflects on his first two years at U of G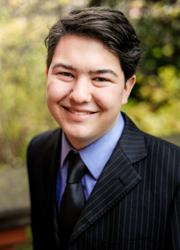 Ryan Martin's first two years at the University of Guelph have been an introduction to university-level economics and finance, as well as university life. In addition to focusing on his studies as a Bachelor of Commerce student, Ryan has also become involved in a number of activities outside of the classroom and taken advantage of the welcoming and dynamic student life that the University of Guelph is known for. Earlier this year, he led the organization of a guest speaker event that saw Danby CEO and noted entrepreneur Jim Estill speak to University of Guelph students about his secrets to success.
In this Q&A, Ryan discusses all aspects of his student experience - including his role as a commerce cluster leader in residence - and provides advice for future students.

Name: Ryan Martin
Hometown: Wiarton, ON
Major: Management Economics & Finance (MEF)
Year: 2nd
Why did you choose to pursue the Management Economics & Finance major?
I chose to pursue a Bachelor of Commerce degree after taking a course in economics in high school, in which I found myself interested in understanding what I consider "the real universal language" – which is the language of economics and business. In terms of my major, I realized in the latter half of high school that I had an aptitude for numerical analysis, but a passion for big picture thinking. Management Economics and Finance sounded like just the program to unite those two factors.
What is your favourite part about studying economics and finance?
My favourite part of studying economics and finance is the way they converge and complement each other. Economics so far has been all about model building, understanding the effects of fairly substantial shocks on a model, whereas finance is all about understanding the finer details and the math behind some of those shocks. As you progress through the program, they both converge (i.e. explain some of the same phenomenon in different spheres or terms), but are also distinct enough that they complement each other.
What do you like most about being a student at the University of Guelph?
What I like most about being a student at the University of Guelph is without a doubt the environment. After taking the Introduction to Co-op course, I learned there is a phenomenon known as a "Guelph-ism," meaning that students who come out of the university tend to be more inclusive, aware of macro events, and are stronger team players. Not only is this our competitive advantage, but it also makes me feel part of a community that is interested in my success, and this is reflected in the amount of resources available to students to succeed.
What do you hope to do after graduation?
After graduation I would like to be involved in a role where I get to interact with people and help them solve problems. A competing but perhaps complementary interest is being involved in a company that does something about the environmental problems we are facing. The short-term plan is a role such as personal financial planner or business consultant, but the long-term goal is something more entrepreneurial.
What has your favourite class been so far?
My favourite class so far has been Philosophy of the Environment. It integrated ethics into the ways we think about a few of the most important problems facing our world today, and offered a competing narrative to the one I had encountered in commerce, allowing me to expand my capacity for thinking about major issues.
You're just completing your first year as a cluster leader in residence. Why did you decide to take on this role?
I decided to take on the role of cluster leader in residence for two reasons. The first being that I felt a desire to pass on the benefits I had received in my cluster in first year to a new cohort and get them in the best position to begin their academic and professional careers in commerce. The second reason is that I thoroughly enjoyed the type of people that Residence Life Staff attracts; the team I was a part of was incredibly supportive, and enriched me as a person to the point that I feel much more confident confronting challenges in my coming years.
What is your favourite memory from your time as a cluster leader this year?
My favourite memory of being a cluster leader was leading cheers in the annual "Pep Rally" during Orientation Week. This type of experience was so far outside my comfort zone that I was partially terrified, but once I got up there with the support of my co-workers, I felt invigorated and it gave me the initial jolt of confidence I needed to succeed both academically and in my role as cluster leader for the coming year.
What advice do you have for first year students who want to get involved on campus?
I would advise to subscribe to as many email listservs, Facebook groups, and other information outlets as possible. The prime currency for those looking to get ahead is information. You can learn about professional development through co-op and career services (they have an emailing list), you can learn about a networking experience through the College of Business and Economics Students' Association Facebook page, and so on. Be unafraid to ask questions, and find out where people you encounter get their information.
If you could sum up your experience at the University of Guelph in three words, what would those words be?
Enriching, challenging, fun.
Share this page
Find related news by keyword
News Topics