Sergio Morales combines student and civic responsibilities as one of Barrie's new city councillors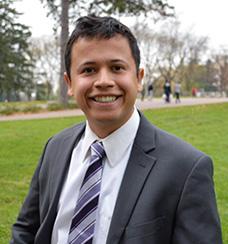 Fourth-year real estate and housing student Sergio Morales is preparing for a winter semester that will prove to be anything but typical. While many senior students are focusing on completing their courses and searching for job opportunities, Sergio is looking forward to starting his first term in public office as councillor of Barrie's Ward 9.
Born in Colombia, Morales moved to Canada at age seven and to Barrie at age nine. He started his post-secondary education at the Edwards School of Business at the University of Saskatchewan, but transferred to the University of Guelph to take the real estate and housing major. In this Q&A he discusses his passion for community leadership and how his U of G education will complement his role in a city destined for significant growth over the next two decades.
Name: Segio Morales
Hometown: Barrie, Ontario
Major: Real Estate & Housing
Year: 4th
Why did you choose the Real Estate and Housing major?
I've always had a deep interest in real estate because of its tangibility - it is something real that you can touch, occupy and sell. From housing to skyscrapers, real estate's larger than life presence inspired me to work in an industry where I would be brokering and creating legacies that future generations will inherit.
How do you think this education will apply to your role as a councillor in Barrie?
The most valuable asset I have in serving the residents of Barrie's Ward 9, besides my passion for the city, is my education. Dozens of university-level courses in a variety of subjects ranging from business to arts have developed the creative, critical thinking and practical application skills I need to bring a visionary viewpoint to the City of Barrie.
What was it about public service that drew you to run for councillor during your fourth year of undergraduate studies?
I didn't just see public service as something to be watched from the sidelines, I saw it as a calling. Barrie's Ward 9 will experience  significant growth over the next 20 years as a result of the Province's Places to Grow Act, and I want that growth to be smart growth that becomes a proud legacy for future Barrie generations. While it might have seemed more convenient to wait until the 2018 election, you often only have one chance to get growth right.
You have a full plate with your new role and a full-time course load. How do you think your passion for your community and education will impact your ability to balance these responsibilities?
Passion has always been my strongest guiding force for all that I do, and I don't see that changing anytime soon. I somehow managed to run a winning campaign while commuting multiple times a week between Barrie and Guelph, and I expect to use that same passion to be able to successfully bring vision to Ward 9's residents while successfully completing my studies.
How do you see your career in public service developing throughout your term and beyond?
Throughout my term as Barrie Ward 9's councillor, I see myself earning the trust of the Ward 9 community to where I become the 'community councillor' they know they can count on for issues big and small.
It will be up to the constituents I represent whether I get re-elected or not and they will be making that decision partly on my performance as their Ward 9 councillor. Therefore, I'm happy focusing on exceeding their expectations and will let my performance and results dictate where my political career will go.
What advice do you have for students who are eager to take a more active role in their community?
My advice is that no goal is unattainable so long as you have a clear objective and a detailed plan on how to get there.
Answer the following questions and you're well on your way to achieving your own personal goals: "What do I truly want? How will I get there?"
After that, go out and make it happen.
Share this page
Find related news by keyword
News Topics