Sustainability in business is about incorporating socio-economic change alongside environmental change, says MEF student Najma Amin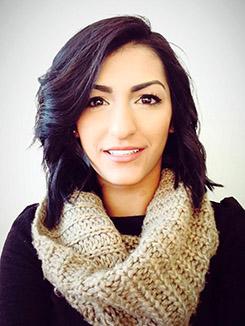 Growing up, Najma Amin always assumed she would pursue a career in medicine like her parents, but in ninth grade her plans changed when a conversation with her uncle ignited her interest in business. Now in her second year at the University of Guelph, the Management Economics and Finance (MEF) student has already presented at her first conference, and is set on making her education work on an international level.
Name: Najma Amin
Hometown: Cambridge, ON
Major: Management Economics and Finance (MEF)
Year of Study: 2nd
Why did you choose to pursue your Bachelor of Commerce at the University of Guelph?
I had actually never been to Guelph before deciding to study at the U of G. I returned to Canada the day classes started after spending some time in Afghanistan. I chose to come here because of the business program, beautiful and friendly campus and the school's emphasis on sustainability. In my opinion, this is where the focus should be for my generation.
In your first year at the University of Guelph, you presented at the Principles for Responsible Management Education (PRME) Canada Regional Meeting. What drew you to do this so early on in your academic career?
The opportunity really presented itself. When I started at U of G, I majored in Leadership and Organizational Management (LOM) and I received a research assistant position with the Department of Management. Department Chair Davar Rezania asked if I would be interested in writing a paper for PRME. I became increasingly engaged as the research progressed and I had a great experience at the conference meeting people with similar interests.
What was your presentation about?
My presentation focused on how the curricula and academic environment at the College of Business and Economics align with PRME's six principles - purpose, values, method, research, partnership, and dialogue. Specifically, I explored the barrier-free communication between students and faculty, contributions of the students' association, the encouragement students receive to develop as leaders, and the value the Co-operators Centre for Business and Social Entrepreneurship (CBaSE) contributes to providing opportunities for students to work with community partners.
Why are you so passionate about this area of research?
I feel like it's our generation's responsibility to correct mistakes of the past if we want to leave a world that is sustainable for future generations. It's not just about making the world greener, it's about incorporating socio-economic change alongside environmental change.
In addition to presenting your own research, what was your favourite part of the conference?
I really felt I benefited from engaging with other attendees. It was nice to hear perspectives on sustainable development from people in different programs and careers. The conference also included roundtable discussions with company executives. I was able to listen in on their conversations and understand why they made certain decisions decades ago.
What would you tell other students considering presenting at their first conference?
Definitely do it. Whether you travel or participate locally, it's an experience and you've got nothing to lose. Now I have friends in Edmonton, and a great network of people outside of Guelph who share this interest with me.
What kind of work do you envision for your career in human resources management?
I'm really looking forward to taking on leadership roles and exploring opportunities in international development, possibly with the Department of Foreign Affairs, Trade and Development (DFATD). Most notably, I want to reach out and do something important.
To learn more about PRME, visit their website.
Share this page
Find related news by keyword
News Topics