University of Guelph brothers collaborate to win rental housing challenge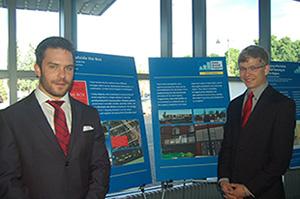 For Real Estate and Housing (REH) student Daniel Foch and Landscape Architecture (LA) student Kyle Foch, winning York Region's Make Rental Happen Challenge was a family affair. Tasked with creating a rental housing solution for York Region, the University of Guelph brothers combined their knowledge and proposed rental housing options that topped international competitors and won bragging rights and a $5,000 grand prize. Further to their monetary gain, the Foch brothers became more aware of each other's talents, learned the value of pursuing their ideas and became more confident in their abilities to enhance the beauty, functionality and sustainability of local communities.
Names: Daniel and Kyle Foch
Years/Majors: Daniel, 5th year Real Estate and Housing/Kyle, 2nd year Landscape Architecture
Hometown: Georgina, ON
Why did you choose to study at the University of Guelph?
Dan: I chose to study at the University of Guelph because it offered a very specific Bachelor of Commerce major that pertained directly to what I planned on doing with my future. Beyond that, I was really attracted to the city, the campus and the small community feeling at the university.

Kyle: I chose to study at the University of Guelph because it offered one of the only undergraduate programs of landscape architecture in Canada. When I came to visit the campus a few years ago, I had my mind set on becoming an architect. However, after visiting the landscape architecture building, meeting some of the professors and looking into the program further I fell in love with the school and the LA field.
You recently won the Make Rental Happen Challenge hosted by York Region. Why did you decide to enter the challenge together?
Dan: There were a number of reasons. Since a close friend of mine first mentioned it to me in high school, I've had these crazy concepts of cargotecture and shipping container development plaguing my mind. I saw this as an opportunity to finally put it all on paper and after seeing my brother's drawings and renderings from his class work, I thought he would add a lot of value on the creative and visual side. When he sent me the renderings he made as visuals for our proposal, I was totally blown away by the quality and realized we had a final product that could stack up well against the competition.
Kyle: The main reason I decided to join the challenge was because of the opportunity to test my skills as a junior/student designer. I also got to see how my brother and I could work together, which I might say went very well. If it wasn't for my brother I would never have jumped at the opportunity to tackle this challenge.
The Make Rental Happen Challenge required participants to propose rental housing solutions for York Region. What did you propose?
Dan: We proposed a few different strategies that could help address the rental housing shortage in the region.
The concept strategy was to have creative live-work units to cater to the artisan and entrepreneurial populations. This was designed to add value to the local community while promoting a greater pride of ownership among residents in the building, as a place to both live and work.
We proposed strategic partnerships with local green energy co-ops to use the rooftop space of apartment buildings as solar farms. This would create an alternative revenue stream and offset the overhead costs of the buildings.
Kyle: From a design perspective, we aimed for simplicity. We built from shipping containers, an affordable and sustainable building material. We started with a large building to prove the scalability, and then we essentially put outbuildings in a ditch to prove how versatile the structures can be.
The largest challenge for me was incorporating the shipping containers into the design rather than hiding this structural material. Instead of hiding them, we went with a raw, industrial design concept.
How did your respective education/interests impact your successful proposal?
Dan: What I've learned from my program applied directly to the proposal: market research, urban economics, built forms, development, finance and property management. We basically turned our vision into a complete development plan, which allowed us to market the project based on feasibility. I'd be comfortable presenting it to any investor or bank in the world.
Kyle: I think that much of what I have been learning throughout my schooling and many of my artistic and design interests truly impacted the way the project developed. When it came to putting together the visuals and planning out the physical renderings and development of the buildings I was able to implement what I had been learning from both school and my personal studies and experiences.
What do you think separated your proposal from the competition?
Dan: I think our proposal was very thorough in nature. The diverse spectrum of educational expertise that we were able to apply made it very complete, and it stood out in that respect. Kyle's visuals were done from a more organic and genuine perspective as well, which complemented the raw built form style that we were working with.
Kyle: Our site was also situated in our hometown, which is a rural environment, and because of this I believe that our proposal was an effective solution to the rental problem that we have in York Region which is a very rural community.
What advice do you have for students considering entering a competition like this?
Dan: Do it for the experience and personal development. You're not going to regret putting a ton of effort into an awesome submission and perfectly tailored project, regardless of whether you win or lose.
Kyle: If you have the time to do it then do it. You can gather information and ideas from your own work and submissions, as well as from those submissions placed by your competitors. The experience and knowledge you gain from these competitions can't be found in the classroom or from reading a book.
If you could sum up your experience at U of G in three words, what would they be?
Dan: Passion changes everything.
Kyle: Learn from experiences.
Share this page
Find related news by keyword
News Topics