Dr. Lucy M. Mutharia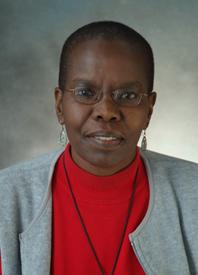 Department of Molecular and Cellular Biology
Dr. Mutharia will not be taking new project or summer students effective W2021
My research interests are in the field of Bacterial Pathogenesis and specifically in the study of intracellularly growing bacteria, how these parasites interact with host cells and development of diagnostic assays. I completed B.Sc. and M.Sc. studies in Biochemistry at the University of Nairobi, and a PhD in Microbiology at the University of British Columbia. As a PhD student I studied the immunochemistry of bacterial lipopolyshaccharides and it was then I became interested in Microbial pathogenesis and immunology. My interests in bacterial pathogenesis were strongly influenced by my PhD advisor Dr. REW Hancock. My current research focuses on Mycobacterium avium subspecies paratuberculosis to understand at the molecular level, the genes and properties that enable this bacterium to growth within the mammalian macrophage cells.
I am a member of several scientific associations including, the International Association for Paratuberculosis and currently is on the Board of the IAP, the American Society of Microbiology (ASM) and the Canadian Society for Microbiology. I am on the Editorial Board for Journal of Clinical Microbiology, and a Member of the ASM Task Force for Africa.
B.Sc. Nairobi
M.Sc. Nairobi
Ph.D. British Columbia
Mycobacterium avium subspecies paratuberculosis or MAP is the causative agent of Johne's disease and the bacterium is implicated in some cases of human Crohn's disease. Johne's disease is a chronic and fatal inflammatory disease of the intestinal tract and which affects many animal species.
The current areas of research focus in the lab are:
To study the molecular basis for MAP ability to invade, parasitize, and grow within the macrophage defense cells of the host animal. To survive within the macrophage, MAP bacteria regulate the expression of essential genes and proteins that allow the bacterium to overcome innate defenses of the macrophage cells and to survive within these cells. We use molecular approaches to identify and study the properties and functions of specific two-component signal transduction genes required for intracellular growth. We use mammalian cell lines and environmental protozoa as model systems to study expression of specific genes associated with the parasitic lifestyle.
Current vaccines do not protect animals against infection vaccines, and worse, they do not prevent shedding of MAP bacteria in feces and animals milk. These vaccines do not prevent transmission of the disease or contamination of the environment. We are applying proteomic and molecular tools to identify MAP components which induce MAP-specific cellular and antibody responses. These components can be used to develop diagnostic reagents and for development of vaccines.
Because MAP is extremely slow growing detection of contamination can be a protracted process taking weeks to months before growth become evident. We are developing new or improved diagnostic assays for detecting live MAP bacterial contamination of animal products and environmental samples.
At the undergraduate level, I currently teach Introduction to Microbiology (MICR*2420), Advanced Microbiology Methods (MICR*3430), supervision of undergraduate students taking the 4th year projects courses MCB*4500 and MCB4510.  Past courses taught include Microbiology Methods I (MICR*2430, Pathogenic Bacteriology (MICR*4010), and Immunology I (MICR*3230). At the Graduate level, I have participated in the teaching of MCB*6500 and MCB*7500, Research topics in Molecular and Cellular Biology.
Shirlaine Harris, MSc
Jin Duan, Post doctoral fellow
Undergraduate project students
MAP K10 genome project:
Crohn's Disease: