Get to Know MCB
This page will be updated periodically to feature a member of the MCB department! Our current feature is...
---
Colin Cooper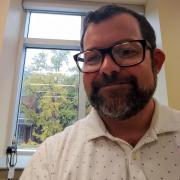 Undergraduate Teaching Coordinator, MCB
Where were you raised and where did you attend school(s)?
"I was born and raised in Cambridge Ontario, did my BSc. in genetics and MSc. in developmental biology at Western University, and my PhD in biochemistry and biomedical sciences at McMaster. My Master's thesis work tracked peroxisome biogenesis in the development of Xenopus laevis and at Mac my thesis centred around the virulence chaperone network of Salmonella."
Tell us about your role in MCB?
"As an undergraduate teaching coordinator, I work to ensure labs in upper year biochemistry courses are modern, interesting to students, and help prepare students for the next steps in their careers. You may also catch me lecturing from time to time."
Why did you choose to come to U of G?
"I chose U of G because it has a beautiful campus in a beautiful city. I got to know the department of Molecular and Cellular Biology a little before I started, and realized that it would be a great place for me."
What is your favourite thing about U of G?
"It's difficult to name a single thing as my favourite aspect of U of G, I guess I would have to say the atmosphere on campus and the people I am fortunate to work with in the science complex."
What attraction(s) in Guelph would you recommend to newcomers?
"To be honest my favourite thing to do in Guelph is to just get outside and enjoy the fantastic parks and trails we have. Whether it's hiking, biking, or contributing to the outdoor rink in my neighbourhood park, being outdoors in my favourite thing to do in Guelph (that and heading downtown once and a while)."
What is one piece of advice you would share with students aspiring or currently pursuing graduate studies?
"I would offer two key pieces of advice for current or soon-to-be graduate students: First off, slow down and take time to enjoy graduate school, it can be some of the most fun years of your life, so enjoy them. Secondly, spend some time on your career; whether it be learning about opportunities after grad school, how to market yourself and your skill-set, how to network and get your foot in the door somewhere, or simply how to find jobs and tailor your resume to them, spend some time on career sooner rather than later."
What is your favourite thing to do outside of work?
"Although free time is almost non-existent with three little children, I usually try to brew a batch of beer once in a while in my backyard while I chase the kids around the house."
What is the most rewarding aspect of your role as an undergraduate teaching coordinator?
"Although it sounds cliché, when a student's eyes light up as data appears from a plate reader, bands develop on a Western blot, or they nail their Enzymology seminar, that is what makes my day!"