Genetics of feed efficient cows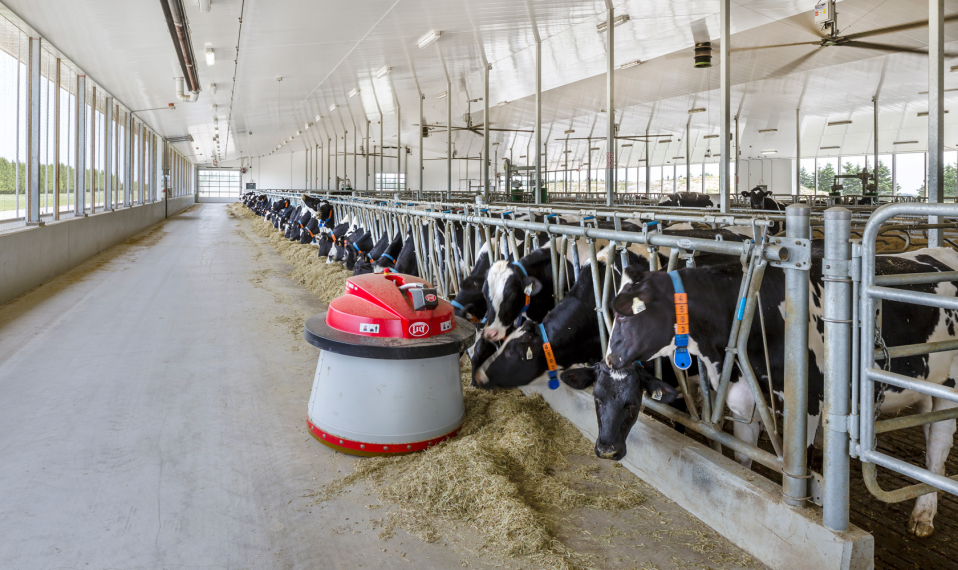 Canadian scientists conducting a groundbreaking 3,000-dairy cattle study are developing genetic tools to improve feed efficiency and decrease methane emissions.
The research team, led by University of Guelph animal biosciences professor Filippo Miglior and University of Alberta's professor Paul Stothard, says as feed costs continue increasing and climate change progresses, pressure on the $16.2-billion dairy industry will grow. The need to improve feed efficiency and decrease methane emissions in dairy cows is greater than ever. This is why the team is turning to genetics for answers.
Research has shown some cows have a natural ability to transform the same amount of feed into more milk while also producing less methane and manure than others. Genomics—the study of information found in the DNA of a living organism—can determine the genetic traits that result in improved feed efficiency. If those genes can be identified, researchers can select for more efficient cattle, and producers can save on resources and feed. 
"Efficient animals produce more milk with the same amount of resources," Miglior says. "It's exactly this naturally occurring genetic variation that will make the Canadian dairy population more efficient and ultimately more sustainable."
To find the link between feed efficiency and genetics, researchers are monitoring herds across Ontario and Alberta. Radio frequency identification (RFID) tags in each cow's ear use radio waves to collect and store data on their dry matter intake and behaviour. Since each calf's entire genome can be tested and recorded soon after birth, traits, such as milk yield from tagged cows, can be linked back to their genetic makeup. Correlations between feed efficiency and genetics can eventually be made for all animals with genomic information in the herdbook.
Currently, agriculture contributes to more than a quarter of Canada's total methane emissions. Miglior's Guelph colleague, professor Christine Baes, says about 30 per cent of variation in feed efficiency and methane emissions can be attributed to the animal's genetics. 
Based on preliminary estimates from international partners, breeding for increased feed efficiency can lower feed costs up to $108 per cow annually and decrease the dairy industry's total methane emissions by 11 to 26 per cent. Feed efficiency is linked to metabolism, which is determined by a cascade of genes researchers are looking to understand.
"There's more awareness on the role of agriculture in greenhouse gas emissions," Baes says. "Before, it wasn't possible to collect enough data to accurately estimate the heritability of efficiency traits. Now we can do that."
Data from the study will be used to develop a genomics database at Canadian Dairy Network, alongside feed efficiency data from roughly 7,000 cows from research partners in the United States, United Kingdom, Australia, Switzerland and Denmark.
Genome Canada, Alberta Agriculture, Ontario Ministry of Research and Innovation, Genome Alberta, Ontario Genomics, Canadian Dairy Network and GrowSafe funded this $10.3-million project.
Share this page
Find related news by keyword
News Topics