Growing Ontario Solutions: The OMAFRA-University of Guelph Agreement Annual Report 2018-19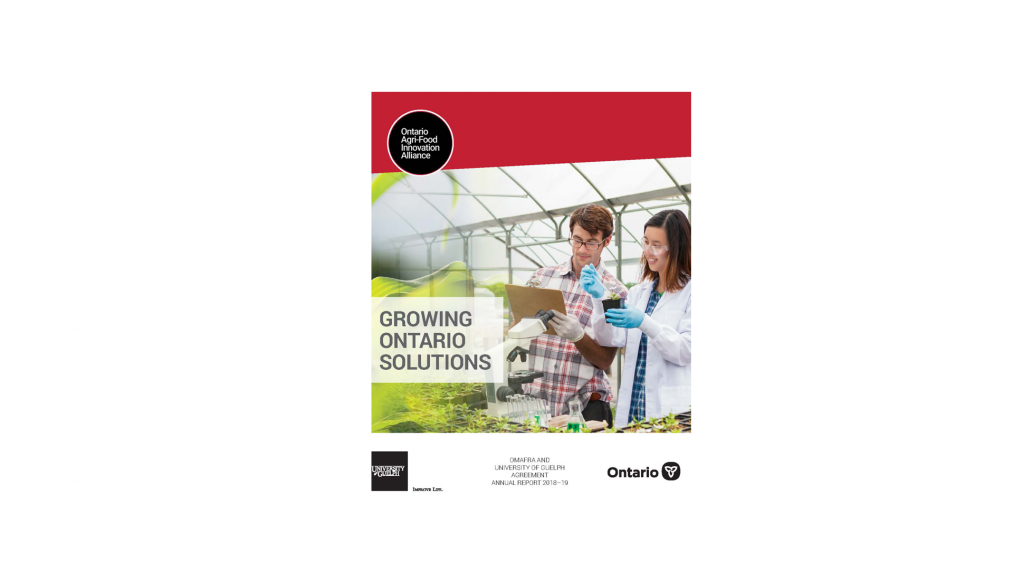 The University of Guelph is proud to work with the Ontario Ministry of Agriculture, Food and Rural Affairs (OMAFRA) to deliver Ontario solutions with global impact.
With the top agricultural and veterinary sciences programs in Canada, the University of Guelph is committed to meeting opportunities and challenges with world-class research for the benefit of Ontario's agri-food sector.
Our shared commitment to the health of Ontario's agri-food sector is at the core of our alliance with OMAFRA. The Ontario Agri-Food Innovation Alliance – the public face of our collaboration with the Province – serves Ontario's $37-billion agri-food sector by investing in an innovative research system that returns impactful, sustainable solutions while ensuring animal well-being and public health and safety.
In 2018-19, we worked with partners across the agri-food sector – from farmers and producers to policy-makers and retailers – to strengthen Ontario's agri-food sector. We also ensured Ontario has the best agri-food researchers in the world by attracting new, globally recognized research faculty.
I'm pleased to introduce this publication, Growing Ontario Solutions, to demonstrate how the people, places and programs of the Ontario Agri-Food Innovation Alliance are delivering impactful solutions in Ontario and around the world.
- Prof. Beverley Hale, Associate Vice-President, Research (Agri-Food Partnership), University of Guelph
Share this page
Find related news by keyword
News Topics