Manju Misra named one of Canada's most powerful women for 2020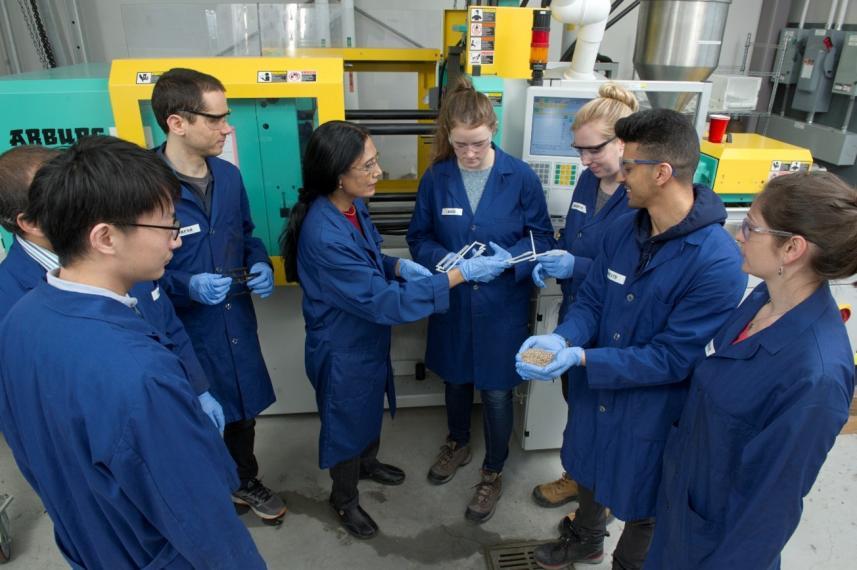 The University of Guelph's Dr. Manju Misra has been named one of the Women's Executive Networks (WXN) Most Powerful Women - Top 100, for 2020. The award recognizes outstanding women across Canada who advocate for workforce diversity and inspire tomorrow's leaders. Misra was selected in the Manulife Science and Technology Award category.
On Dec. 16 the University also announced that Misra has been appointed as Canada Research Chair in Sustainable Biocomposites. Tier 1 chairs are considered world leaders in their field and receive $200,000 a year for seven years.
Misra is a lead scientist at the U of G Bioproducts Discovery and Development Centre (BDDC) working with Dr. Amar Mohanty, the Director of BDDC; both are cross-appointed as professors in the School of Engineering and Department of Plant Agriculture. Materials developed at the BDDC are designed to be sustainable substitutes for conventional plastics in a variety of products.
Misra and the multidisciplinary team at the BDCC are conducting several projects that are supported by funding from the Ontario Agri-Food Innovation Alliance and that stand to benefit Ontario by using natural materials to provide "greener" alternatives to petroleum-based (plastic) products. They are developing biodegradable and compostable bale wraps to replace non-biodegradable plastic films, and they are investigating the development of single-use biodegradable straws made from bioplastics.
Those two projects are in addition to one currently running through the Gryphon's LAAIR (Leading to the Accelerated Adoption of Innovative Research) commercialization program, which bridges the gap between laboratory research and commercial production. In a video filmed for the 2020 Gryphon's LAAIR showcase, Misra said that the support of the Gryphon's LAAIR program has "helped us to push the frontier of our applied scientific research on sustainable new materials into companies' hands."
The current Gryphon's LAAIR project tackles industry needs by creating a new cost-effective biocomposite mushroom container that has the same properties as the petroleum-based containers but will not end up in a landfill. In the past, Misra has also received support for two Gryphon's LAAIR projects that provided short-term funding to advance market readiness for lightweight sustainable materials to be used in automotive parts; and for bio-based, biodegradable tomato clip made from soy and oat hulls that could be composted by greenhouse growers.
Alliance funding also supported the development of an innovative biocomposite for automotive applications.Biocomposites are made by combining bio-based materials with plastic resins and can be used for intricate plastic parts in a vehicle. The biocarbon biocomposite has resulted in a reduced weight of the vehicle (and thereby lower fuel consumption) and has also reduced the carbon footprint of the parts. Read more about that story here: From Coffee Bean to Car Parts: Ford Using U of G Biomaterial Innovation.
Read more about the biocomposite materials being created from food waste materials in Dr. Misra's lab: Toward greater sustainability: Bioengineering researchers are converting food waste into compostable packaging
Read the U of G news release about Misra being named one of the Women's Executive Networks (WXN) Most Powerful Women for 2020
Share this page
Find related news by keyword
News Topics