Digital mapping offers a sharp view of Ontario soil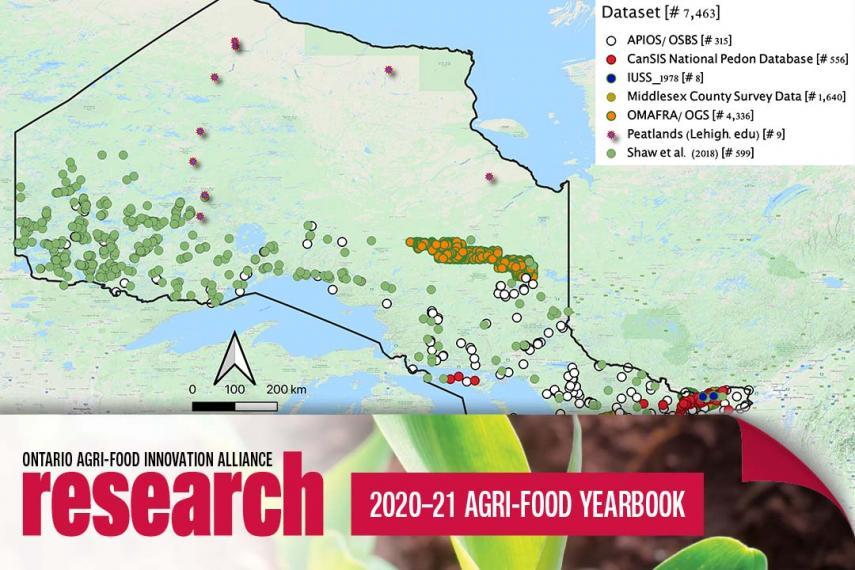 Soil mapping provides farmers and policy makers with detailed information on the condition and characteristics of land. Traditional soil mapping, in which a surveyor collects soil samples and maps their locations, was an important first step toward better soil conservation and environmental sustainability. However, it doesn't provide the kind of broad picture now possible through digital soil mapping based on greater computational power and availability of environmental data.
Digital soil mapping offers an array of advantages such as a more objective approach to characterizing soil and the ability to predict soil condition and properties.
"Traditional soil mapping is like painting with a big brush," says Dr. Asim Biswas, a professor in the School of Environmental Sciences. "Digital soil mapping can help us create a standardized and unified soil map across Ontario with granularity."
Digital soil mapping allows for fine resolution, using mathematical models, statistical calculations and satellite data to create a soil database and understand the factors that control soil development. Biswas and his team aim to create an Ontario Soil Information System and Ontario soil map at 100-metre resolution, meaning each pixel is 100 metres by 100 metres. They hope to complete the project by early 2022.
To create the soil database and a data-sharing protocol, Biswas and his team have collected more than 7,500 data points across Ontario. This will help farmers and policy makers develop appropriate policies to prioritize soil management, including soil conservation policies. Biswas expects his findings to be available online to policy makers, conservation authorities, farmers, scientists and the public.
Asim Biswas's research team includes students and researchers at the University of Guelph as well as collaborators from the Ontario Ministry of Agriculture, Food and Rural Affairs (OMAFRA); Agriculture and Agri-Food Canada; the Ontario Ministry of the Environment, Conservation and Parks; McGill University; Dalhousie University; University of Saskatchewan and international partners.
This research is funded by the Natural Sciences and Engineering Research Council, the Canada-France exchange program, the Indo-Shastri exchange program and OMAFRA through the Ontario Agri-Food Innovation Alliance.
This article originally appeared in the 2021 Agri-Food Yearbook edition of Research magazine.
Written by Maleeka Singh.
Share this page
Find related news by keyword
News Topics