Farmer-led research programs highlight on-farm innovation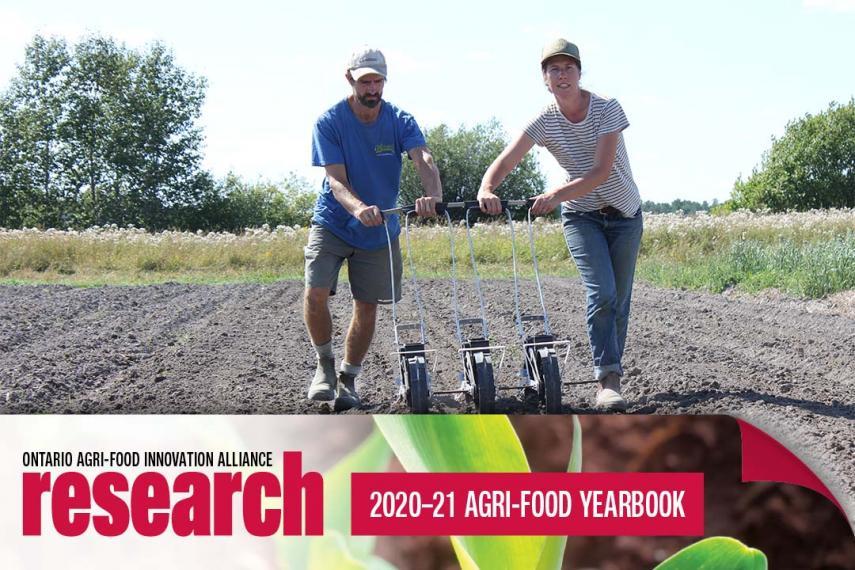 Field trials on the farm follow applied research projects once they leave the lab bench. Field trials are a great way to gather on-farm perspectives, and the province-wide network of research centres owned by the Government of Ontario through its agency, the Agricultural Research Institute of Ontario, is home to many innovative field studies.
A complementary approach is for producers to take the lead in developing research questions and conducting projects on their own farms, working in cooperation with a support organization.
Dr. Erin Nelson, Department of Sociology and Anthropology, and her team — Dr. Sarah Hargreaves, research director with the Ecological Farmers Association of Ontario (EFAO); Alexandra English, executive director of EFAO; and Dr. Anne Bergen, director of Knowledge to Action Consulting Inc. — are analyzing the impacts of such programs on the participating farmer-researchers and on others who learn about the on-farm research results.
"No one knows their farm better than the actual farmer," says Nelson. "And no one knows the specific issues that go on at the farm more than the actual farmers do."
The farmer-led research approach has its roots in the global South, particularly Latin America. More recently, the methodology has grown in popularity around the world, including in Canada.
The EFAO has been at the forefront of bringing farmer-led research to Canada, initiating a program in 2016. To date, the organization has supported more than 70 farmers in conducting more than 100 scientific trials on their farms; its efforts were recognized with a 2019 Excellence in Agriculture Award from the Ontario Ministry of Agriculture, Food and Rural Affairs.
Creating opportunities for farmers to take the lead on research projects means they can target specific challenges that may not present themselves in wider studies — and they can do so in a way that is practical for their farm and transferable to others. Ontario is rich in diverse and unique agriculture, along with varying soil types, microclimates and many agricultural commodities. On-farm studies accommodate that variability, says Nelson.
This research also allows farmers to collaborate with each other and to have researchers visit to discuss challenges and opportunities. Since their most trusted source of information is other farmers, farmer-led research has knowledge transfer built in and farmers feel confident to share their findings after going through the rigorous steps to conduct research.
As for the effectiveness of this approach, Nelson and her team have surveyed 140 farmers connected to EFAO's farmer-led research program and are compiling the results now.
"The farmers are the backbone of this work," she says. "They're doing incredibly innovative things on their farms."
The full research reports, including audio summaries by farmer-researchers, can be found at efao.ca/research-2020.
This research project is funded in part by the Ontario Ministry of Agriculture, Food and Rural Affairs through the Ontario Agri-Food Innovation Alliance.
This article originally appeared in the 2021 Agri-Food Yearbook edition of Research magazine.
Written by Mya Kidson.
Share this page
Find related news by keyword
News Topics