Alliance advances KTT in agri-food during April events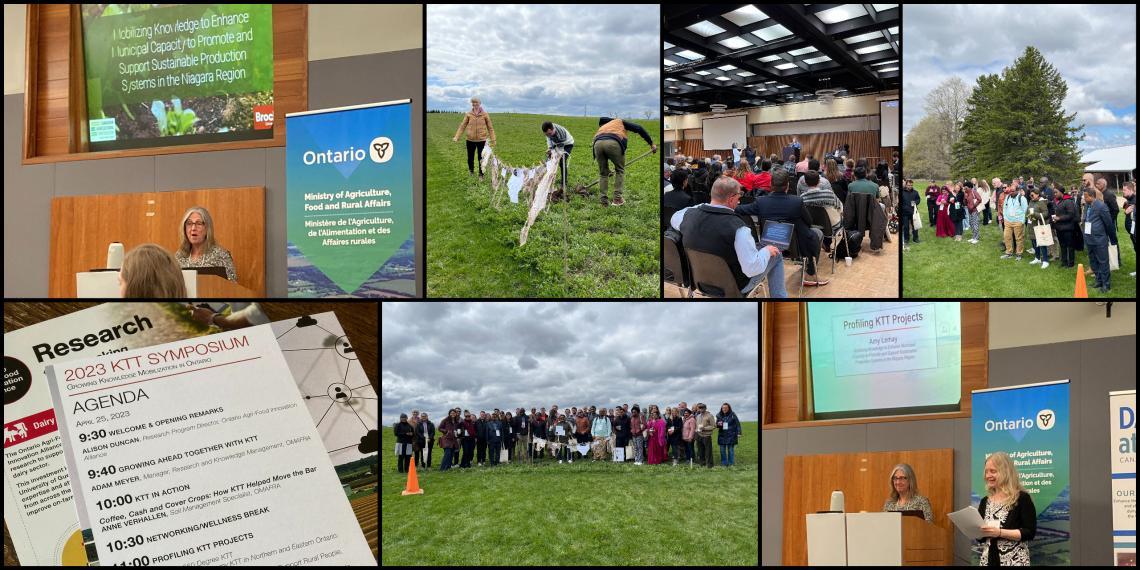 Two April events supported by the Ontario Agri-Food Innovation Alliance brought together local and international experts in agricultural knowledge translation and transfer (KTT) to share ideas and best practices. 
Building on a long history of agricultural extension, KTT works to foster early and consistent collaboration between researchers and research users. The Alliance knows KTT is key to its goal of advancing an innovative and competitive agri-food sector in Ontario and makes it central to its program delivery. In addition to every funded project requiring a KTT plan, the KTT Funding Program advances the science of KTT by identifying best practices to promote awareness and increase the impact of research knowledge.
From funding best-practice KTT research to delivering events that enhance awareness and use of KTT best practices, the Alliance helps to enhance the impact of research by getting "science off the shelf" and into the hands of people who need it.
2023 KTT Symposium: International and Ontario perspectives 
As part of its commitment to getting science "off the shelf," the Alliance hosts an annual KTT Symposium where researchers, industry members, students and government representatives can share best practices and learn about the field.
The 2023 KTT Symposium saw more than 150 attendees participate online or in person to learn from an OMAFRA soil management specialist, U of G researchers and industry partners, and to hear an international perspective from Dr. Pierre Labarthe. View the 2023 KTT Symposium agenda for the full list of speakers.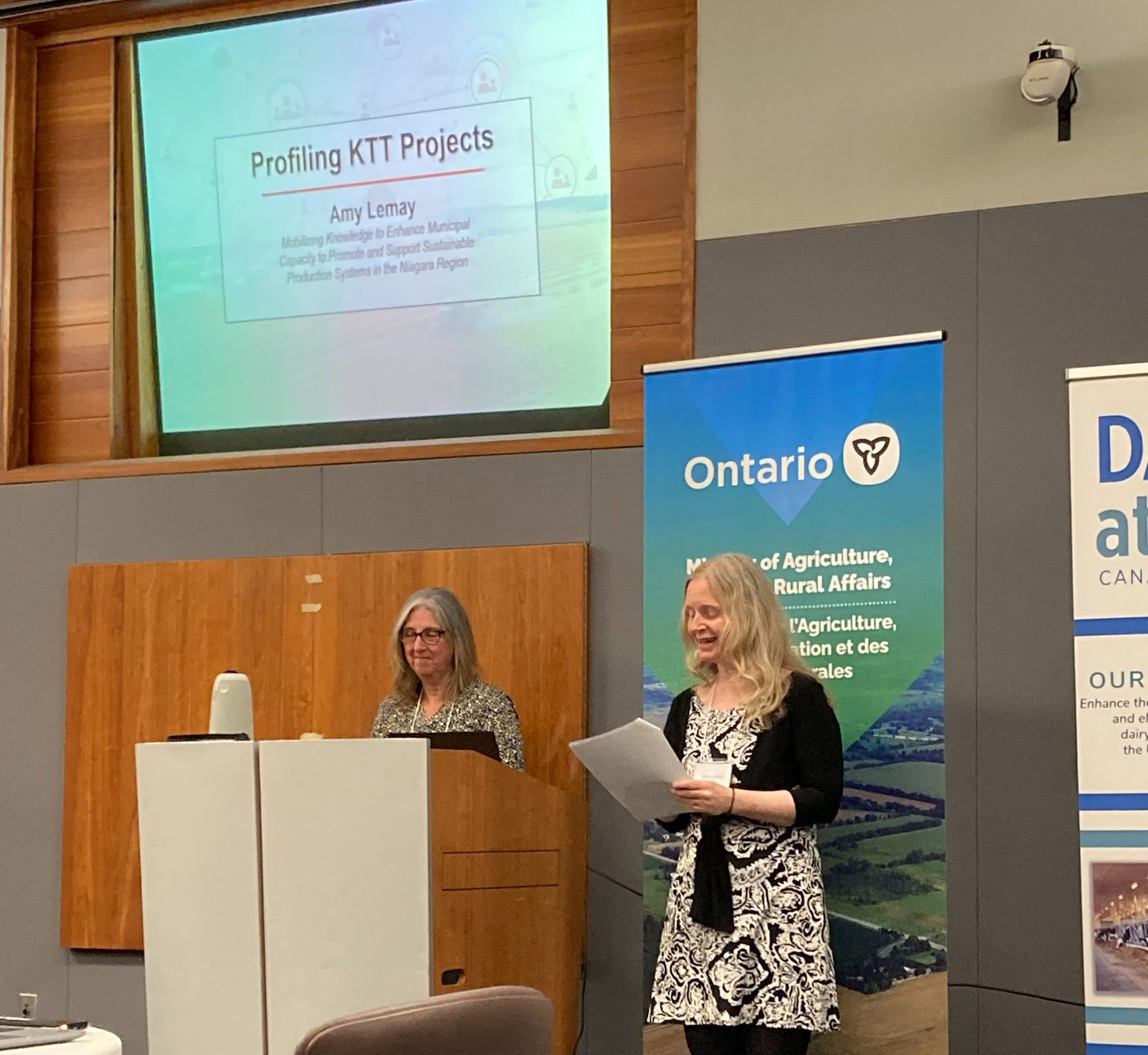 Dr. Labarthe, senior research fellow at the National Research Institute for Agriculture, Food and Environment in Toulouse, France, was joined by Dr. Ataharul Chowdhury, professor in capacity development and extension at U of G, to discuss pluralistic agriculture extension services in the European Union (EU) and Ontario.
Labarthe emphasized that the pluralistic system involves a diverse group of extension providers, including suppliers and industry representatives, who are often disconnected from public policies. He stressed that it is important to connect with these groups to set a minimum quality standard across all levels.
Some of those opportunities and challenges in the EU are common to Ontario with its own pluralistic agriculture extension system. Chowdhury's research has shown that Ontario's farmers value in-person and trust-building advice. Therefore, it is important to inform the multitude of advisers who share information with farmers.
Labarthe and Chowdhury both recommend a farmer-centric approach that focuses on building trusted relationships. Otherwise, amid a plethora of diverse relationships, it can be difficult to coordinate information-sharing without a supporting system in place.
International agricultural extension conference comes to Guelph
The KTT Symposium was followed by the Association for International Agricultural and Extension Education (AIAEE) conference, held at the University of Guelph and organized by a committee chaired by Chowdhury. 
The AIAEE, established in 1984, is an international professional organization dedicated to strengthening agricultural and extension education programs and institutions worldwide. The association fosters collaboration and information exchange among public and professional groups concerned with development. For the first time, the AIAEE conference was hosted by the School of Environmental Design and Rural Development in Guelph. The four-day conference was opened by Lisa Thompson, provincial Minister of Agriculture, Food and Rural Affairs, who highlighted the importance of research and innovation in Ontario. 
In the spirit of recognizing innovation, conference attendees saw first-hand how Ontario's agri-food research centres, which are owned by the Agricultural Research Institute of Ontario and managed by U of G, provide a platform for engagement and act as testing grounds for new technologies that can benefit Ontario farmers.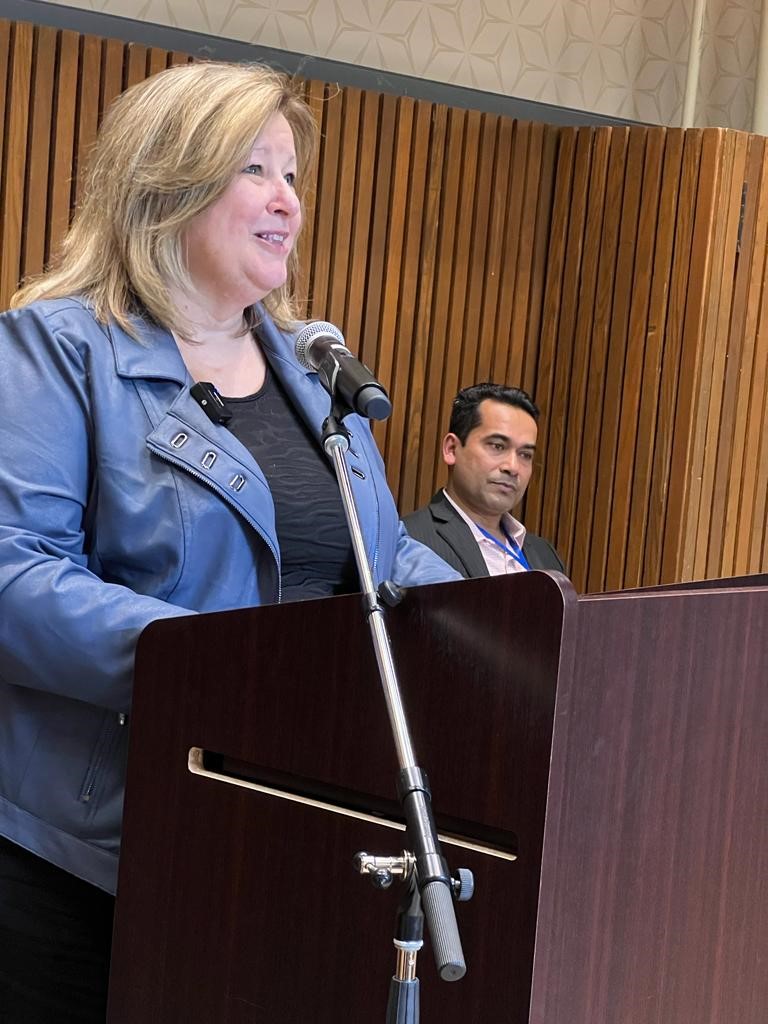 Participants toured the Ontario Dairy Research Centre, Ontario Beef Research Centre and Ontario Crops Research Centre in Elora, learning about how modern infrastructure strengthens the local agri-food sector and enables research with global impact.
Collaboration is what makes these spaces vibrant, noted Rebecca Dunn, knowledge mobilization manager for the Alliance. "We are doing research that is future-focused and farm-tested for the benefit of the agri-food sector," she said.
For example, research centres bring together industry and academia for field days and events, enhancing the impact of research. Recent examples include hands-on producer workshops resulting in better on-farm pain management practices during disbudding in dairy calves, and the Saputo Dairy Cattle Welfare Rotation, which has supported training for 105 doctor of veterinary medicine students over the past seven years.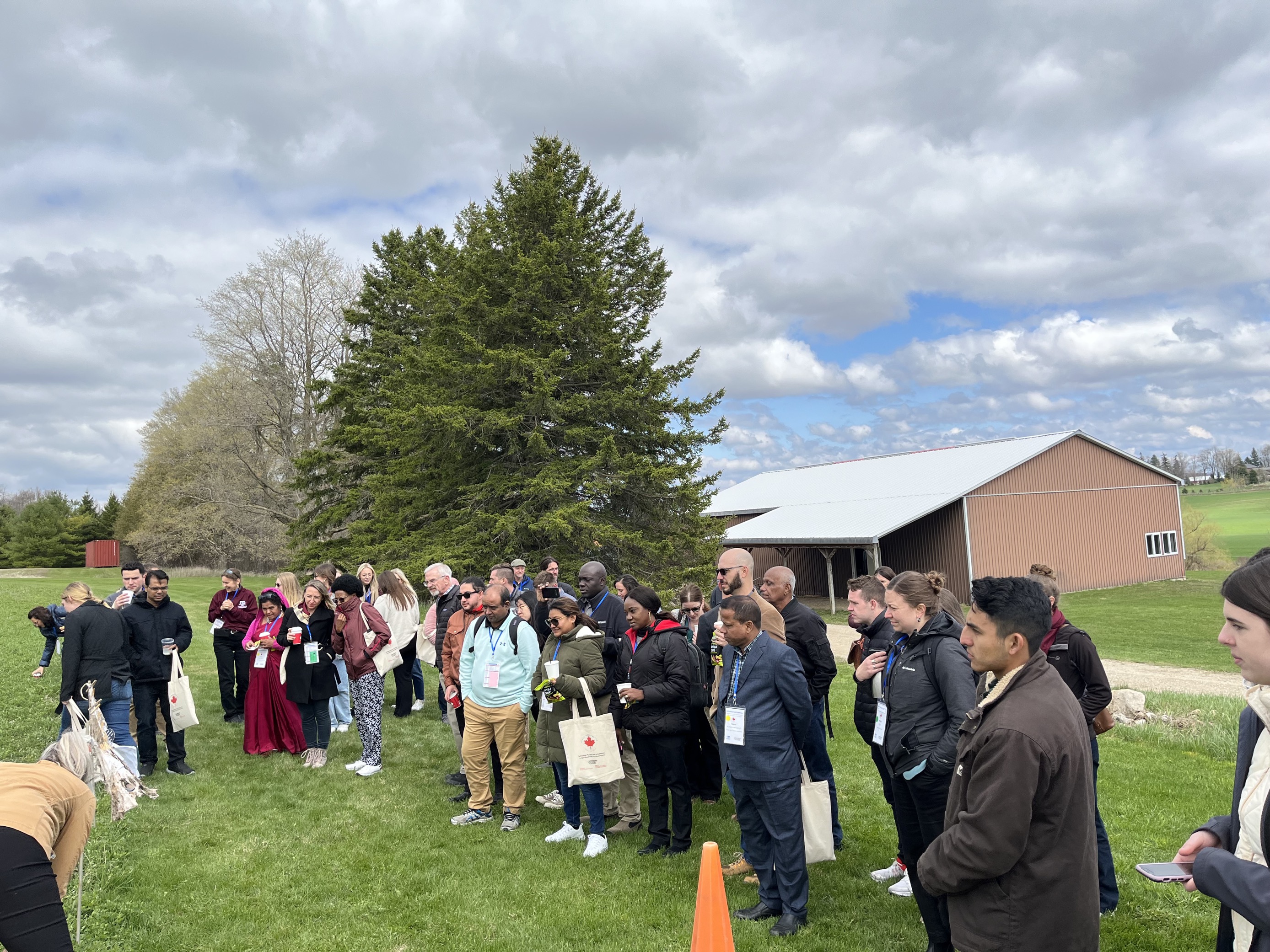 The spaces have also played a part in strengthening partnerships with industry groups and commodity-focused research groups at U of G, including Beef at Guelph. 
It is also critically important that the research centres welcome and encourage student learning. In turn, these students are often the best ambassadors to build connections that further engagement opportunities at the research centres. The three Elora research centres have 121 projects under way and welcomed 650 visitors via 90 tours in 2022.
The centres play a key role in the province's Grow Ontario strategy, which aims to increase agri-food innovation and adoption over the next 10 years.
A key takeaway from these recent events is that there are many active players engaged in agricultural knowledge translation and transfer. The University of Guelph, with support from OMAFRA, will continue to be a hub for engaging discussions, collaboration and outreach to continue building a prosperous and sustainable agri-food sector.
Share this page
Find related news by keyword
News Topics