The Centre of Business and Student Enterprise's Couch Day initiative prompts discussion on entrepreneurship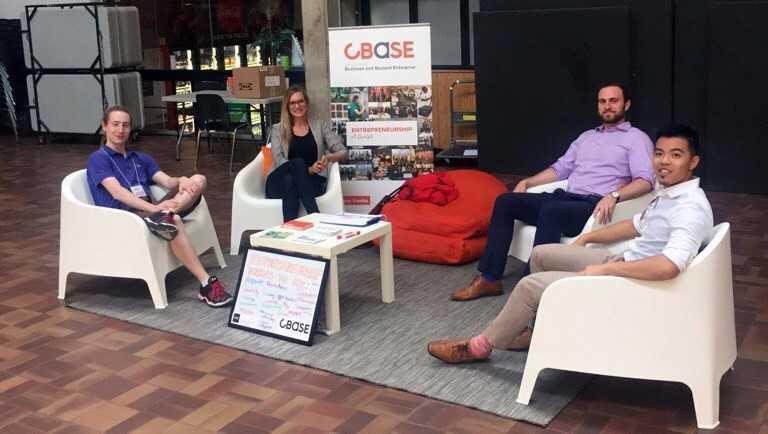 Interested in entrepreneurship? Keep an eye out for the CBaSE Couch at the University of Guelph.
The Centre of Business and Student Enterprise (CBaSE) recently launched their CBaSE Couch Days to acquaint all University of Guelph students with the services they provide. Every three weeks, the CBaSE couch is placed at a different campus location so that all students have an opportunity to become familiarized with CBaSE's services and enrich their understanding of entrepreneurship.
The structure of the CBaSE Couch Days also allows for the creation of a comfortable and open environment, which prompts students to learn, ask questions and interact with CBaSE representatives.
"It's an informal way for us to meet with students, interact with them in their space and outside of traditional communication channels and build a human connection and bond with them," said Ethan Sweeney, intern at CBaSE. "It is a way for us to connect with students and increase awareness of entrepreneurship, as it applies to everyone."
CBaSE hopes to show students that entrepreneurial skills are vital in any profession and aims to promote their services as resources available to all students regardless of their area of study.
"When we are talking to students from other colleges and we ask them if they are interested in running their own business, usually they will say 'no, I'm not a business student, it doesn't apply to me.'" said April Albano, program coordinator at CBaSE. "When we ask them what they want to do after they finish school, many say that they want to open their own practice, consult, or be their own boss. We try to communicate to them that is running their own business, and being an entrepreneur, and that we can provide them with support."
CBaSE offers their support through their unique programs and learning opportunities shaped to help students be successful at school and in their careers.
One of the services they have is the Business Consulting course (MGMT 4050/4060). During the semester, students act as consultants to real life organizations and work on formulating a strategy to help their client overcome the problems they are facing. The course allows students to gain a credit and a skill set they can apply in the working world.
Another resource CBaSE offers is the Hub Incubator program. This program is available to University of Guelph students and alumni between the ages of 18 and 29 who have an innovative idea they would like to turn into a profit or not-for-profit organization.  CBaSE provides the entrepreneurs with office space, mentorship and workshops. Business start-ups can also apply for funding; currently businesses can get as much as $8000 to help expedite growth.
CBaSE also has a student ambassador program available for students who are interested in getting involved with CBaSE. Ambassadors represent and promote CBaSE to fellow students and increase engagement and excitement about entrepreneurship. The student ambassadorship is an opportunity to build a lasting impact on the U of G community.  
Don't miss the next CBaSE Couch Day on Monday, November 27, 2017 in Thornbrough from noon to 4 p.m.
Share this page
News Topics