Uyen Nguyen, MA (Leadership) 2018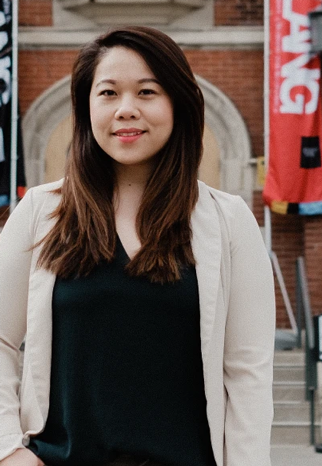 Ugyen Nguyen, MA (Leadership) 2018
Current role: HR Specialist, Toyota Motor Manufacturing Canada
Work/life balance: Volleyball and ultimate frisbeen player, organizational leader
"After being accepted into the MA Leadership program. I realized I didn't want to be behind a computer all day. I wanted to have more face time with employees and be more interactive and present. I wanted to build relationships with the people I work with and the people I work for. I was fortunate to have found what I wanted at Toyota Motor Manufacture Canada as a Human Resources Specialist in the Team Member Relations department. "
Describe your experience during the on-site residential periods.
The first day of my residency period was nerve-wracking. Thirty strangers sitting in a room wondering if they belong in that classroom but that changed quickly. Strangers became friends, supporters, cheerleaders but most importantly comrades. I know that if I am ever stuck, there's someone there ready to lend a hand and help me through a difficult problem
How did you find the online learning component of the program? Was it beneficial to be able to continue working at your job during your studies?
The online component of the program made it accessible anywhere and anytime. Lang's MA in Leadership program isn't like other online programs because I know exactly who I am corresponding with. The benefit of being able to continue working during my studies is being able to apply real-life examples specific to the course that I am learning.