Accounting students recognized at awards celebration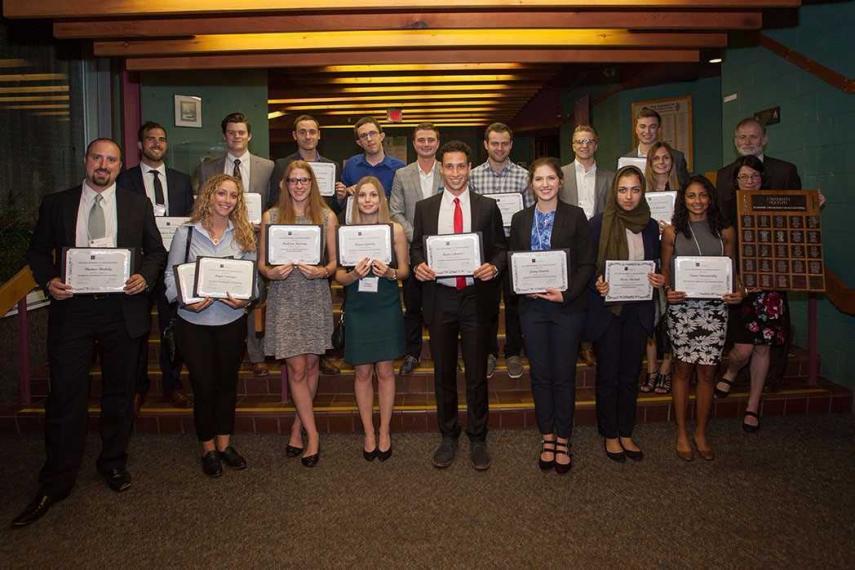 University of Guelph Accounting students were recently recognized for their outstanding academic achievements at the annual Academic Excellence in Accounting Awards dinner held at the OAC Centennial Arboretum Centre. There were more than 65 people in attendance including representatives from Manulife, CPA Ontario, Embree & Co. LLP, KPMG LLP, RLB LLP, Collins Barrow, Robert Half, BDO Canada LLP and the University of Guelph Board of Governors. The event served as an opportunity to recognize students with a strong academic standing and leadership background, as well as make connections with members of the business community.
The program featured remarks from College faculty and alumni as well as industry representatives. At the end of the evening, 21 students were presented with the Academic Excellence in Accounting Awards and 4 students were presented with scholarship awards that were sponsored by various accounting firms.
The Academic Excellence in Accounting Awards are presented to students who achieve an average of 80% or greater in three of their Accounting courses: ACCT*3230 (Intermediate Management Accounting), ACCT*3330 (Intermediate Financial Accounting I) and ACCT*3340 (Intermediate Financial Accounting II). Congratulations to our winners this year!
"We are tremendously proud of the accomplishments of our Accounting students and thankful for the support they receive from the business community," said Davar Rezania, chair of the Department of Management. "This event was a great demonstration of the strength of our program and industry connections."
Congratulations to the following award and scholarship winners, and thank you to our generous sponsors.
Accounting Excellence Award winners
Alec Arbutina
Jenny Arnold
Robert Bartoszewicz
Thomas Borbely
Daniel Dickson
Mathew Elcock
Matthew Goodrum
Megan Grotsky
Sam Laist
Clinton Lindgren
Samuel Nieuwhof
Alexander Pacholkiw
Gregory Pastor
Ashley Pednault
Nicholas Peluso
Gregory Piper
Ryan Schwartz
Tyler Scrimshaw
Owen Singer
Bayli Tavroges
Yash Vyas
Scholarships Recipients
Bill Brohman Memorial Scholarship: Tiana Sinnatamby
CPA Ontario Scholarship: Bayli Tavroges
Embree & Co. LLP Scholarship in Accounting: Madison McCarty
Waterloo-Wellington CPA Association Scholarship: Maria Khattak
Thank you to the following organizations for supporting our students
Table Sponsors: CPA Ontario
Dinner Sponsors: Manulife, KPMG LLP, Embree & Co. LLP
Share this page
Find related news by keyword
News Topics