Leveraging discomfort to find strength – Amanda Lang and #HeForShe at U of G
On Tuesday, March 13th the College of Business and Economics teamed up with Gryphon Football to host an afternoon dedicated to the #HeForShe campaign, the UN-led campaign for the advancement of women and gender equality. As part of the campaign, we had the privilege of hosting award-winning business journalist Amanda Lang on campus to speak with our students and the community about how to embrace discomfort in order to become more resilient and successful. At a public talk and book signing, the men's football team made an important step towards gender equality by standing up and committing themselves to the #HeForShe movement. The football team's hope is to make this an annual commitment for all first-year players, as they strive to create leaders on and off the football field.
The afternoon kicked off with a classroom visit, where U of G business students had the chance to ask questions about Lang's journey, successes, and what the HeForShe movement meant to her. The discussion covered a number of topics, but ultimately stressed the importance of hardship and discomfort, and the need to understand that the journey to success isn't always easy.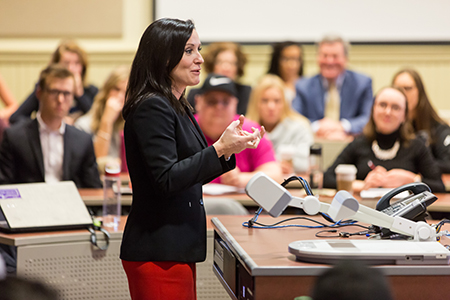 "Amanda Lang offered very inspiring advice," said Dylan Elkins, a 4th year student in the BComm program. "She stressed the importance of finding your passion, and then leveraging discomfort in order to do what you love and – ultimately – reach your success."
Later in the day, the public was invited to join students and the Gryphon football team for Lang's public talk and book signing. At the public event, Lang spoke about her new book, The Beauty of Discomfort, and offered insights into how we can get to know our purpose and embrace discomfort in getting there.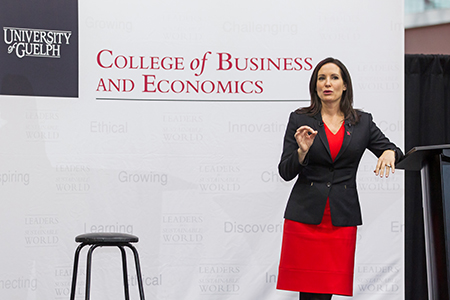 Derek Drouillard, U of G student and member of the Gryphon Football team, also addressed the crowd and spoke about the lessons and words of encouragement found in Lang's book, and called on his teammates to stand up in solidarity for their commitment toward gender equality.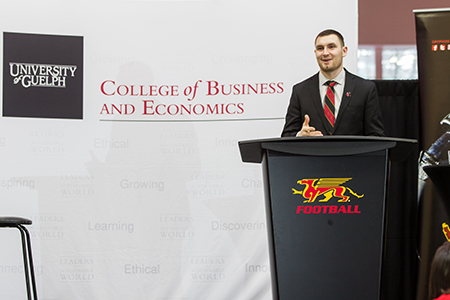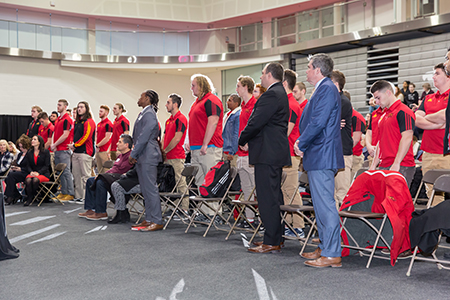 "We are proud to be a part of an opportunity to continue to help promote gender equality," said varsity football coach Kevin MacNeill. The event is part of the team's effort to be more active in the #HeForShe movement, hear and learn from a powerful female leader, and create a generation of men who will become strong and dedicated members of their community.
The Amanda Lang Resilience Award, a new scholarship worth $5,000, was also awarded at the public event to Michelina Helen Martinez, a BComm student in the Hotel and Food Administration program. The scholarship was created to recognize a female student in the Bachelor of Commerce program who has shown resilience and leadership throughout their life.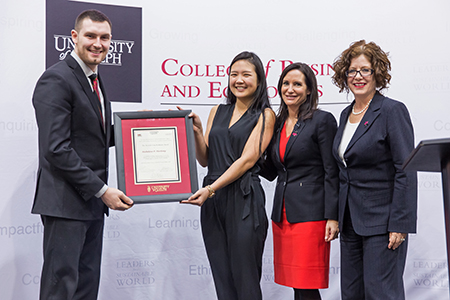 Michelina shared part of her story with the crowd, demonstrating the resiliency and strength that it took to overcome personal struggles and life's challenges. In an effort to help others, Michelina helped champion multiple mental health fundraisers, raising $1,000 for Gryphs4Gryphs. She is also an active leader within the HFTMSA, helping orient new first year students during their first week on campus.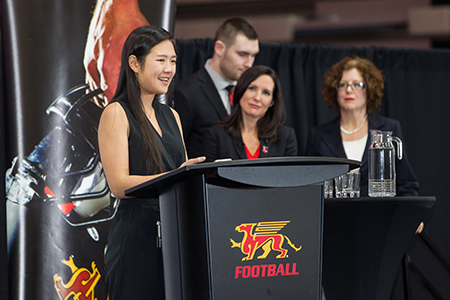 Thank you to Gryphon Football, Amanda Lang and everyone who joined us for making this event possible.
Share this page
News Topics