U of G BComm and BLA students sweep top two spots at Ryerson case competition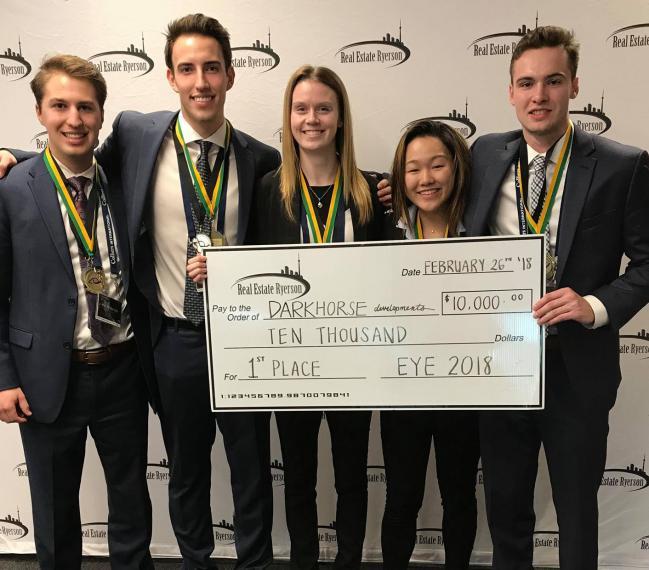 Two University of Guelph teams took home the top prizes at the 4th annual Ryerson "Expand your Empire" Case Competition in Toronto on Monday, February 26. 
The annual competition sees teams of students work together to solve a current real estate development issue. Teams were given a week to analyze, design and create the best-use development proposal, including financials, sustainable features, and market analysis.  
This year's case looked at the Fairview Park Mall in Kitchener, where teams were tasked with redeveloping the large vacant property left behind after Sears' bankruptcy. 
Dark Horse Developments - a team of 5 U of G undergraduate students - placed first, taking home the $10,000 grand prize, as well as the Best Financial Analysis Award. The team consisted of: 
Tyler Randa (3rd year, Real Estate & Housing) 
Cody MacRae (3rd year, Real Estate & Housing) 
Adam Newell (3rd year, Real Estate & Housing) 
Ashley Hosker (4th year, Landscape Architecture) 
Wendy Li (4th year, Landscape Architecture) 
 
Dark Horse Developments' proposal featured a mixed-use office building with retail stores on the ground floor and offices on top. When developing their proposal, sustainability and green technology were major factors in the design. The team used accessible green space to create a central focal point to the mall and for the community, and bioswales to remediate flooding. 
The competition brought together students from both the BComm and BLA programs, bringing a dynamic perspective and opportunity to work together. "We were able to combine different experiences and expertise to produce a unique, sustainable, and feasible solution to a complicated case," says Ashley Hosker.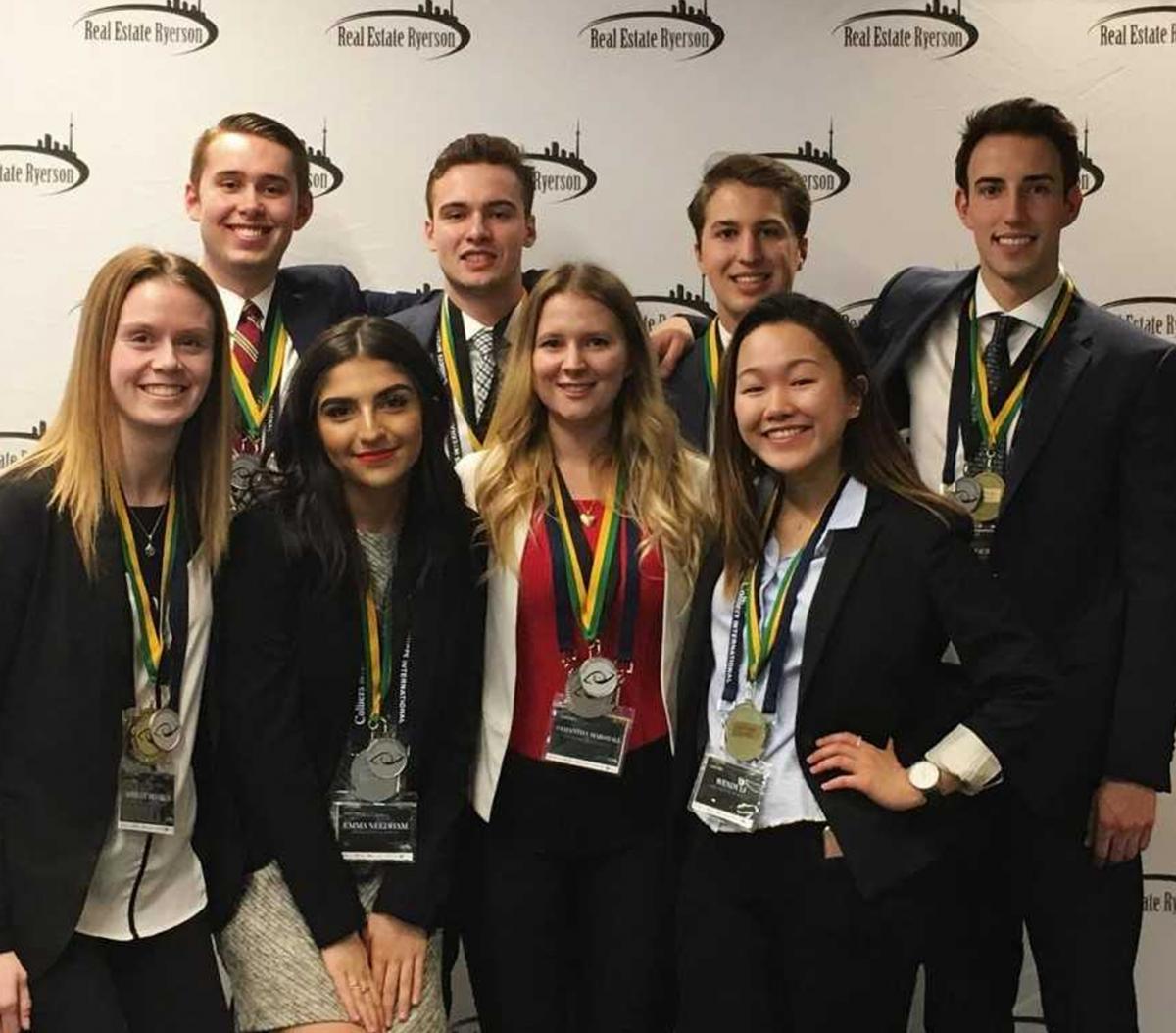 The full team from the University of Guelph
Second place went to Edinburgh Development - a team of 4 U of G undergraduate students - bringing home the $5,000 prize.
The team consisted of: 
Nicholas Stephen (2nd year, Real Estate & Housing) 
Samantha Marshall (3rd year, Real Estate & Housing) 
Yassmin Ghotb (2nd year, Management Economics & Finance) 
Emma Needham (Landscape Architecture) 
Edinburgh Development's proposal involved the demolition of 80,000 square feet of the existing building to make the space more manageable. The remaining 60,000 square feet was turned into three spaces: a gym, a restaurant and a bank branch. With sustainability in mind, the proposal incorporated new green spaces, solar canopies over the parking lot, and green garden areas below ground level at the end of each parking row to funnel rain water away from sewer and trainings systems. 
The Edinburgh Development team also won the Best Sustainability Award. 
Congratulations to both U of G teams for their strong showing. 
Share this page
Find related news by keyword
News Topics