Another successful year for DECA U Guelph at DECA's International Career Development Conference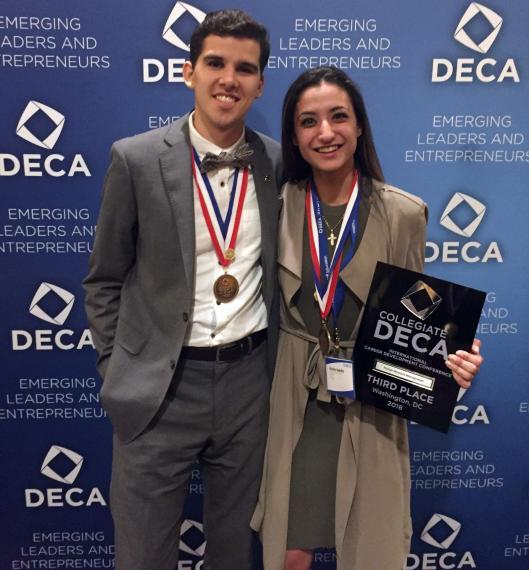 DECA U Guelph had another successful year at DECA's International Career Development Conference (ICDC) with two U of G business students bringing home multiple top awards at the competition in Washington DC over the weekend.
Held annually, the competition welcomes over 1,500 collegiate DECA members from multiple countries to compete in intense case competitions focused on marketing, finance, hospitality and management.
Management Economics and Finance student Dylan Harvey received a Top 10 Case Study Medal and a Finalist Medal in the accounting preliminaries. In the finals, Dylan also received a Top 10 Overall Medal.
"Competing in this competition was one of the most exciting and rewarding experiences of my undergrad," says Dylan. "After working hard as part of DECA U Guelph's team since my first year at Guelph, I felt so proud to represent the University on an international level. I feel privileged to contribute to the growth of the College of Business and Economics and honoured to call it my home."
Leadership and Organizational Management student Emily Kaldis competed in the HR Management category, receiving both a Top 10 Case Medal and Finalist Medal in the preliminaries. She went on to the finals and received a Top 10 Medal and third place overall.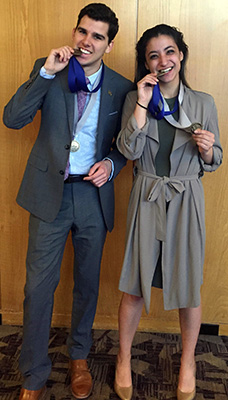 This is the third consecutive year that DECA U Guelph has brought home awards from the ICDC. Last year, Emily Kaldis placed first internationally for human resources management and Jacqueline Simard (Hotel and Food Administration) received multiple Top 10 awards and placed second internationally in the restaurant and food service management category.
Congratulations to both Emily and Dylan on their achievements!
Learn more about DECA U Guelph on their website.
Share this page
Find related news by keyword
News Topics