1st year BComm student moves on to the finals in a prestigious sales competition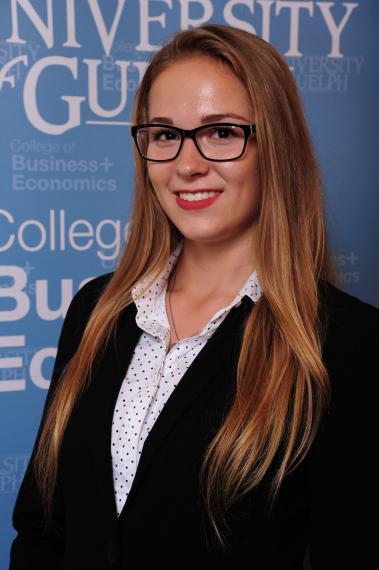 In only the first year of her Bachelor of Commerce program, Tanya Broschinski successfully competed against over 3,600 students to move on to the finals at the Great Canadian Sales Competition (GCSC). The final round includes 25 finalists and takes place on May 3rd at the Google Headquarters. The top prize is $7,500.
The GCSC is an opportunity for students to develop real world business and sales skills, learn more about established companies and network with potential employers. The competition has over 80 school partners across 10 provinces.
In this Q&A, Tanya discusses all aspects of her student experience – including her success at the GCSC – and provides advice for future students.
Name: Tanya Broschinski
Hometown: Princeton, Ontario
Major: Hospitality and Tourism Management
Year: 1st
Why did you choose to pursue your Bachelor of Commerce in Hospitality and Tourism Management at the University of Guelph?
The University of Guelph has always held a special place in my heart. Growing up, I always knew that I wanted to attend the U of G; however, I had not always had the desire to pursue a career in business.
However, as I grew up and started applying to university, my degree of interest changed from biological science to business. U of G is one of the only schools in Ontario that offers hospitality courses in such a specialized way. Most universities only offer a general commerce degree, while others allow you to specialize in third or fourth year; but Guelph allows you to specify your major during your first year, which is something I love.
Coming from a small town, I also love the atmosphere at Guelph. It's quite similar to my hometown. The campus is gorgeous, everyone is very welcoming and the brand new gym facility was an added bonus. I also appreciate how ecologically conscious the City of Guelph is. The business sector focuses on delivering earth to table dishes, which is a way of living my family has always supported through our garden at home.
What sparked your interest in studying hospitality and tourism management?
I can tell you the exact moment when the hospitality industry sparked my interest. It was the week of December 12th, 2015 when I was on a road trip to attend my sister's wedding in Winnipeg. Our car was having issues and we were going to have to take an unscheduled stop in Kalamazoo, Michigan. That's where I met a kindly hotel manager who made our happiness his mission. I was impressed with his attentiveness and how accommodating he was; a prime example of what the hospitality industry should be. He is the person that first sparked my interest in the possibility of working in the industry, and he made me realize the good that can come out of broken car exhaust (my father still fails to see the latter).
What do you love most about being a University of Guelph student?
There are so many ways for students to get involved with the community and help those who are in need. A simple visit to the Student Volunteer Office would prove that to anyone. I got involved with Project Serve in my first few weeks and was able to spend an afternoon painting the barn at the Guelph Sunrise Therapeutic Riding Center.
The support at U of G is also outstanding. As a business student, I am able to take advantage of the Business Careers Center, which is where I have learned about different networking events, workshops and other opportunities specific to helping business students succeed. Through this center, I have been able to connect with many future employers and learn how to interact on a professional level.
The U of G also has an amazing mental health support network. Through a personal experience, I have come to realize the importance of both mental and physical health; and that education should never compromise the two. It is evident that U of G provides students with a balance of all three. The University of Guelph truly strives to improve life, including right here on campus.
You've recently found out that you will be competing at the Great Canadian Sales Competition finals. What inspired you to enter this competition?
I first found out about the competition at a networking event through the Business Career Center. At the event, they were filming students who were interested in entering the competition, which inspired my spontaneity. I decided there was nothing holding me back so I decided to pitch one of my favourite topics: German Shepherd Dogs. My family has bred them since I was a child and I recently began to sell the puppies as a summer job to save up for school. Ultimately, the benefits of entering the competition outweighed the cost, which was only 30 seconds of my time in front of a camera. So I did it!
As you prepare for the final competition, what have you learned or taken from this experience so far? Do you have any advice for students considering this competition in the future?
Throughout the competition, I have learned the importance of establishing a personal connection with someone. When you're in sales, customers want to first know that they can trust both you and your product. By establishing that connection, you can establish trust.
My advice to future entrants is to be yourself. Adding a personal touch to your sales pitch is what will separate your entry from everyone else. Make it unique and show the judges what you specifically bring to the table as a sales representative.
What advice do you have for prospective students considering the hospitality and tourism management major?
Explore the industry. It's important to do some research on potential jobs you would like to work towards and companies that offer the best training opportunities. Research those companies so that when an opportunity to speak with hiring representatives presents itself (and it will), you can impress them with your knowledge of the company.
If you could provide three pieces of advice to new students, what would those be?
Stay healthy: both mentally and physically.
Put yourself out there: take risks and leave people with a positive impression of who you are.
Get involved in your major and around campus: build up your resume by getting involved with volunteer activities; it will only help you when you apply for summer jobs and co-op positions.
If you could describe your University of Guelph experience in three words, what would those words be?
Endless opportunities & excitement.
Share this page
News Topics