U of G business students recognized at Dean's Scholarship luncheon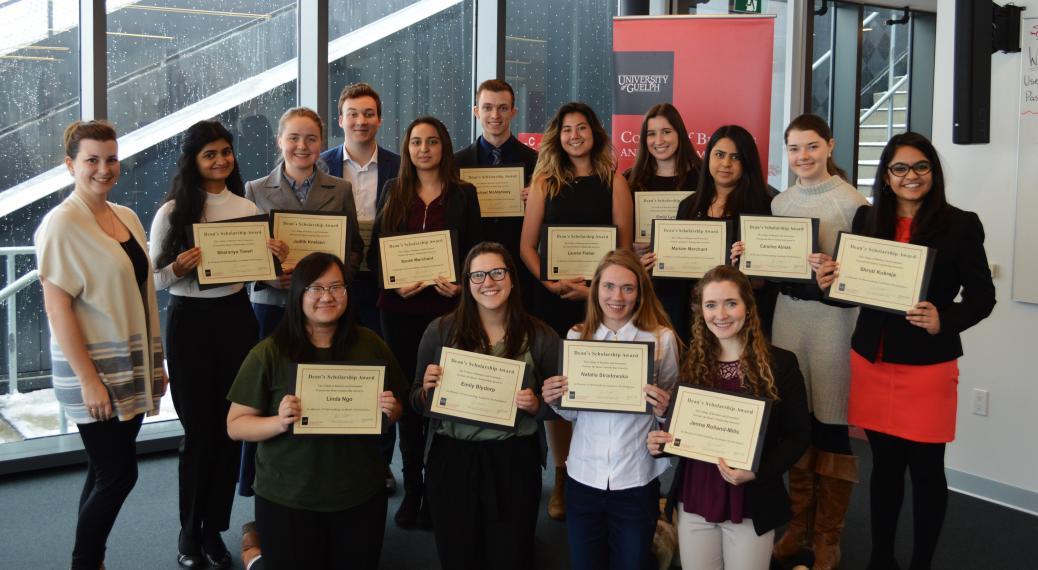 On February 7, the University of Guelph's College of Business and Economics recognized the college's top academic students at the annual Dean's Scholarship luncheon.
The Dean's Scholarship, which recognizes the top academic students from across the College, was awarded to 26 undergraduate business students. Award recipients were invited to the Dean's Scholarship Luncheon to recognize and celebrate their accomplishments.
Hosted at the Football Pavilion on campus, the smaller venue offered the chance for students to network and develop connections with the Dean's office, which included Sara Mann, interim Associate Dean Academic and Acting Dean, and Jacqueline Hamilton, Manager of Academic Programs.
Congratulations to all award recipients on this achievement. The 2019 Dean's Scholarship recipients include:
Caroline Almas (Bachelor of Commerce, Accounting)
Emily Blydorp (Bachelor of Commerce, Management Economics and Finance)
Caroline Bombino (Bachelor of Commerce, Management Economics and Finance)
Lauren Chan (Bachelor of Commerce, Real Estate & Housing)
Stephanie Cheung (Bachelor of Commerce, Hotel and Food Administration)
Lauren Fisher (Bachelor of Commerce, Marketing Management)
Daniela Ana Florea (Bachelor of Commerce, Management Economics and Finance)
Sophie Gadbois (Bachelor of Commerce, Marketing Management)
Eric Kerkhof (Bachelor of Commerce, Accounting)
Judith Knelsen (Bachelor of Commerce, Accounting)
Valerie Ko (Bachelor of Commerce, Real Estate & Housing)
Shruti Kukreja (Bachelor of Commerce, Hospitality and Tourism Management)
Sylvia Lamothe (Bachelor of Commerce, Hotel and Food Administration)
Emily Lynch (Bachelor of Commerce, Marketing Management)
Michael McAtamney (Bachelor of Commerce, Accounting)
Mariam Merchant (Bachelor of Commerce, Accounting)
Sarah Merchant (Bachelor of Commerce, Accounting)
Brennan Moro (Bachelor of Commerce, Hotel and Food Administration)
Linda Ngo (BAH, Mathematical Economics)
Jenna Rolland-Mills (Bachelor of Commerce, Public Management)
Mustafa Saeed (Bachelor of Commerce, Marketing Management)
Julia Scicluna (Bachelor of Commerce, Hospitality and Tourism Management)
Yue (Jasmine) Shi (Bachelor of Commerce, Hotel and Food Administration)
Calvin Speedie (Bachelor of Commerce, Management Economics and Finance)
Natalia Stradowska (Bachelor of Commerce, Leadership and Organizational Management)
Sharanya Tiwari (Bachelor of Commerce, Accounting)
Share this page
News Topics