Lang grad student among winners at entrepreneur pitch competition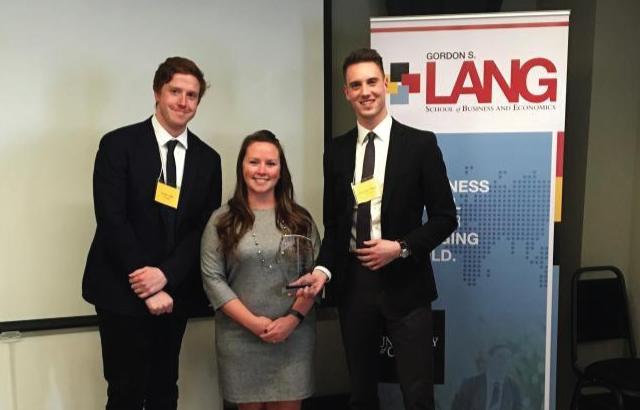 The John F. Wood Centre for Business and Student Enterprise hosted their Hub Start Up Showcase this week, an event where entrepreneurs from the program's Hub Incubator Startups compete in a pitch competition to win cash for their businesses.
Three awards were up for grabs this semester, including the Gryphons Helping Gryphons Award, the Warren & Deborah Jestin Impact Award, and the People's Choice Award.
The Gryphons Helping Gryphons Award was created as a vehicle for University of Guelph to invest in U of G startups. This semester, a group of first year students from Management*1000 invested a $1,000 cash prize that they won in a case competition. The students formed the panel of judges for this award, looking to support the startup they feel displays the greatest potential for future growth. Key criteria for the judges included: traction-to-date, scalability and a clear plan going forward. The panel of U of G student judges included:
Mark Visentin
Emily Balawejder
Joleen Otten
Ethan Myatt
Alexandra Montes
Congratulations to the Gryphons Helping Gryphons Award winner Ben Cullen (OAC alumni) from Cullen's Foods. Cullen's Foods connects consumers directly with farmers with 100% traceable, locally grown organic foods in sustainable packaging.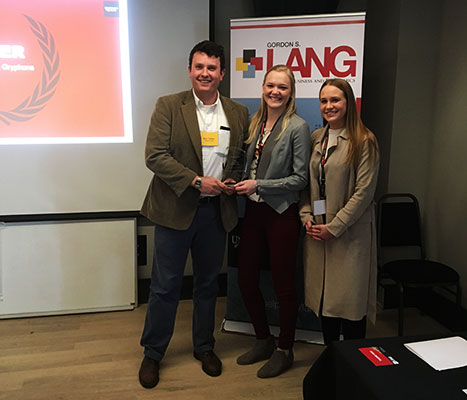 The Warren & Deborah Jestin Impact Award is given each semester in the Hub Incubator program. The award recognizes the business that demonstrates the highest community and social benefit along with a sustainable and profitable business model. The winner of this award is decided by a panel of judges, which featured:
Julia Christensen Hughes, dean, Gordon S. Lang School of Business and Economics
Julia Grady, Co-Founder and Executive Director, 10C Shared Space
Kiran Bains, Warren & Deborah Jestin Impact Award Recipient (Fall '18)
Laura Frielingsdorf, Warren & Deborah Jestin Impact Award Recipient (Fall '18)
In a tight competition, the judges ruled a tie! Dean Christensen Hughes matched the award prize, so that both teams were awarded prize money for their businesses.
Congratulations to Cullen's Foods on winning their second award of the night, and to Zerocery! Zerocery is a local and sustainably focused grocery store delivering zero waste grocery in every possible category. The company is led by Evan Hall and Lang Business graduate student Andrew Nixon.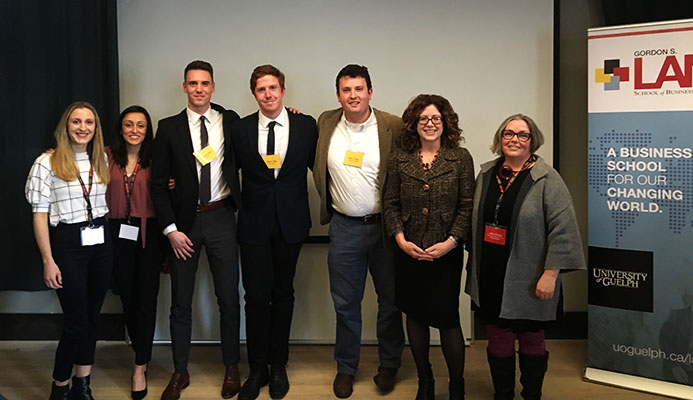 The People's Choice Award is awarded to a company chosen by the audience. Congratulations to Zerocery on winning this year's people's choice and their second award of the night!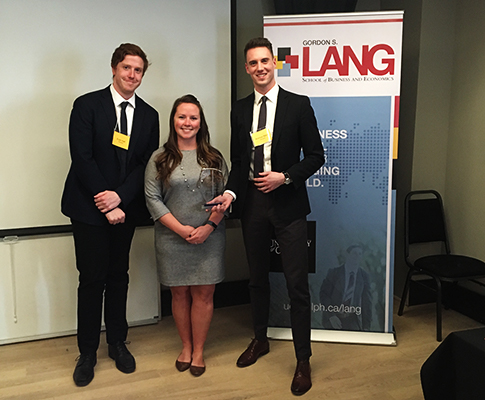 Congratulations to all competing entrepreneurs and hub companies for their successful pitches and incredible work this semester.
---
The Hub Incubator Program offers U of G students and alumni funding, dedicated office space and access to experienced entrepreneurs. The Hub focuses on helping startups develop a strong business model that can be rigorously tested and intelligently scaled. The program is available to University of Guelph students and alumni working on innovative projects. Eligible teams must have at least one co-founder who is a current University of Guelph student or alumnus. Teams accepted into the Hub are required to complete at least 30 hours of work each week and receiving full funding will be based on teams meeting certain requirements.
Share this page
News Topics