Lang professor receives UN Excellence Award for Service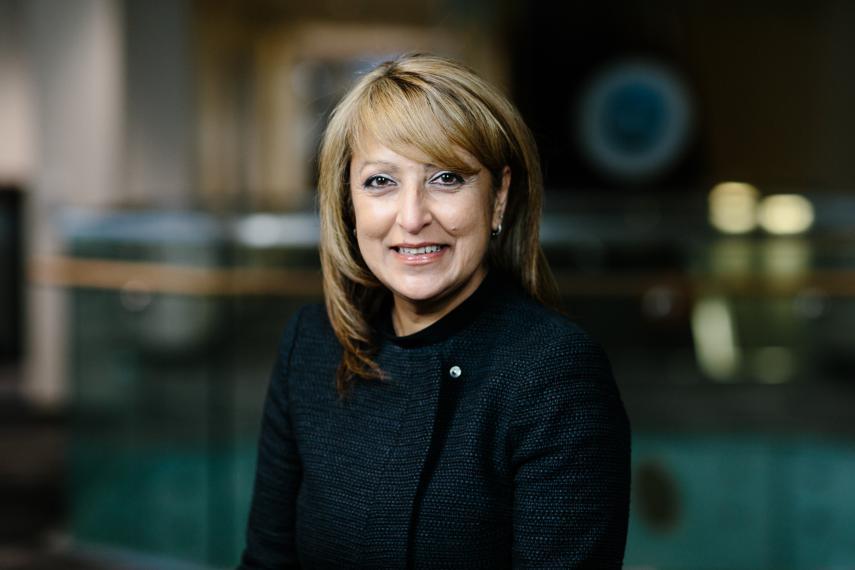 Lang business professor Rumina Dhalla has been announced the recipient of the Excellence in Service award from the United Nations PRME Chapter North America. The award is one of three Excellence Awards, which recognize the ongoing efforts of individuals in advancing the six United Nations Principles for PRME in the areas of research, teaching and service.
She will formally receive the award at the UN PRME Chapter North America's 5th Regional Meeting, hosted in Cleveland, Ohio from June 2 to 4.
The regional meeting is an annual event that unites representatives from academia and industry from across North America to discuss topics connected to integrating the United Nations Sustainable Development Goals into educational programming, research and strategic partnerships.
Teaching at the graduate and undergraduate level, Dhalla teaches sustainable value creation and corporate responsibility. As an associate professor in the Department of Management, her research interests focus on organizational identity and reputation, and their influence for organizational strategies, sustainability and corporate social responsibility (CSR).
"The Lang vision is to create leaders for a sustainable world," said Dhalla. "I believe that we will achieve this by incorporating the SDGs into our research and innovative programming, such as our highly ranked MBA in Sustainable Commerce, our global partnerships, and an innovative sustainability-focused curriculum."
Dhalla is also the graduate coordinator for the Lang MBA program, which was recently ranked #9 in the world for sustainability by Corporate Knights.
The Principles for Responsible Management Education (PRME) is a United Nations-supported initiative founded in 2007 as a platform to raise the profile of sustainability in schools around the world, and to equip today's business students with the understanding and ability to deliver change tomorrow. More information can be found on the PRME website.
The Gordon S. Lang School of Business and Economics is a PRME Champion school, which involves a commitment to:
Working collaboratively to achieve higher levels of performance int transforming business management education in five key areas: curricula, research, educational frameworks, sustainability-based partnerships and thought leadership.
Serving the broader PRME community through active engagement with existing PRME Chapters, PRME Working Groups, Global Compact LEAD and other global opportunities, as well as supporting broader and deeper implementation of sustainability principles in the institutional context of the PRME initiative.
Contributing to broader UN goals and issues, particularly helping to realize the Sustainable Development Goals.
Share this page
News Topics