After ten years of leadership, U of G community celebrates Lang's founding dean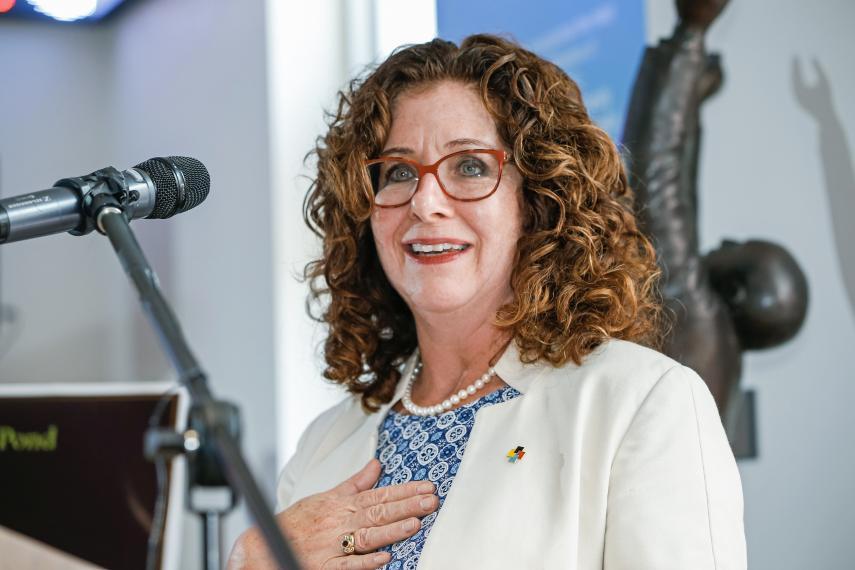 University of Guelph's business dean Julia Christensen Hughes was surrounded by more than 100 friends, faculty, staff and alumni on Tuesday to celebrate her accomplishments and tenure, as she ends her second term as dean.
Christensen Hughes has served as U of G's business dean since 2009, serving two terms and stewarding the school to several incredible milestones.
Under her leadership as dean, business at the University of Guelph has transformed into an internationally recognized business school. Over the last ten years, Christensen Hughes helped lead the school to numerous achievements, including the launch of Lang's accredited accounting major, several curriculum innovations, the Macdonald Hall renovation, and a "top 10" global ranking for the school's MBA program.
With the support of the Co-Operators, she also helped launch CBaSE - U of G's first entrepreneurship centre - in 2009, which is now the John F. Wood Centre for Business and Student Enterprise after a $7-million gift from Guelph-based entrepreneur John F. Wood earlier this year.
Most notable, under her leadership the U of G announced a $21-million gift from Stu and Kim Lang to officially name the Gordon S. Lang School of Business and Economics in April of 2019.
"Under Julia's leadership and direction, a lot has been accomplished," said U of G president Franco Vaccarino at Tuesday night's celebration. "Julia, you can take pride in knowing that you truly helped put business at U of G on the map."
Christensen Hughes has also been a strong advocate for the United Nations Sustainable Development Goals (SDGs) and was committed to ensuring that the Lang School become a PRME Champion school, committed to responsible business education. This commitment led her to speak to the UN's General Assembly in NYC in 2016.
When addressing the crowd at the celebration, Christensen Hughes reflected on the last ten years and the impact that it has had on her life.
"There are so many great things that we have accomplished, and it all started ten years ago when we started this journey together," said Christensen Hughes. "We started by uncovering our purpose. We spoke with students, alumni, faculty and staff. And we all committed to becoming a business school that develops leaders for a sustainable world."
"I want everyone to know that this has been the honour of my life."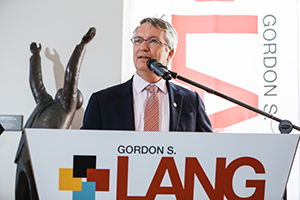 Lloyd Longfield, Guelph MP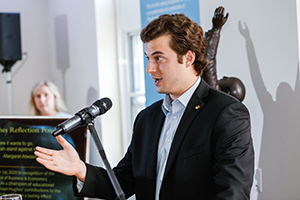 Nathan Lewko, Lang BComm alumnus and previous Lang Student Association president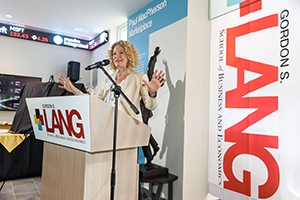 Statia Elliot, Director, School of Hospitality, Food and Tourism Management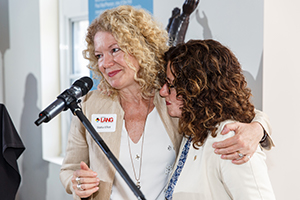 Statia Elliot and Julia Christensen Hughes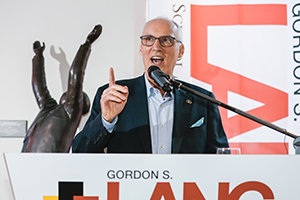 Franco Vaccarino, President, University of Guelph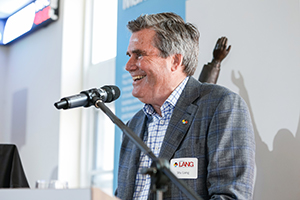 Stu Lang speaking to the crowd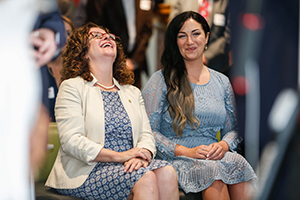 ---
Christensen Hughes' second term officially ends Friday, June 28. The Lang School has already begun an international search for a new dean. Sara Mann (associate dean, academic) will serve as the interim dean during the search.
Share this page
News Topics