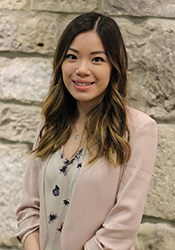 The William C. Winegard Medal is the University of Guelph's most prestigious undergraduate student convocation award and is named in honour of Dr. William C. Winegard, a former University of Guelph president. This medal is awarded annually in recognition of both academic achievement and contributions to university and community life.
A top student in the Lang School's real estate and housing program, Lauren has received numerous honours, including a 3M National Student Fellowship and the Futures Fund Scholarship awarded by Canada's Outstanding CEO of the Year Program for academic achievement and commitment to sustainability.
Pursuing her interest in using business to improve social welfare, she led case competition projects including a proposal for affordable housing and environmental sustainability. She shared her passion for real estate as the Teaching Assistant for both Intro to Real Estate and Real Estate Finance. This summer, she is working at Deloitte to help develop social infrastructure assets locally and globally.
Among her numerous volunteer commitments, she has worked with the World Health Organization to help provide affordable essential medicines for people in developing countries through researching intellectual property rights. Her global health advocacy draws upon academic research including several peer-reviewed publications.
Lauren founded an outreach program at Toronto's Hospital for Sick Children to promote science among at-risk youth, launched initiatives to raise money for kayaking lessons for children with disabilities, and volunteered with a medical mission to rural China to establish village clinics and patient education programs.