Lang students start semester off with podium finish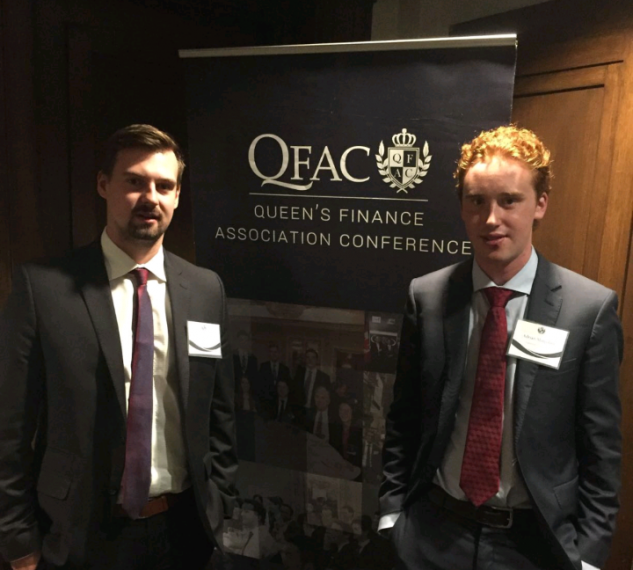 U of G students from the Guelph Student Investment Council travelled to Toronto last month for the annual Queen's Finance Association Conference (QFAC). The conference ran from September 26th to 29th and featured keynote addresses, interactive workshops, a dynamic finance case competition, and exclusive networking events and dinners.
At the stock pitch case competition, two Lang students reached the podium. Congratulations to Liam Broe (5th year BComm, Management Economics and Finance) and Adrian Marcolini (4th year BComm, Management Economics and Finance), who placed second and third!
"The conference gave me the incredible opportunity to work side-by-side with some of Canada's brightest business students while simultaneously networking with leading professionals in the fields of capital markets, asset management, and private equity," said Marcolini. "I highly recommend this conference to any student looking to kickstart their career in these fields."
QFAC is one of Canada's oldest student-run conferences focused entirely on the finance industry and financial markets. It offers students an opportunity to transition from what is taught in the classroom to the professional, practical world and provide an incredible networking opportunity.
"At the conference, we had the chance to tour various firms on Bay Street and meet executives such as the founder/CEO of Paradigm Capital," said Liam Broe. "Having the chance to meet and hear from such accomplished executives was a once in a lifetime experience."
---
Through a unique partnership with Fidelity Investments, the Guelph Student Investment Council received $100,000 to invest in a portfolio, offering students the hands-on investing experience. The group is made up of U of G students who work together to manage and generate returns for the fund.
Share this page
News Topics