Student Q&A: Hannah Ruuth, Public Management

Hannah Ruuth is a third year Public Management student in Lang's Bachelor of Commerce program. With a longtime interest in child-welfare, education, youth engagement and socioeconomics, Hannah has a passion for politics, government and public relations.
As a student, Hannah is involved with several campus groups, inlcuding the Public Management Student Association. Through these experiencies, she has had several opportunities to work with political leaders and government organizations at the local, regional and national level. She has presented to the Senate of Canada, hosted various policy-focused events with political leaders, and most recently completed an internship at the Prime Minister's Office in Ottawa.
We sat down with Hannah to learn more about this experience in Ottawa.
---
Hannah Ruuth
Bachelor of Commerce, Public Management '21
Hometown: Windsor, Ontario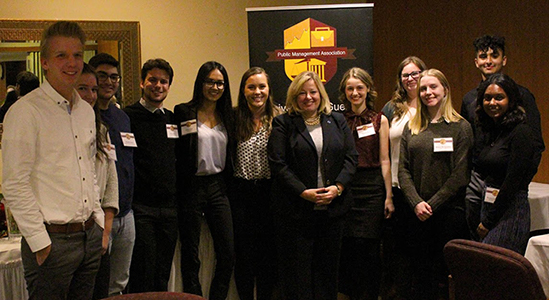 Public Management Student Association hosts Minister of Education Lisa Thompson.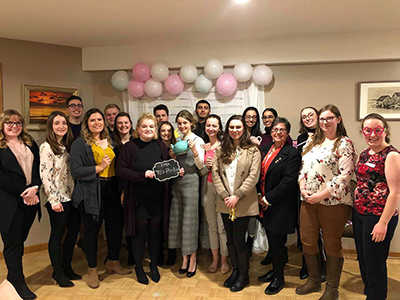 Public Management Student Association hosting Senator Kim Pate.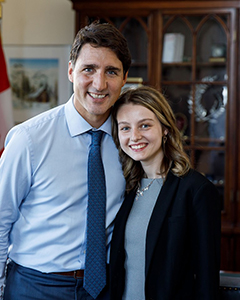 Hannah and Prime Minister Justin Trudeau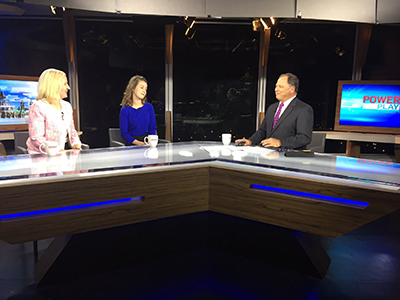 Hannah as a panelist on Powerplay.
What was the highlight of your summer working for the PMO?
A highlight this summer would include a colleague and I getting invited to a reception, No Second Chances, hosted by Canada 2020. This event was important to me because only twelve women have ever reached Canada's most senior political role: A First Minister (Prime Minister or Premier).
During the event, the women discussed their rise and fall in politics and what their experiences reflect about us as Canadians. As political staffers, these women have been trailblazers in my field. The ability to meet and discuss the future of politics with such successful women shaped my outlook for the rest of my internship. I am optimistic that with hope and hard work I will have the opportunity to work for a female Prime Minister in my lifetime.
How did you land this opportunity to intern at the PMO?
I was recommended to apply to the Summer Leadership Program by Guelph's Member of Parliament, Lloyd Longfield. The Summer Leadership Program offers about 150 internships in Member of Parliament's Offices, Minister's Offices, the Liberal Research Bureau, Regional Offices and the Prime Minister's Office.
While I did not have a direct connection to the PMO, I was no stranger to the Liberal Party. As the Director of Communications for the Guelph Young Liberals, I was able to demonstrate my competency in targeted messaging, event planning and volunteer recruitment - assets of any political staffer.
Are there any projects that you worked on that you can share?
My favourite project that I worked on was related to Canada's announcement of banning single use plastics as early as 2021. The project involved analyzing feedback from various stakeholders and every-day Canadians. My colleague and I arranged for the Prime Minister to conduct calls to Canadians to discuss their ideas and concerns surrounding the ban. As I took notes, I was able to hear the excitement in each person's voice, regardless of their political affiliation. They knew their voice mattered in the policy making process and that's what democracy is all about.
What courses in your program helped you during your internship?
Public management is a combination of business, economics and policy. These are all subjects very important to any political or government role. A large component of my work was conducting correspondence, which required strong research, analytical and communication skills. In Public Policy: Problems and Challenges, we had weekly in-class policy courses that assisted me in this role.
In POLS 3250, I also developed these skills through weekly in-class policy analysis and writing policy briefings.
What industry/position would you like to work in after graduation?
After graduation, I would love to work with at-risk children and youth. I am not sure what this looks like exactly, but I look forward to seeing what adventures the next 2 years at U of G will bring me!
Do you have any advice for students hoping to get involved in government or politics?
The government side of things tends to be more structured and research based, while political offices are designed to support elected officials with their day-to-day activities. So, if a student is interested in politics and an opportunity with a political office, I highly recommend getting involved with a political party.
Share this page
Find related news by keyword
News Topics